May 30, 2012 4.42 pm
This story is over 119 months old
DVLA Lincoln office under closure threat plans walk-out protest
No answer: Lincoln DVLA plan second protest this year, as they are still to find out whether they will lose their jobs in government cuts.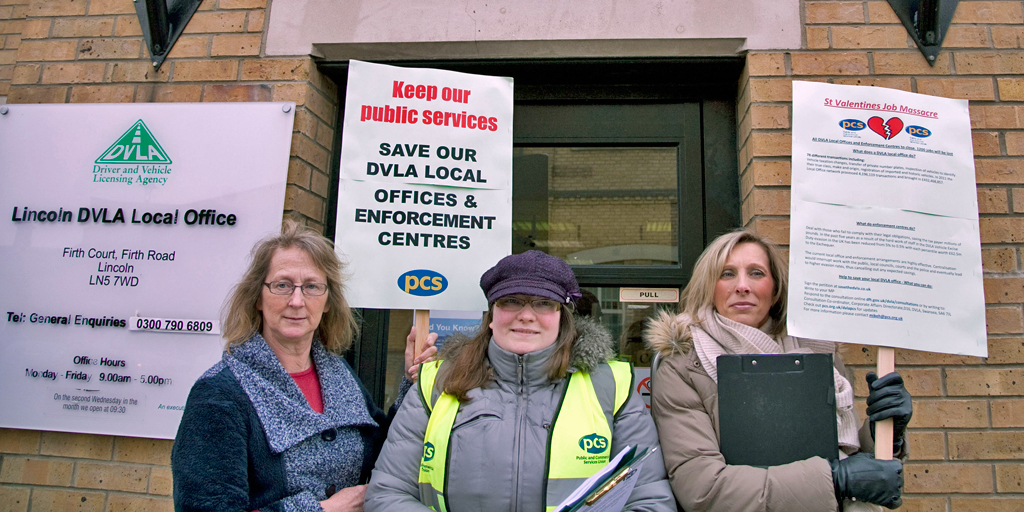 Lincoln DVLA staff have also protested against the proposed closure of the office in February
Staff at the Lincoln DVLA office are staging a two-hour walk-out on Friday, June 1, from 3pm, in protest of the proposed closure of the branch.
The staff have been waiting since December 2011 to find out if DVLA's consultation on modernising its services will result in the loss of their jobs.
The government plans to close 39 DVLA local and enforcement offices around the UK, including the Firth Road branch in Lincoln.
Sixteen jobs are at risk in Lincoln and around 1,200 jobs nationwide, in a bid to save £28 million in the 2014/15 financial year.
The consultation on the proposals was closed on March 20.
So far, no decision has been made by the Minister for Transport, but the intention is to promote a service to the public without face to face contact with DVLA.
More than 51% of all motorists in Lincolnshire use digital services to tax or declare their vehicles off the road, according to the DVLA.
Lauraine Compton, Lincoln Local Office PCS Union Rep, said: "All the members here don't take strike action lightly.
"We are just getting to the point now that there is nothing else we can do to highlight the fact that our branch may not be here in the future.
"We all worry that the changes being brought across the Department for Transport could affect the safety of the public.
"When you think it is coast guards, the test stations who check HGV's are safe, the people who make sure road works are safe are all at risk, it makes me wonder what could happen.
"I hope that this ongoing action does not cause too much disruption to our customers, but having the closed sign up may become permanent if we don't change the course we are on soon," she explained.