June 15, 2012 10.35 am
This story is over 118 months old
Carholme Rd police car and cyclist crash case dropped
Case closed: The IPCC has concluded its investigation over the collision between a police car and cyclist.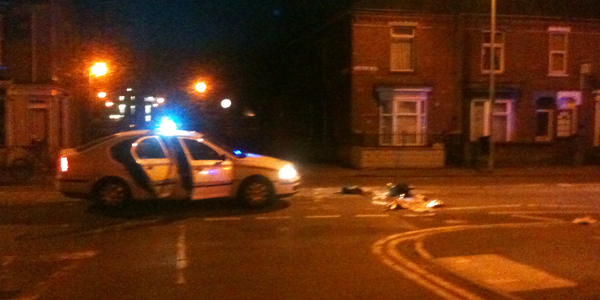 The original scene of the incident on Carholme Road, next to the Gresham Street junction
The Independent Police Complaints Commission (IPCC) has dropped the case involving a fatal collision between a police car and cyclist in Lincoln last year.
The incident happened on Carholme Road at around 10pm on March 27 2011, when a police car collided with 28-year-old Matthew Tuffin. He died later from his injuries at Lincoln County Hospital.
The IPCC investigation concluded that there is "no evidence" to suggest the police constable's driving was dangerous and the coroner recorded a verdict of accidental death.
The investigation was finished in January, but the findings could not be made public until after an inquest.
IPCC looked at CCTV footage, force driving policies, witness statements, scene photographs and also examined airwave transmissions between the car and base.
It also listened to the accounts of the driver and the special constable in the passenger seat and used a private investigator.
Faulty wiring?
The police Skoda had been driving to a 999 call relating to an assault in Birchwood when the collision took place.
After the incident, Lincolnshire police handed the investigation over to the IPCC to independently assess the case.
However, faulty wiring had meant it could not be determined if the siren was activated at the time of collision.
The IPCC have informed Lincolnshire Police that it must carry out more regular tests of Incident Data Recorders in its fleet.
Conclusions
Below are the IPCC's official conclusions:
The officer was travelling over the 30 mph speed limit for the road but was entitled to do so in responding to a priority call;
The standard pedestrian crossing where the collision occurred was indicating a green light giving priority to vehicles at the time of the incident;
The police vehicle had its blue hazard warning lights activated prior to and during the incident;
Mr Tuffin was riding his bicycle on the pavement and then turned right across the carriageway at the crossing;
The officer driving was qualified as a police standard driver and was trained and authorised to carry out emergency driving.
Matthew Tuffin's family and coroner have been informed of the progress of the investigation.