Flash floods on Lincoln roads due to heavy rain
Freak weather: Sporadic flash floods on Lincoln roads as two weeks worth of rain fell upon the county in just on hour.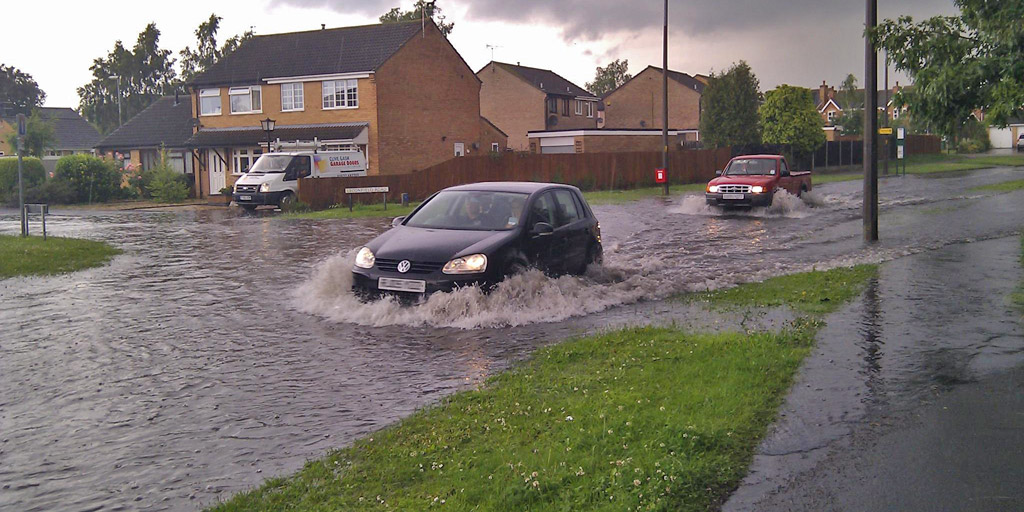 Motorists braving the flash floods on Pershore Way/Leconfield Road in Lincoln. Photo: Julian Worsdale
There were sporadic flash floods on Lincoln roads as two weeks' worth of rain fell upon the county in just one hour on Thursday, June 28.
Emergency services were called out to more than 150 incidents across Lincolnshire, with areas affected including Grantham, Horncastle, Louth, Metheringham, Skegness, Sleaford and Spilsby.
— Update at 11.50am:
David Powell, head of the joint emergency management service in Lincolnshire, said: "Yesterday, we dealt with an extraordinarily unusual amount of rainfall, which affected large areas of the county.
"The extreme weather conditions resulted in several incidents including flash floods, a tornado, traffic accidents and road closures.
"Teams from a number of organisations, including the district and county councils, Environment Agency, Anglian Water, drainage boards, fire and rescue, and police worked throughout the night – and are still out now – to support the affected communities, which is our top priority.
"Our other priority is to reassess all areas affected in the county to ensure all flood courses are tackled and any damage is repaired. Anyone who needs help and advice should contact their local council.
Ongoing efforts in affected areas
"Currently, emergency services are dealing with on-going flooding in Digby," David Powell added.
"Some residents are suffering from flood water in their homes. We have fire appliances at the scene and there is a co-ordinated agency response.
"In areas of localised flooding we are working with district colleagues, local councils and other agencies to put people back into communities for the clean-up operation to help those affected in East Lindsey and North Kesteven where the worst affected areas appear to be Digby, Timberland and Ruskington.
"Woodhall Spa, Leasingham, Horncastle and Louth were also affected. There was also a mudslide in Belchford which closed roads but has been cleared by the highways team.
"Yesterday's flash floods happened at the tail end of the county's Olympic torch celebrations and there was a massive effort from all, including local residents, to help tackle affected areas. I'd like to recognise the superb response from local communities, who very quickly helped each other. Thank you to everyone involved.
"Thankfully nobody was seriously injured, but we recognise the on-going impact on those affected by these events. They will be our priority over the coming days. We are also working hard to repair damage and investigate the events so that we can do as much as we can to prevent future flooding.
"We continue to monitor both the weather and the county's rivers so that we can respond quickly to any further incidents."