June 19, 2012 6.14 pm
This story is over 137 months old
Investigation into spate of Lincoln bomb hoaxes
Bomb threats: Four hoax bomb threats in three weeks in Lincoln have prompted a police investigation.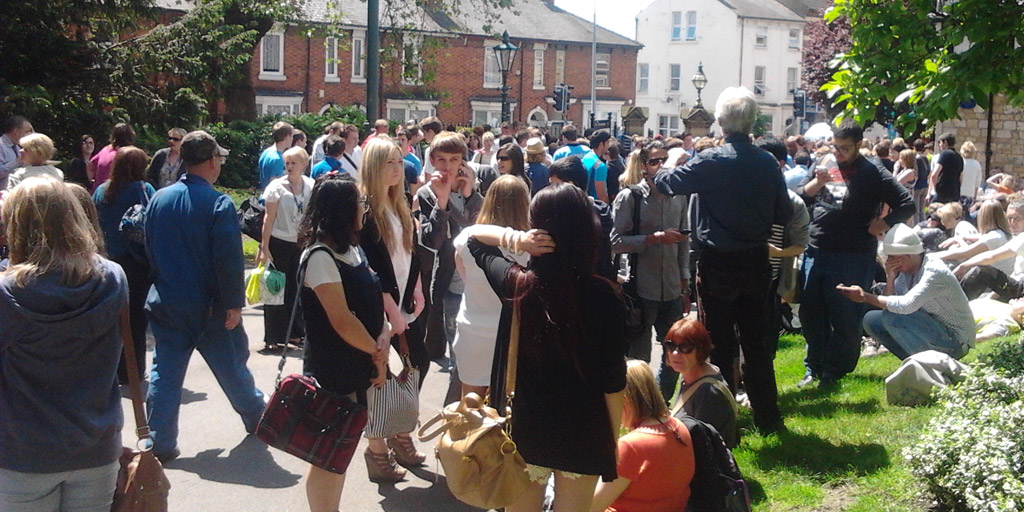 Lincoln College was the latest target, as staff and students were evacuated to the Arboretum on Tuesday
Investigations are underway after a spate of hoax bomb threats in Lincoln.
The University of Lincoln was the first affected on June 6, then Bishop Grosseteste had two incidents last week, and on June 19 Lincoln College was the latest target.
In all four cases staff and students were evacuated until all buildings were cleared.
Lincolnshire Police spokesman James Newall said: "We have had a number of such incidents locally in the past few weeks.
"They might be part of a national stage and we are investigating further," he added.
He said potential targets in the city have been briefed and protocols are in place to deal with this sort of events.
Gordon Gillespie, Vice Principal of Curriculum and Quality at Lincoln College, said: "We have clear and concise procedures to cover such incidents which are promoted to all members of the college.
"Immediately after today's incident, the college bomb threat and evacuation procedures were implemented and our students and staff responded in a very commendable manner," he explained.
A Bishop Grosseteste spokesperson said: "There have been two hoax bomb scares at BG in the last two weeks.
"On each occasion we have taken the action advised by the police in terms of searching the premises and evacuating students, staff and visitors.
"In spite of the high number of such threats being reported in universities across the country at present we treat each episode as if it were the first.
"The disruption to staff, students and visitors is highly regrettable but of course our first priority is their safety," the spokesperson added.
The University of Lincoln also said: "We have well-rehearsed procedures for managing incidents, designed for everyone's safety.
"In line with these procedures, any potential hoaxes are immediately referred to the police for risk assessment and investigation," a university spokesperson explained.
Lincoln has not been the only target. Around 50 institutions have been the victim of hundreds of hoaxes in the past month, according to The Guardian.
There is no apparent link between targeted universities, which include Essex and Durham, University College London and the University of the West of England.
Cambridge University has seen daily email threats for three weeks in a row, while Bristol University had 12 incidents since April.
Scotland Yard's counter-terrorism branch, SO15, said it is treating the matter as a suspected linked series of malicious communications.