July 11, 2012 3.29 pm
This story is over 117 months old
Sandy beach returns to Lincoln city centre
Beach break: Lincoln's artificial beach will return to the city despite the recent downpours.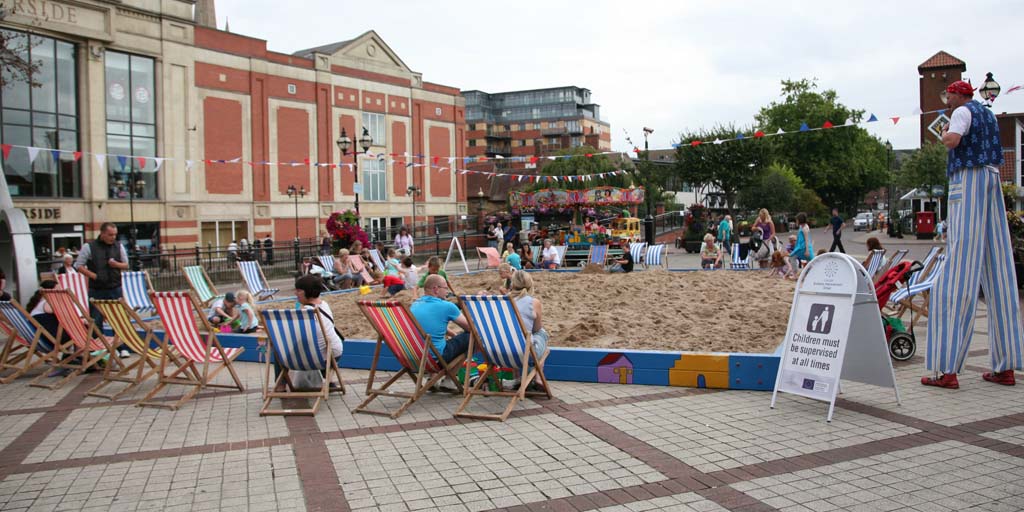 Despite the downpour, Lincoln by the Sea will be heading back to the city centre, bringing the beach to shoppers.
The annual event will see a large sand pit in City Square from July 23 to September 1, outside Wilkinson, surrounded by deck chairs and fairground rides.
Professor Jon Thursby will also be putting on a show with kids' favourite Punch & Judy and other characters on July 23 and August 1, 10, 14, 18, 23 and 29.
The beach is made up of 60 tonnes of sand brought from Skegness beach.
Last year, the event was even visited by a group of meerkats.
This year, the event officially opens on July 23, and will run through the summer holidays until September 1.
The resort is organised by Lincoln Business Improvement Group.
Lincoln BIG events and promotions manager Michael Armstrong said: "Excitement is building in the run-up to the return of Lincoln by the Sea and, after having so many grey days, we are hoping it will be a real bonus for everyone this year.
"The weather has been extremely disappointing so far this month, but we are hoping the Jet Stream will have shifted by July 28 and we will have lots of warm, sunny days.
"Of course, if the rain continues, it will be business as usual for city shopkeepers and cafes, and our tourist attractions, so there will still be plenty to do between the showers."