Apprentice boom for businesses in Lincoln
More apprentices: Lincoln has seen a sharp rise in apprentices, just in time for a new scheme by the Government.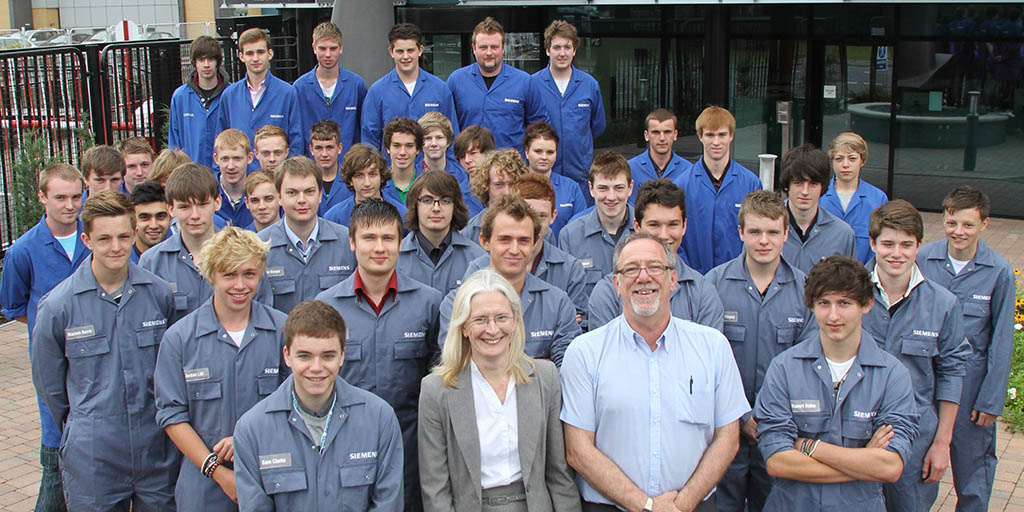 Siemens' latest and biggest intake of apprentices this year
The number of apprenticeships in Lincoln is on the rise, as young people say they prefer learning while they work than going to university.
As previously reported, Siemens Lincoln took on 44 apprentices this year as part of a national scheme — more than double the usual intake.
Siemens' apprenticeships are aimed at those leaving school with A-Levels, as an alternative to university, but with an option to progress into a Bachelor of Engineering course.
Angela Borman (pictured left centre), entry-level talent manager for Siemens said: "This year, we've established that we were going to take on 44 apprentices, which is doubling what we have done in previous years.
"The reason we decided to do that is that they are the talent and competency we need for the future.
"As well as academic qualifications in apprentices, we look for things like attitude, motivation, teamwork — all the things they can bring to a business to enable them to be an employee further down the line."
Apprentice Thomas Woodray (17) said: "I took up the scheme here because it's the best company in engineering in Lincolnshire. The opportunities here are amazing, so you can progress in your apprenticeship.
"I'd rather do an apprenticeship than go to uni, as I can learn while I work.
"I love engineering — at Siemens, I've liked the fitting side of things, such as repairing the engines, but I'm still deciding what I like because I haven't done the full apprenticeship yet.
"I'm in the second week of the apprenticeship and I am really enjoying it. I've been in the machinists area and observing the machines. Of course can't use them just yet but it's been really good!"
More companies get apprentices
PK Automotive also took on its first ever apprentice under the government's Apprenticeship Grant for Employers, which was launched at the site on Tuesday.
Owner of PK Automotive Paul Killingsworth said: "My apprentices, along with my trained technicians are an investment in the development and future of my business."
Additionally, a proposed science and engineering college in Lincoln could also boost the number of apprentices on offer.
A report by entrepeneur Jason Holt discovered that a number of businesses were not taking on apprentices because of a lack of awareness on training apprentices and how to recruit them.
The Government's Apprenticeship Grant for Employers will provide 40,000 £1,500 grants to encourage smaller business to take on young apprentices.
Lincoln MP Karl McCartney said: "Obviously I warmly welcome these measures to increase awareness of apprenticeships among schools, colleges, young people and SMEs, and to make it easier for small businesses to recruit apprentices.
"I am also really pleased that both John Hayes MP, the Skills Minister, and Jason Holt visited Paul and his colleagues at PK Automotive in Lincoln to congratulate the company on taking on their first apprentices and offering such a great opportunity for young people to work and learn in a modern professional environment.
"It is testament to our city and locally trusted, professional businesses such as PK Automotive that the minister and colleagues chose the location for such a prestigious national launch to be here in Lincoln.
Photo: Siemens Lincoln