October 19, 2012 9.24 am
This story is over 115 months old
Event bids to get Lincolnshire tourism digital
Digital tourism: An event in Lincoln hopes to inspire tourism and leisure-based businesses to utilise digital media in order to boost the economy.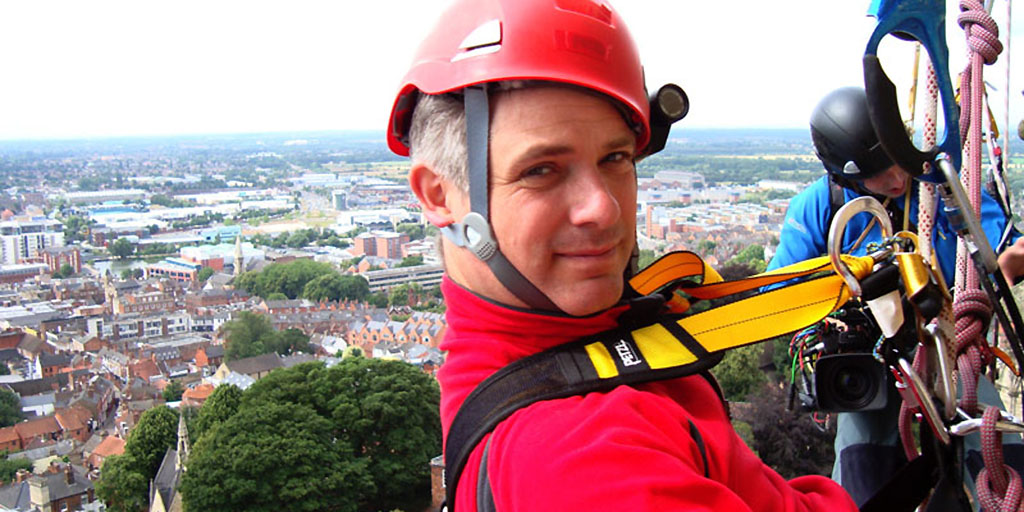 Jonathan Foyle scales Lincoln Cathedral as part of BBC TV series Climbing Great Buildings. He will be a keynote speaker at the event.
A special event taking place in Lincoln aims to help local businesses, venues and event organisers reap the benefits of digital media.
Transforming Tourism wants to inspire and educate delegates to use digital media more to boost tourism in Lincolnshire, currently worth £900 million.
The event will be held at The Showroom on Tritton Road on November 14, hosted by the Lincolnshire Chamber of Commerce.
Simon Beardsley, chief executive of the Chamber, said: "We are committed towards helping tourism and hospitality businesses in Lincolnshire.
"The conference will give businesses an insight into key projects that are taking place to improve the visitor experience in Lincolnshire, whilst also being shown the benefits that technology can bring to their profitability.
"In less than three years the £22 million Lincoln Castle project will shine an international spotlight on Lincolnshire. It will transform the tourism offer in the county and attract visitors from all over the world who want to mark the 800th anniversary of Magna Carta.
"We are delighted that Mary Powell, Tourism Development Manager at Lincolnshire County Council, will be presenting and informing businesses about this project.
"This is just one of many projects that is taking place and we're expecting it to be a key driver to bring new visitors into Lincolnshire. And once here visitors will want to explore our coastline, market towns and villages.
"As well as traditional leisure short break visitors the castle project will attract school visits, larger group tours and international trade."
He added: "Throughout the day delegates will be able to test out the latest gadgets in the 'technology playground'. Businesses will enjoy getting hands on with the latest technology – without being any under pressure to buy or invest in the things they try."
Keynote speakers include Lincolnshire-born BBC presenter and chief executive of World Monument Fund Britain Jonathan Foyle, who climbed Lincoln Cathedral in 2011 on his Climbing Great Buildings BBC series. He will explain how stories can sell places.
Additionally, delegates can attend workshops, a seminar on using social media to build businesses and brands and discussions on how markets can play an important role in visitor attractions.
The event will be live blogged through the Onlincolnshire project, which looks to bring faster broadband to Lincolnshire.
Tickets start at £25 and can be purchased from transformingtourism.com.