October 12, 2012 3.52 pm
This story is over 110 months old
Lincolnshire LEP outlines priorities at summit
Better Lincolnshire: The regions' LEP met to discuss its plans for the next three years, including boosting infrastructure in the county.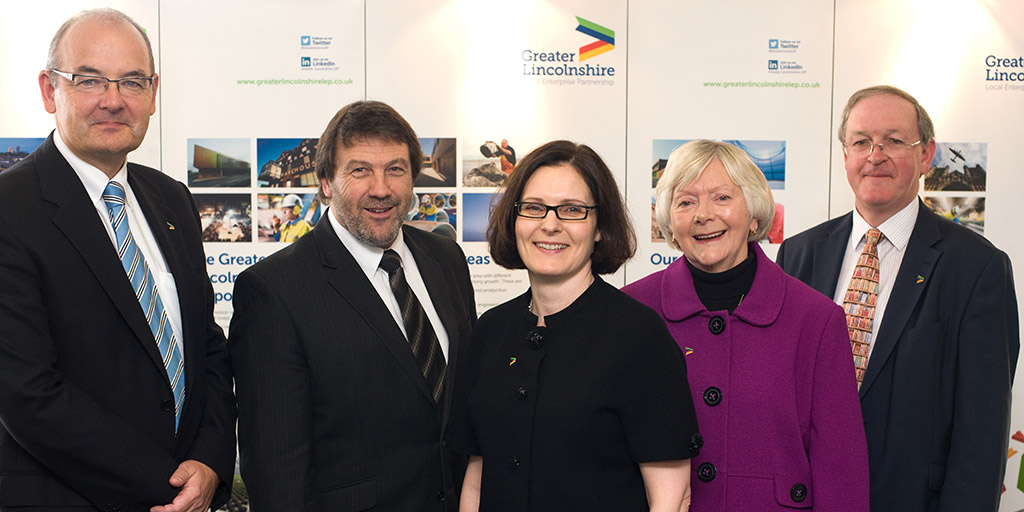 Greater Lincolnshire LEP (L-R): Chris Baron, Resort Director at Butlins in Ingoldmells; Councillor Eddy Poll from Lincolnshire County Council, Ursula Lidbetter, Lincolnshire Co-operative CEO and LEP Chair, Councillor Doreen Stephenson, Leader of East Lindsey District Council and Richard Wills, Executive Director at Lincolnshire County Council.
More than 100 businesses from the region attended the Greater Lincolnshire Local Enterprise Partnership (LEP) summit on Friday, October 12.
At the event, held at Market Rasen Racecourse, the LEP outlined its three-year business plan and priorities for generating growth in the region.
LEP members explained that infrastructure is the number one priority for the partnership, and that includes improving roads, rail links, and broadband connectivity.
Such projects already in motion are the Lincoln Eastern Bypass, as well as the East West link road in the city.
Lincolnshire County Council has secured £14.3 million, with support from the LEP, which will help bring next-generation broadband to Lincolnshire by 2015.
The Greater Lincolnshire and Humber LEPs are both backing the plan for superfast broadband in North Lincolnshire too, where £2.6 million has been allocated by Broadband Delivery UK to improve connections.
The group also want to help investment with an evergreen fund to invest in infrastructure. This is available to public and private sector businesses with loans between £500,000 and £2.5 million to unlock stalled sites and deliver housing and infrastructure. Submissions for the first round of funding close on November 1.
In a bid to bring a faster pace of business and create a business friendly culture, the LEP is working with local planning boards and utility and telecoms providers to speed up the process of building new facilities for businesses in the county.
There was also a call for businesses to grow their local supply chains and encourage their suppliers to acquire as much as they can locally.
Also on the LEP's agenda is encouraging rural enterprise and making retail a key sector of growth.
The Greater Lincolnshire Local Enterprise Partnership includes North and North-East Lincolnshire, and is controlled by a LEP board made up of leading figures in the public and private sector.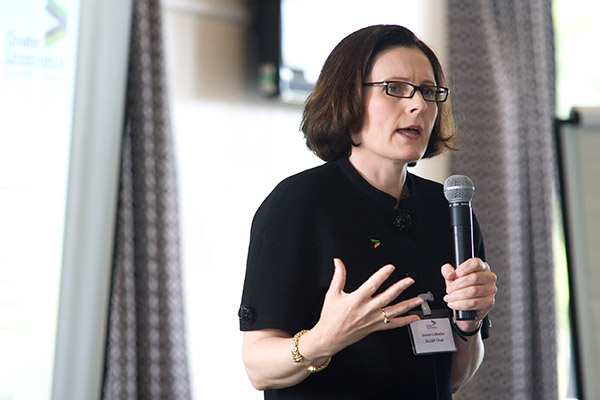 Lincolnshire Co-operative CEO Ursula Lidbetter is the LEP Chair. She said: "We've made some real progress working with the public sector in putting together a plan for physical infrastructure for Lincoln that is really going to take us forward.
"If you think how far we've come in the last 10-20 years with the dualling of the A46 right up to the M1; that's fantastic for Lincoln to be connected with the world.
"The pieces of infrastructure we are pushing for now, which are actually going to happen, the Eastern Bypass and link road, are going to transform the city, the way we move around, the way that businesses work, the economic development and the land that this will open up.
"Superfast broadband is needed right across Lincolnshire," she added. "Surprisingly, it's not just in the rural areas, even in parts of Lincoln we have bad connectivity.
"We do need to address those not-spots and make them into hotspots, but equally we need to make sure that broadband is covered across the region, and it's important for us at the moment that businesses and individuals register their interest with the Onlincolnshire project.
"All business, big and small, know what they need to do. We want to encourage businesses to think how they can grow and develop and what help they need. The LEP won't be providing that help, but the LEP will be finding ways that help can be brought to bear."