September 13, 2013 2.38 pm
This story is over 121 months old
Protest as councillors debate Lincolnshire libraries closures
Heated debate: After a demo and petition hand-in, county councillors hotly debated the closure of many Lincolnshire libraries.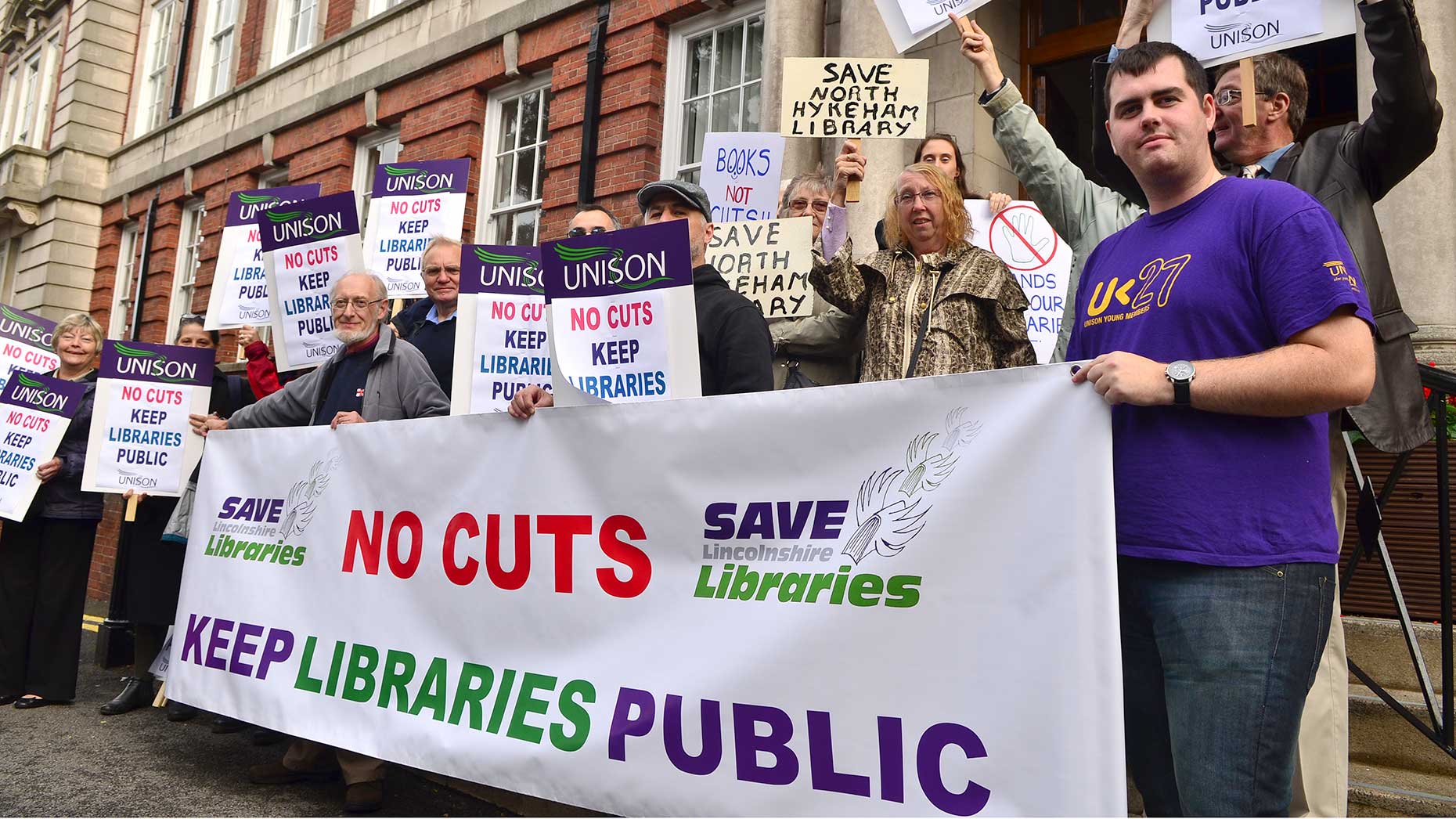 Lincolnshire residents, members of Unison and the Save Lincolnshire Libraries (SLL) campaign gathered outside County Hall on Friday to protest against proposed closures and cuts to libraries.
The demo on the steps of County Hall on Newland happened just before a Full Council meeting, where four library petitions were handed to the council executive.
Within the chamber, this led to a heated debate over the proposals, which are still under public consultation until September 30.
Many councillors within the meeting stepped up to declare their interest in the campaigns, with the wish of being transparent.
According to proposals by the County Council, only 15 static libraries will remain, while some 30 libraries will be left to communities to run or replaced by fortnightly mobile libraries. Some 170 jobs would also be lost in the process.
This led to a number of petitions by SLL, who on September 13 handed in petitions for Boultham Library, Sutton on Sea Library, Deepings library and Lincolnshire Libraries, to the council.
Due to the latter two receiving high numbers of signatures, a long debate ensued.
In both cases, motions were passed to refer the petitions to the Executive for decision once the consultation period has ended.
Human impact
Speaking on behalf of the Lincolnshire Libraries petition, pivotal SLL campaigner Leah Warriner-Wood said in a speech during the council meeting:
"I can tell you that not one part of Lincolnshire would be left untouched by these proposals, and there is not one single part of the county where people haven't come forward against them.
"We ask for you to […] consider the unquantifiable human impact of the plans proposed by the Executive Committee for libraries.
"One in four children in Lincolnshire is now born into poverty, yet the Executive's 'Library Needs Assessment' report implies that over one in four of all Lincolnshire residents would also be beyond the reach, by public transport, of one of the few remaining statutory operated libraries.
"Over one quarter of all Lincolnshire residents could become unable to reach a service to which they are legally entitled, in a time of growing poverty, when such free access to culture and education is most needed.
"The figure […] equates to around 200,000 people […] in what other context is failing 200,000 people acceptable? 200,000 people without food is a famine. 200,000 people displaced by flood or drought is a natural disaster. 200,000 refugees from war is a humanitarian crisis. Yet 200,000 people left without access to a statutory service is somehow acceptable.
"We suggest that […] you make your residents' voices heard above your own, or that of the whip. Today is your opportunity to be the shining beacon and not the puckering candle flame for you libraries, for your residents, and for hope."
Meanwhile, two motions by Councillor Hough and Councillor Palmer for the Executive to rethink its plans in the light of the opposition and to set up a cross-party group to look through the proposals to see if alternative measures can be explored were amended.
Instead, councillors voted in favour to have the cross-party Scrutiny Committee invite non-Executive councillors to participate when they consider the consultation results, the Portfolio Holder's response and recommendation the Executive, plus confirm it will only take account of the opposition rather than cause rethink.
Councillor Reynolds, who seconded Palmer's motion, believed that the proposals were "not a public consultation, but a public ultimatum."
Councillor Parker stressed to the rest of the chamber that it is acceptable to make U-turns on decisions, while Councillor Phil Dilks stated he would accept the council realising it made a mistake placing some libraries, like the Deepings, in the incorrect category.
Lincolnshire Labour and Independent councillors also spoke in opposition of the plans.
'A place we need to be'
Before the meeting, Council Leader Councillor Martin Hill said: "When we decide on the final result, it's very important we get all the consultation in and we take serious due regards for all the people who put their views in.
"Once we've seen all of that, we will take a view and come up with the proposals.
"We've got to remember it's £2 million we need to find [to run the libraries] every year. What we're trying to do is get the libraries into a sustainable footing for the future, so not having to constantly chop and change.
"We recently put an extra £2 million into highway maintenance.
"There are tough choices councillors have to make. Do you put more money into libraries, or into highway maintenance and potholes?"
"It's a difficult choice, so what we try to do in get an overview and try to do what we think is best for the county."
He added: "We've got to be realistic. The sums of money we've got to save as a council are about £160 million by next year. The Government has just announced their proposals for the future, and we know there's another £80 million to be found.
"We have got some very big challenges and the biggest challenge for councillors is to find those savings and at the same time provide services in a comprehensive and fair way.
"It just means that the council has to look very radically at how it provides services so we think the proposals currently on the table give a comprehensive library service across the county, people can access it, and we can make the required savings.
"It's forcing us into a place we need to be."
The public consultation will run until September 30, and is available online or in libraries.