September 12, 2013 7.30 am
This story is over 122 months old
Three more Lincoln Monopoly landmarks revealed
Educational theme: The green set of three of the Lincoln version of the Monopoly board will feature three educational institutions in the city.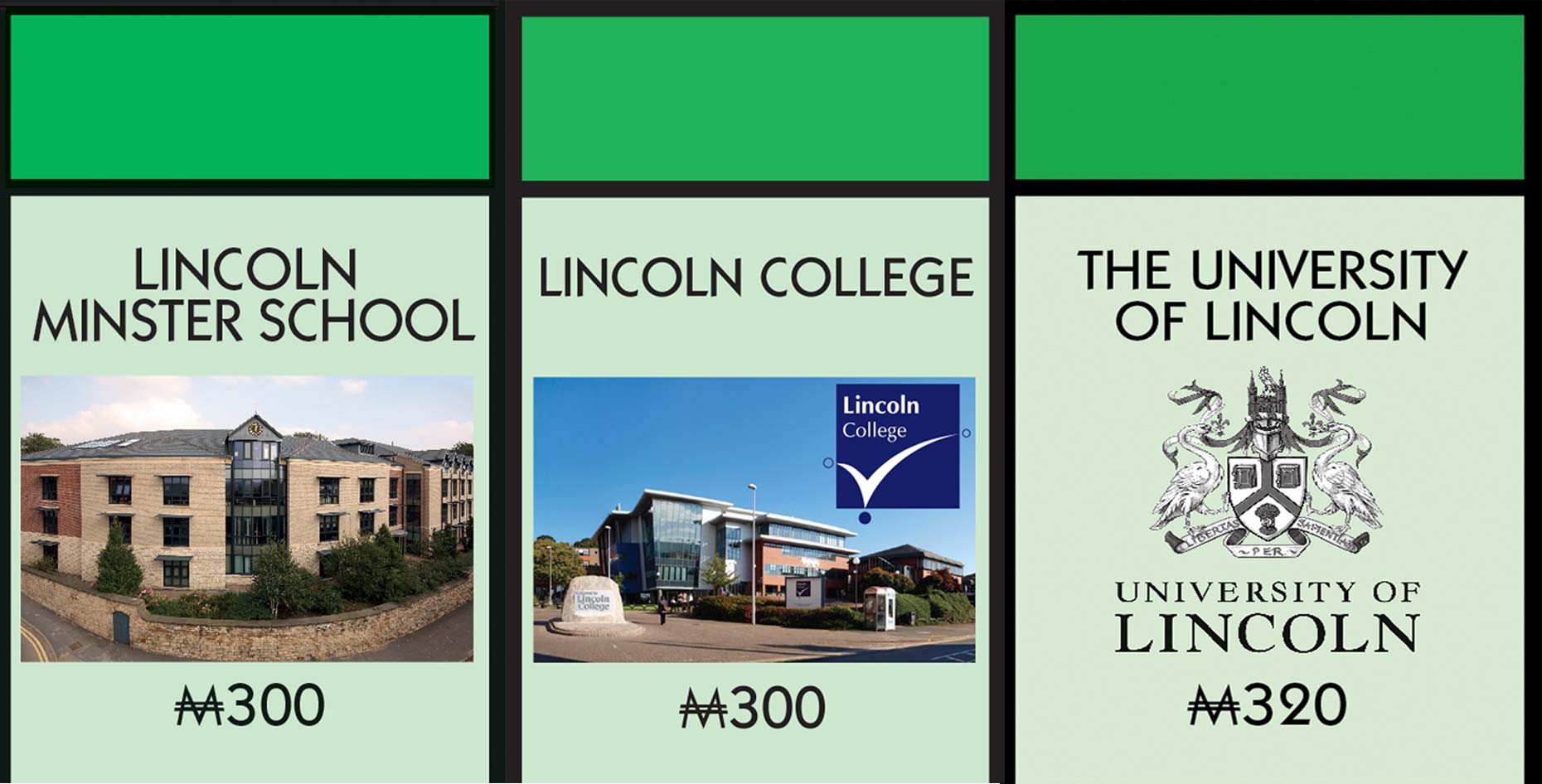 The makers behind the Lincoln Monopoly board have announced the second set of locations on the board, and the official release date.
The green set of three of the board will have an educational theme, so the University of Lincoln, Lincoln College and Lincoln Minister School will be featured.
As previously reported, local charity Lincolnshire YMCA will take the very first location, the 'Old Kent Road' site.
The Lincoln Monopoly launch date has been set for October 17. The date will also see the other 22 locations and cards announced.
Winning Moves UK, the makers of the board, said that they were "spoilt for choice" deciding which institutions to put on the set.
The education set is one of nine on the board, with eight property sets and one travel set.
The remaining sets will feature heritage, arts, sport, commerce, public parks and entertainment.
Peter Griffin, Monopoly Development Director at Winning Moves UK said: "We are keeping the vast majority of the board under our Monopoly hats until we launch the game.
"Lincoln is a centre of educational excellence and these three outstanding institutions are taking pride of place in the game.
"More than 2,000 landmarks, streets or roads could potentially have appeared on the board. Realistically around 220 were in the running so many congratulations to the owners of this set."
Vice Principal of Lincoln College, Ian Sackree, added: "We are delighted to have been chosen to represent the educational landscape of Lincoln.
"Lincoln College has been around for over 125 years, and we are proud to have educated a large portion of the county's population."
Residents can buy their copy of the game in Ruddocks, WH Smith, Toys R Us, Waitrose, Smyths, The Works and Waterstones.
Winning Moves UK say inquiries to buy the board have already come as far away as Australia, the US and China.