September 11, 2013 12.00 pm
This story is over 99 months old
Lucy Tower car park won't be ready for Christmas
Structural works: Works at the Lucy Tower multi-storey car park on Brayford Pool in Lincoln will not be ready in time for Christmas.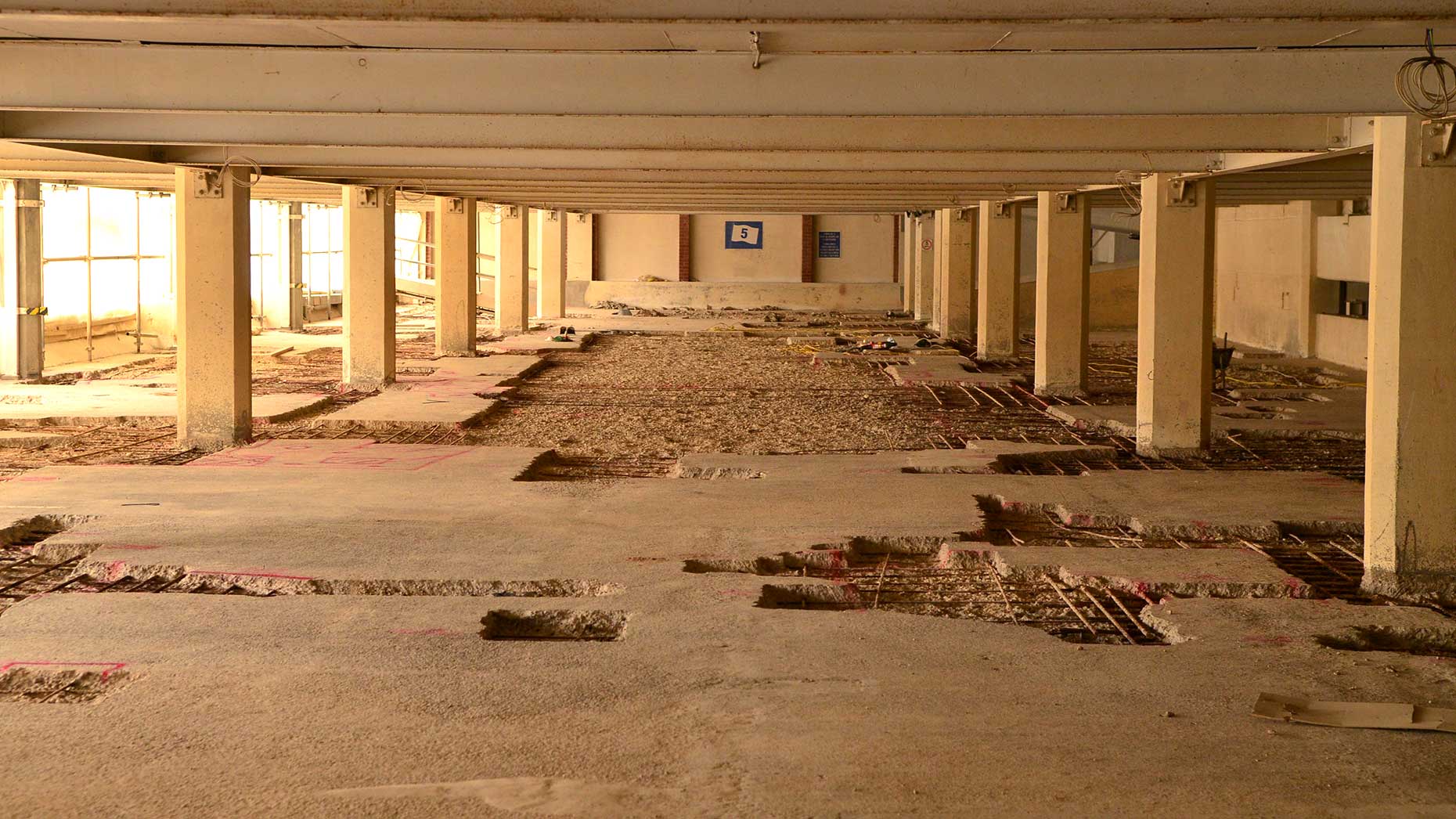 Works at the Lucy Tower multi-storey car park on Brayford Pool in Lincoln will not be ready in time for Christmas.
The City of Lincoln Council said extra work is needed at the site, which closed in March and was due to reopen in August.
The works will cost in the region of £2 million, which will come from the council's strategic reserves.
It will see large sections of floors three to seven recast, and should be completed by February.
Meanwhile, the council is losing around £20,000 per week in parking fees while the car park is closed.
Contractors Mansells agreed to undertake additional works to complete the project after it was discovered the site needed much more structural works than had initially been expected.
The delay on site resulted from the discovery that large areas of steel within the concrete on each floor were far more corroded than initially thought.
This only became apparent when large parts of the concrete were removed, the council said.
Works then had to be suspended until expert structural engineers could decide whether it was financially viable to repair the car park, how long this would take, at what cost and using what method.
Council Leader Ric Metcalfe said: "We understand this delay will be disappointing news to car park users and local businesses given that Lucy Tower car park is a crucial resource for the city.
"However, having been presented with all the possible options for this site, the repair option is the most cost effective and the most viable in the longer term for the people of Lincoln.
"We are working to ensure we will have enough car parking spaces to cope with demand in the run up to Christmas including keeping Orchard Street car park open to the public, creating a new site at the end of Sincil Street and encouraging the use of Park and Ride during the Christmas Market."
Lucy Tower car park was built in the 1970s and is constructed primarily of reinforced concrete.
Over recent winters, the cold weather and salts brought in from the roads has caused corrosion to parts of the car park, leading to the decision to close the 458-space car park for essential repair works.
The initial estimated cost of the works was £1.1 million. The works are expected to extend the life of the car park by 10 years.
Lucy Tower brings more than £850,000 per year in revenue for the council.
Keeping out chloride
Project manager of the Lucy Tower works, Alan Brookefield explained that the biggest problem is due to water and the chloride used in the road salts.
Combined, these seep through the structure and corrode the steel reinforcement, which causes it to expand and pull up the concrete.
The damaged steel and concrete then needs replacing.
He added: "To protect the existing concrete, we will be inserting zinc anodes, linked by cable. This will create a network, attracting the chloride and zinc. This will be monitored alongside the rate of deterioration."
Good summer trade, but Christmas could be problematic
Businesses on Brayford Pool said they have had a good summer thanks to the warm weather, despite the car park closure, but they fear that Christmas trade will be affected.
Laura Tatu, Manager at Prezzo, said: "Business has still been good over the summer, however it is an inconvenience as we are right next to the car park and customers will park further away. We have had some complaints from customers as a result but there's nothing we can do really."
Anna Woodcock, Manager at Ask Italian, added: "We've still got regulars. It's not made a huge difference, people still park in town it just takes them a little longer to get here.
"Summer holidays have been fine but they could have been a lot better. We do get complaints when people ring up to book in and we sort of have to tell them 'oh by the way, that car park just next to us? yeah it's closed.'
"I don't want to complain because we still have customers and we still get money, if work needs to be done then work needs to be done, we're grateful that we still get trade during this period."
Amy Everett, Supervisor at The Royal William IV Pub, said: "There's not been so much trade coming by that you'd normally get from the car park with all the restaurants down here."
"Luckily we've had a good summer so we've had more people coming in this year, if we'd had bad weather or a bad summer then it would have affected a lot more people than it has done.
"If they knocked it down and started a fresh with a brand new car park they'd have probably finished by now. We can just hope it's finished soon as it will benefit everybody down here on the Brayford."
— Additional reporting by Dale Benton