January 13, 2014 3.08 pm
This story is over 101 months old
Protest over plans for fracking in Lincolnshire
Green light for shale gas: Anti-fracking potesters gathered near Gainsborough as Prime Minister David Cameron visited a gas extraction site at the edge of Lincolnshire.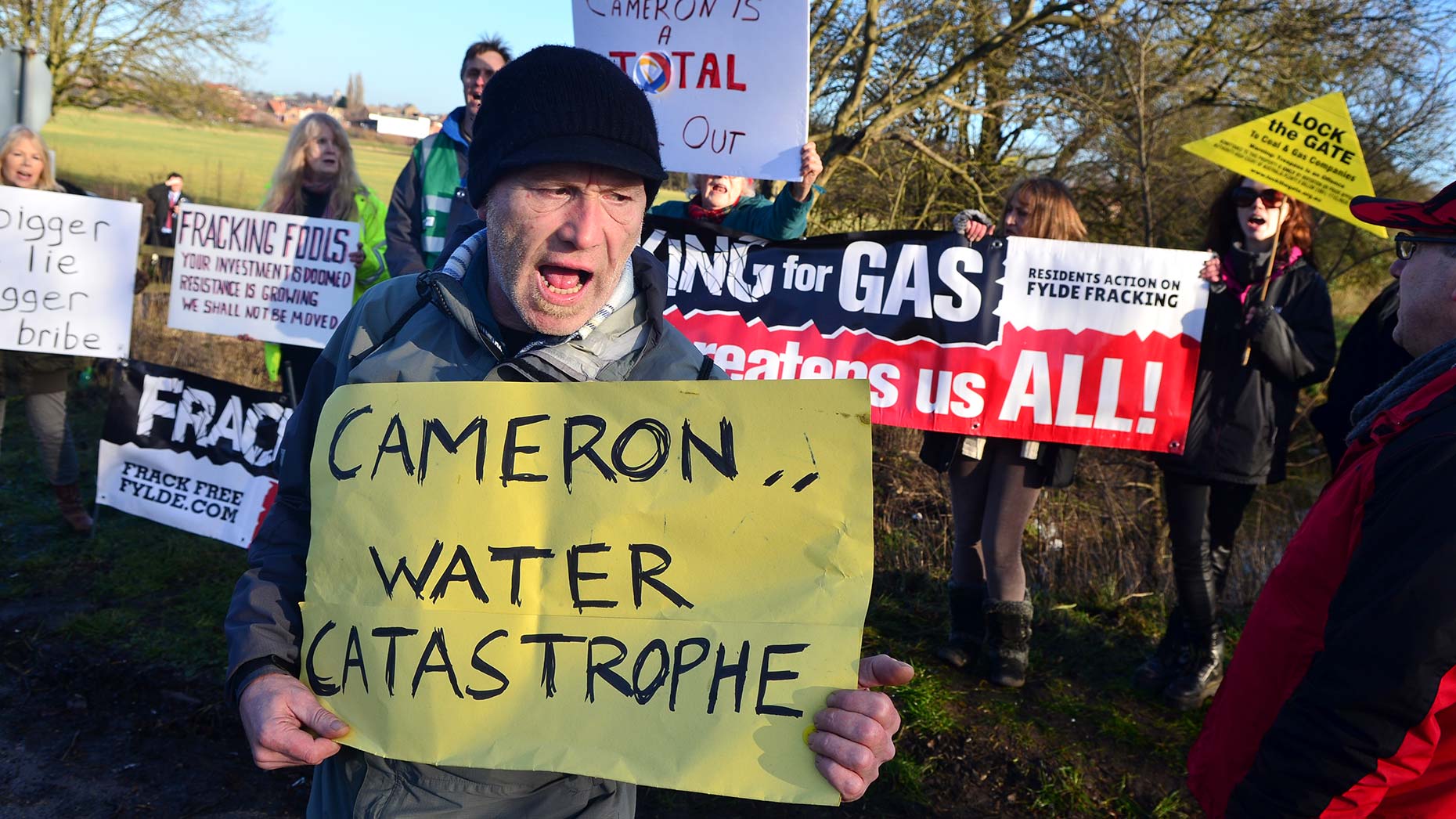 More than a dozen anti-fracking protesters gathered near Gainsborough on Monday, as Prime Minister David Cameron visited a gas extraction site at the edge of the town.
The group is campaigning against the unconventional extraction of shale gas in the UK, also known as fracking, which received a boost from a major oil company and the government today.
French firm Total has bought a 40% stake in two shale gas exploration licences in Lincolnshire, making it the first major oil company to invest in shale gas in the UK.
Prime Minister David Cameron also announced a range of incentives for local councils that back fracking, who will be able to keep all the business rates collected from shale gas extraction in their area, rather than the usual 50%.
David Cameron visited on Monday morning the IGas site at the edge of Gainsborough, where he announced the new incentives.
UK's IGas will be the operator of the initial exploration programme, and Total will take over ownership of the projects as they reach the development phase.
The area covered by Total's shale gas extraction is in the Gainsborough Through, which is a geological basin part of the Pendleian Shale in Lincolnshire.
Total will be looking to drill two exploratory wells in a 240sqkm area, which extends underneath Beckingham towards Retford in the south to Misterton, Bircotes and Bawtry in the north.
Around 14 anti-fracking campaigners were also present at the gates of the IGas site, as well as more than 15 media representatives and six officers from Nottinghamshire Police.
They held up signs and chanted against fracking across Lincolnshire and the UK.
Tina Rothery, and anti-fracking campaigner from Lancashire, said: "We want to dispel the myth that this is anything like hydraulic fracturing, the sort of drilling that's going on here.
"And that's the reason David Cameron chose this as a backdrop. We think it's very misleading for the British public so we would like to dispel that myth.
"One of the engineers that we spoke to compared it to a corner shop, to a giant hypermarket. The difference is vast. This is plain vertical drilling. It's not high volume, it's not hydraulic.
"DECC, the Department of Energy and Climate Change, said last year that we have only had fracking once in Great Britain, in 2011, in Blackpool.
"So when the Prime Minister says that drilling has been going on for so long, this is not the same thing."
Tina Rothery added: "We are deeply upset that Total can see profit from it but put us at risk, but not their own country [France has banned fracking].
"We also think that it's wrong to ask communities to look at the supposed amount of financial gain they would get. No one is asking 'what will it cost us?', not just in risk.
"So what will it cost our community in the long run? Not in that short-term gain, which is what they're looking at.
"When you give a council money, that's not giving a community money, because we don't always feel that it is being spent all that wisely. So what will they be doing with that money, and how will it benefit the community?"
Proper scrutiny in place
Councillor Colin Davie, Executive Member for Economic Development at Lincolnshire County Council, was at the IGas facility too on Monday with the Prime Minister.
Councillor Davie said he was suprised Total are "putting so much money into this area so quickly. I didn't think it would happen so soon, however it has.
"The PM is here making the announcement about business rate retention. Lincolnshire County Council business rate retainment of the money will make no difference whatsoever to the planning process.
"This is about making sure that any of the applicants that come forward with a proposal can meet the environmental impact assessment, which is going to be extremely rigorous.
"Whilst the County Council will be the planning authority for these kinds of applications, they will also have to gain the consent of the Environment Agency, the Health and Safety Executive and the Department of Energy and Climate Change, so there is no done deal on this.
"We have to welcome any investment in Lincolnshire that could lead to better, more highly paid jobs and creating a more skilled work force in the area.
"I am very clear about this, shale gas extraction will only happen in Lincolnshire provided the environmental impacts are addressed by the applicants, and those tests are going to be extremely rigorous.
"I want to see benefits going into the community from these schemes. We've had too much in relation to energy, going on in Lincolnshire with absolutely no benefit.
"Wind farms in particular have delivered no benefits to local communities at all. All they've done is harm the landscape.
"We going to put barriers in place. If the applicants can cross them and deliver a safe scheme and a good development in the right location then it should succeed. But we are going to make sure they jump through the hoops first.
"The environmental considerations are our primary function. The government incentives are neither here nor there. We will make sure we have only good applications going through the planning process. We do not want bad applications.
"There is an element of society that will never accept shale gas and fracking, even if it's proven to be totally safe because they'd rather see more wind farms, more renewables, more green and it's not going to deliver.
"Secure energy can secure our people and the people of Lincolnshire. And my job is to look after the people of Lincolnshire and their interests.
"Some people who have got concerns locally and may be concerned about access roads and transport increase — those are real concerns and those voices will be heard."