June 23, 2014 1.59 pm
This story is over 90 months old
Lincoln family raise £11k in charity onesie walk
Charity heroes: After donning their favourite onesies for St Barnabas Lincolnshire Hospice, the Roberts family and friends are celebrating an excellent £11k fundraising total.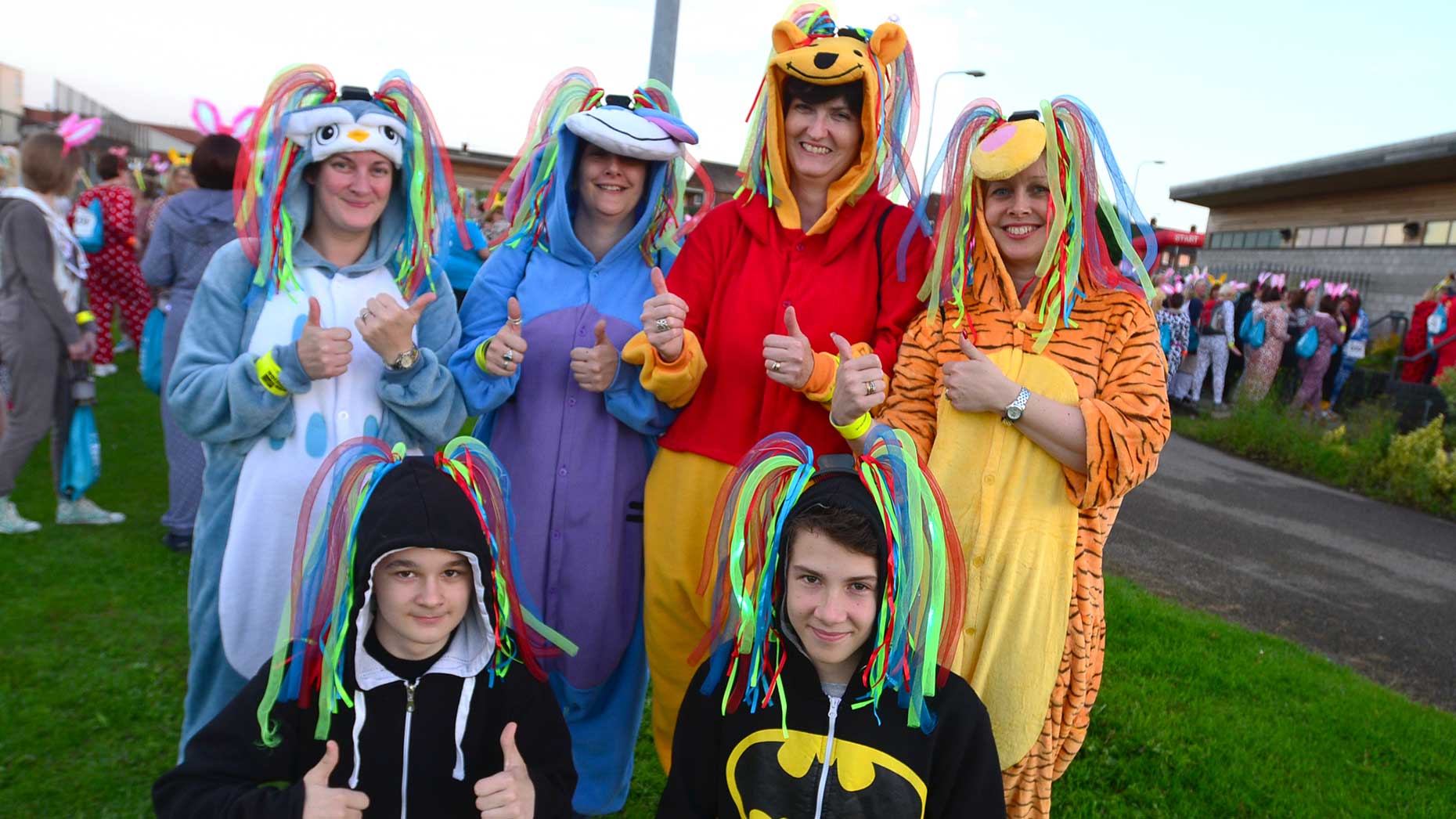 After donning their favourite onesies for St Barnabas Lincolnshire Hospice, the Roberts family and friends are celebrating an excellent £11,000 fundraising total.
Sharon Roberts' mother was diagnosed with having a Meningioma non-cancerous brain tumour in 2002.
The tumour was successfully removed twice, but in 2013 the family sadly learned that nothing more could be done.
Sharon's mother is now receiving hospice at home care from St Barnabas Lincolnshire Hospice.
To thank staff at the hospice for all their hard work and care, team 'Shirley's Girlies' took on the Moonlight Onesie Walk on Jun 7 dressed as characters from Winnie the Pooh.
Sharon Roberts said: "The tallest member of the team, my very good friend Catherine Forbes was Winnie the Pooh. I was Tigger, my daughter Beth Roberts was Piglet, my sister Jane Lowe was Eeyore and her friend Charlotte Batty was Owl.
"My son Harry Roberts and nephew Sam Lowe were 'honorary' members of Shirley's Girlies.
"During the few months leading up to the walk we had many donations to our JustGiving pages, and were up to around £700.
"On the day of our walk we received the amazing news that cousins of ours who have a charity foundation, The Street Foundation, linked to their business in Herefordshire had made a donation in our mum's name for a massive £10,000.
"As you can imagine we were totally stunned and thrilled at this news. To date, and after adding gift aid, we expect that our grand total will be in region of £11,000.
"Over the last eight months since mum left hospital St Barnabas has been a great support both practically and emotionally for us as a family.
"My dad George has been mum's carer for a number of years following previous operations and treatment for her brain tumour and is utterly devoted to her.
"Jane was able to move in with them when mum left hospital and helps share the care with dad, which has been a godsend, especially in recent months when mum's condition has started to deteriorate and become more unstable.
"Mum wants to be at home and there was never any doubt or question that she wouldn't be. She is the most family orientated person you could meet. She's devoted her whole life to her family, especially her grandchildren Jack (22), Beth (19), Harry (16), Sam (13) and Tyler (9).
"St Barnabas are now visiting mum once a day and we know that the coming days, weeks and months are going to be very hard."
Team Shirley's Girlies plan to take part in future fundraising for both St Barnabas and Marie Curie.
Also gaining well-deserved recognition for their onesie walk fundraising are a group of five trainee solicitors from Langleys, Lincoln, who raised over £450 for the hospice.
A well as taking part in the 6-mile walk dressed in animal-themed onesies, James Barron, Matthew Worley, Hester Mills, Vikki Lyon and Penny Kemp held a cake sale in their office to raise the funds.
Penny said: "St Barnabas Lincolnshire Hospice does such a wonderful job and we are so thankful to everyone at Langleys and our families and friends for sponsoring us."
The hospice's record-breaking onesie walk took place at Yarborough Leisure Centre on Saturday, June 7.
The walks took place in Lincoln, Louth, Boston and Grantham and saw 873 participants turn out to help raise a total of £68, 780.
The charity also set a new World Record for 'the largest gathering of people wearing flashing headwear'.