July 29, 2014 4.55 pm
This story is over 89 months old
Red Arrows welcome three new pilots
New wings: Meet the three new pilots who will join the Lincolnshire-based Red Arrows team for their 2015 season.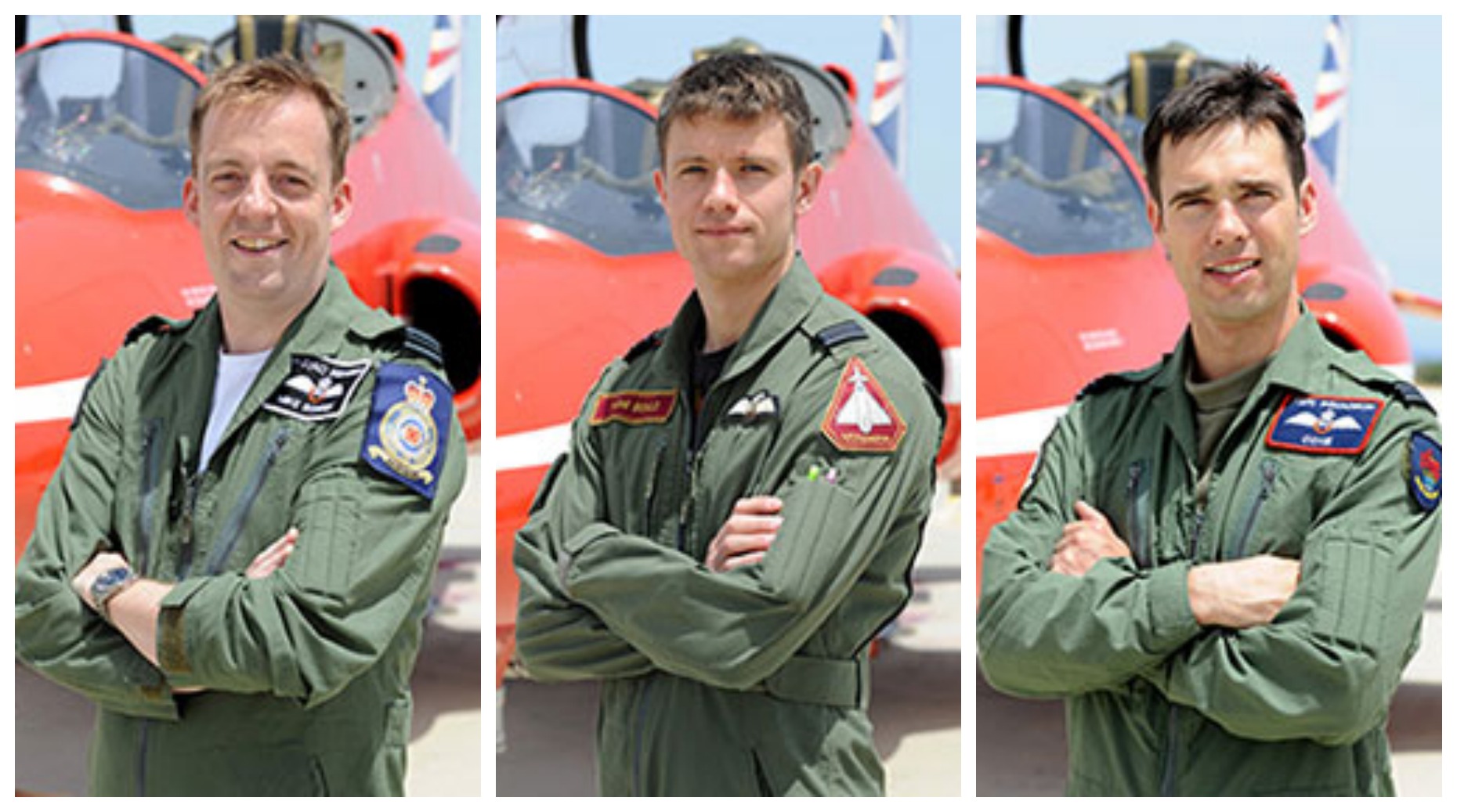 After a "gruelling process" of flight tests, interviews and exercises the Royal Air Force Aerobatic Team the Red Arrows have selected three new pilots for the 2015 season.
Flight Lieutenant Michael Bowden (33), Flight Lieutenant Thomas Bould (32) and Flight Lieutenant Emmet Cox (35) will begin training with the Red Arrows later this year.
The new recruits will succeed 2014 season pilots Flight Lieutenant Mike Child, Flight Lieutenant James McMillan and Flight Lieutenant Martin Pert.
They'll display as part of the 2015 season's nine-strong team, based at RAF Scampton near Lincoln.
Red Arrows pilots stay for three years before returning to frontline, instructional or staff duties.
New recruits need to have at least 1,500 fast flying hours behind them.
To apply, pilots need to have completed a frontline tour and be assessed at "above average in their flying role.
The squadron, which first displayed to the public in 1965, is renowned as one of the world's premier aerobatic teams and has performed more than 4,500 times in 56 countries.
Meet the pilots
Flight Lieutenant Bowden was raised in Newport, south Wales, and is a graduate of Cardiff University, joined the Royal Air Force in 2002.
After being posted to II (AC) Squadron at RAF Marham, he completed two operational tours of Afghanistan, flying the Tornado GR4.
He said: "I have always had a passion for pure flying and the Red Arrows hold the top trump card in that arena. The team demonstrates the absolute pinnacle of flying ability and the desire to be part of that team has been there since being a small boy and has only ever grown as the years have gone on.
"It is such a huge privilege to think I can be part of the team that can have that influence on our future generation."
Flight Lieutenant Bould was born and raised in Bradford, West Yorkshire – attending Woodhouse Grove School before studying at Manchester University and being a member of Manchester and Salford University Air Squadron.
He joined the Royal Air Force in 2005, was the Tucano display pilot in 2010 and was selected to fly the Typhoon multi-role combat aircraft. He was posted to 1(F) Squadron and during his frontline tour had several deployments to the Falkland Islands as well as exercises in Malaysia and the United Arab Emirates.
He said: "I believe the Red Arrows firmly stand for these qualities and I will be immensely proud to be part of the team.
"Aerobatic flying will be very different to frontline missions, but incredibly demanding and rewarding in different aspects."
Flight Lieutenant Cox was educated at Long Bay College in Auckland, New Zealand, before studying at the city's university. He emigrated to the UK in 2001 and joined the Royal Air Force a year later.
Following training, Flight Lieutenant Cox was posted to RAF Lossiemouth to fly the Tornado GR4. As a member of 617 Squadron (The Dambusters), he flew missions over Iraq. In 2010 he was chosen to become a Qualified Flying Instructor and returned to 72(R) Squadron to fly the Tucano.
He said: "There are many aspects that have inspired me to join the Red Arrows but the biggest is simply the flying. The type of flying the team does is like no other and I consider it to be the pinnacle of aviation.
"It's going to take a lot of hard work and constant practice over the winter, but when the team is rewarded with the red flying suits and the right to display to the public, it will all be worth it."