December 22, 2014 12.00 pm
This story is over 107 months old
Lincoln school gets defibrillator after LIVES charity campaign
Saving lives: Lincoln Minster School will be the first in the county with its own defibrillator on-site, as part of a 45th anniversary campaign by local charity LIVES.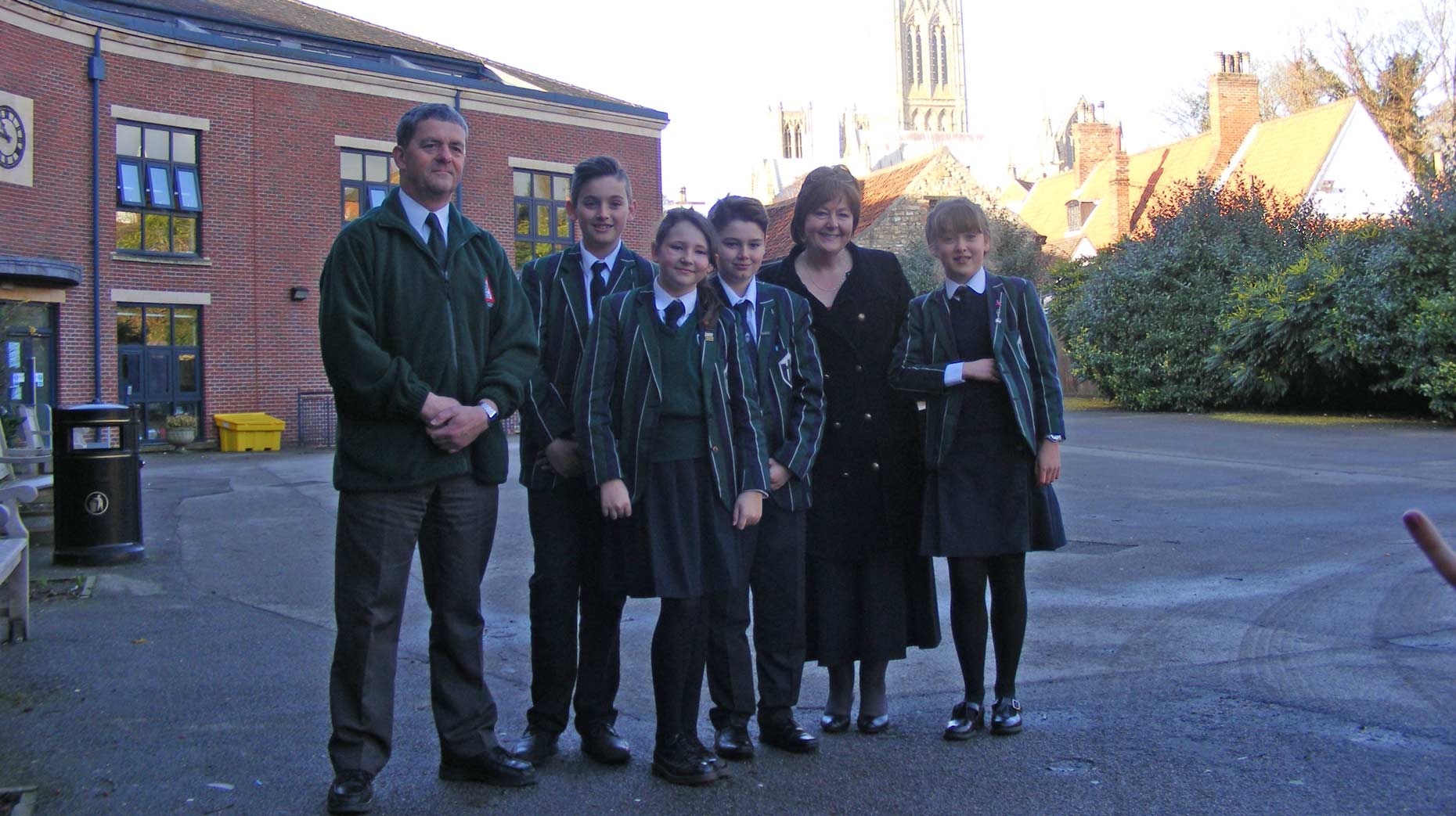 Lincoln Minster School will have its own defibrillator on-site, as part of a 45th anniversary campaign by local charity LIVES.
Lincolnshire Integrated Voluntary Emergency Service (LIVES) is hosting a number of fundraising awareness campaigns to celebrate its anniversary and is installing defibrillator units in 45 schools, 45 villages and 45 businesses.
LIVES has evolved through the years and now provides specialist medical care, training and – perhaps its best known service – community first responders.
Around 700 volunteers from all walks of life are based in Lincolnshire's rural communities, and can often reach the scene of an emergency more quickly than the ambulance service.
In those vital minutes they can administer first aid which can literally make the difference between life and death.
The first school defibrillator will arrive at Lincoln Minster School in the New Year, when training will commence.
Minster School Business Manager Mandy Taylor said: "The Lindum Sports Association has recently purchased a unit to have at its ground and, as major partners, we took part in the training.
"It became clear how vitally important having access to one of these machines can be, and we took the decision to purchase our own as part of the LIVES 45th anniversary initiative.
"Not only will having a defibrillator enable us to better look after our 900-strong school community, but we are in the fortunate position where we can raise awareness of emergency first aid and make sure that as many people as possible are trained."
Paul Martin from LIVES added: "Without LIVES, Lincolnshire would need five times as many ambulances as it currently has.
"To have this kind of emergency life-saving equipment based where it is needed is invaluable: for every minute someone is in cardiac arrest without attention, their chance of survival is reduced by 10%."
Charity of the Year
LIVES was awarded a generous donation of £11,000 after spending a year as Lincoln events firm Running Imp's chosen charity.
Each year, the company selects a charity to become their "Charity of the Year". They are then the the beneficiary of a donation through the sales of medals and company fundraising projects.
Founder and Chief Executive Chris Illsley said "We are delighted to have been able to support such a fantastic charity who save hundreds of lives each year. Presenting L.I.V.E.S. with a cheque for £11,000 is our way of helping the volunteers continue their incredible work."
Lincoln business club donation
Business networking club Dynamic Lincoln has also made a charitable donation of £1,000 to LIVES to mark its first full year.
The club, which is made up of business people in the construction and property industry across Lincolnshire and the East Midlands, meets four times a year.
Dynamic Lincoln brings together leaders in the industry to work together to encourage growth and investment in the county.
Members of Dynamic Lincoln include Core Architects, Globe Consultants, Gleeds, Cartwright Communications, Lincolnshire County Council, Couch Perry Wilkes, Rizk McCay, Langleys, Manor Crest, Ward Cole, Willmott Dixon and Pygott and Crone.
When the group, set up by Pygott and Crone, met for the final time of the year on December 19, 2014 its 12 members decided to celebrate its successes by donating to a local charity.
Dave Ford, business development manager at Willmott Dixon, said: "Being part of Dynamic Lincoln has been a superb way to meet and work with Lincolnshire businesses who are passionate about bringing the best to the county. It's been a great success and I look forward to this continuing in 2015.
"We chose to support LIVES as it's a very worthy Lincolnshire organisation that is close to the heart of many of our members."
Tim Downing, senior partner at Pygott and Crone and a trustee of LIVES said: "We have had a fantastic first year of Dynamic Lincoln and as a group we wanted to support a great cause. As I'm already involved with LIVES I'm very familiar with the lifesaving work they do and the fact that the first responders who go out to help people are all volunteers."
"The LIVES team are extremely dedicated and committed to helping the people of Lincolnshire in their time of need and it only seemed fitting that we contribute to this great work."