June 5, 2015 1.50 pm
This story is over 82 months old
Protesters say families and volunteers at risk after Lincolnshire council cut
Charity cuts: Volunteers and users of the Lincolnshire Home-start family support charity protested against the county council's decision to cut their funding.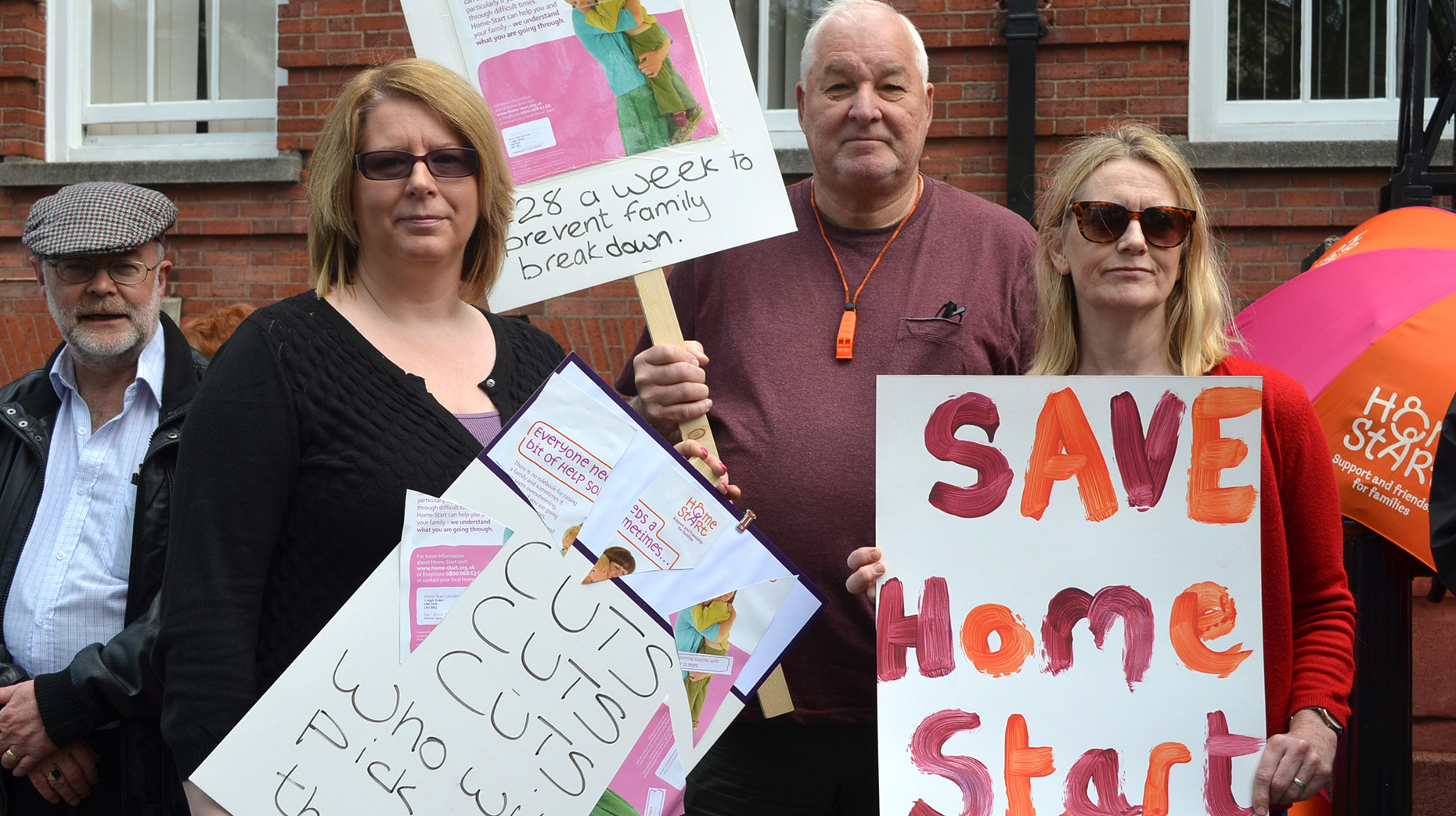 A decision to pull Lincolnshire County Council's funding from family support charity Home-Start was deemed a "devastating cut" by protesters in Lincoln on Friday, June 5.
The county council's annual funding commitment to Home-Start of just over £435,000 helps to support around 809 families with 1,718 children (2014/15).
As reported previously, the charity will need to find an alternative source of funding by October 2015 in order to keep out of the red.
Volunteers and service users joined together outside the Lincolnshire County Council offices on Newland in Lincoln, armed with banners condemning the cuts.
The group is made up of eight local schemes in Boston, East Lindsey, Gainsborough, Grantham, Lincoln, Sleaford, South Holland and South West Lincolnshire.
Cuts to the service also puts the roles of over 500 volunteers on the line.
Home-Start in Lincolnshire has been providing one-to-one support for parents and families for the past 30 years and has supported families with issues ranging from debt, domestic abuse, inadequate housing, mental ill health, disabilities and isolation.
The county council's decision was made in light of the need to find £120 million in savings over the next few years.
Patricia Bradwell, Executive Councillor for Children's Services, said previously: "In this difficult financial climate when we have to find substantial savings, we have to prioritise those essential, frontline services, which has meant that Homestart will no longer receive funding from the county council.
"The contract with Homestart has reached its natural end and we have had to review what is provided as we do with all our contracts."
Scheme Manager at Home-Start Lincoln Mandy Sowerby said: "We want to draw attention to the fact that more than 800 families across the county will be without a service.
"For us here in Lincoln it will mean that for 50% of the families that we support, we will no longer be able to support.
"There is also a volunteer workforce across the county of more than 500 volunteers that could potentially be made redundant.
"We want people to look at the decision and the process that the county council went about to make the decision. They tell us that the families will be able to get support from within the county council, but as yet we don't know what those services will be."
Home-Start volunteer Jan added: "Since I have been a volunteer I have helped a diverse range of families who have really benefitted from the help I've been able to give them.
"If it closes I think the families will be shut in our own homes and not go for the benefits that they can go for because we help them to be able to do that.
"We were consulted. Whether the county council has done anything about the responses of the consultation is another matter. I certainly didn't get confirmation of my response."