July 20, 2015 4.57 pm
This story is over 81 months old
Lincoln Birchwood hirebikes wrecked by vandals
Hirebikes damaged: A set of hirebikes in the Birchwood area of Lincoln have been ripped from their docks and damaged.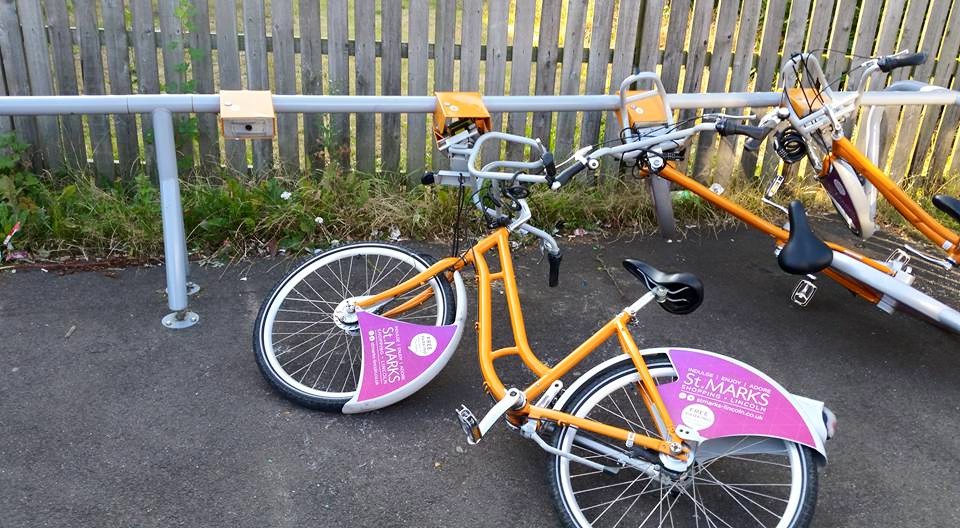 A number of rental pushbikes from the Birchwood Hirebikes station in Lincoln are out of use after vandals destroyed docks and cycles.
At least four of the bikes, which are part of the city-wide Hirebikes scheme run by Hourbike with Access Lincoln, were ripped from their docks over the weekend on Birchwood Avenue.
Damage was caused to the bike frames, lights and reflectors.
The scheme was launched in August 2013 as part of the multi-million pound Access LN6 programme (now Access Lincoln).
It's now expanded to include 19 locations in the city.
Executive member for highways and transportation, CounciIlor Richard Davies, said: "I am saddened that this mindless vandalism has happened. The hire bikes provide a vital service, for some people it is their only means travelling across the city for work, college or training. The bikes also provide an opportunity for tourists and visitors to explore the city – providing a welcome boost to the local economy.
"I would urge anyone who has any information on this pointless act of criminal damage to contact the police. In the meantime money that could have been spent on expanding the service will now have to be spent of repairing this station and the bikes that were damaged."
An Hourbikes spokesperson added later: "The hirebikes were back in use the following day after suffering mostly superficial damage to the bikes and locking devices.
"No bikes were stolen. This is a well-used site and it is the first time that this has happened so we will log the incident and keep an eye on the station.
Lincolnshire Police were alerted to the incident of criminal damage at around 7.10am on July 18 and are appealing for anyone with information to call 101, quoting incident number 87.