July 7, 2015 1.34 pm
This story is over 81 months old
Road closures continue as firefighters control major waste fire near Sleaford
Fire decreasing: Fire crews are continuing to diminish the fire at the Mid UK Recycling Ltd site on High Dyke in Ancaster. Road closures are currently in place.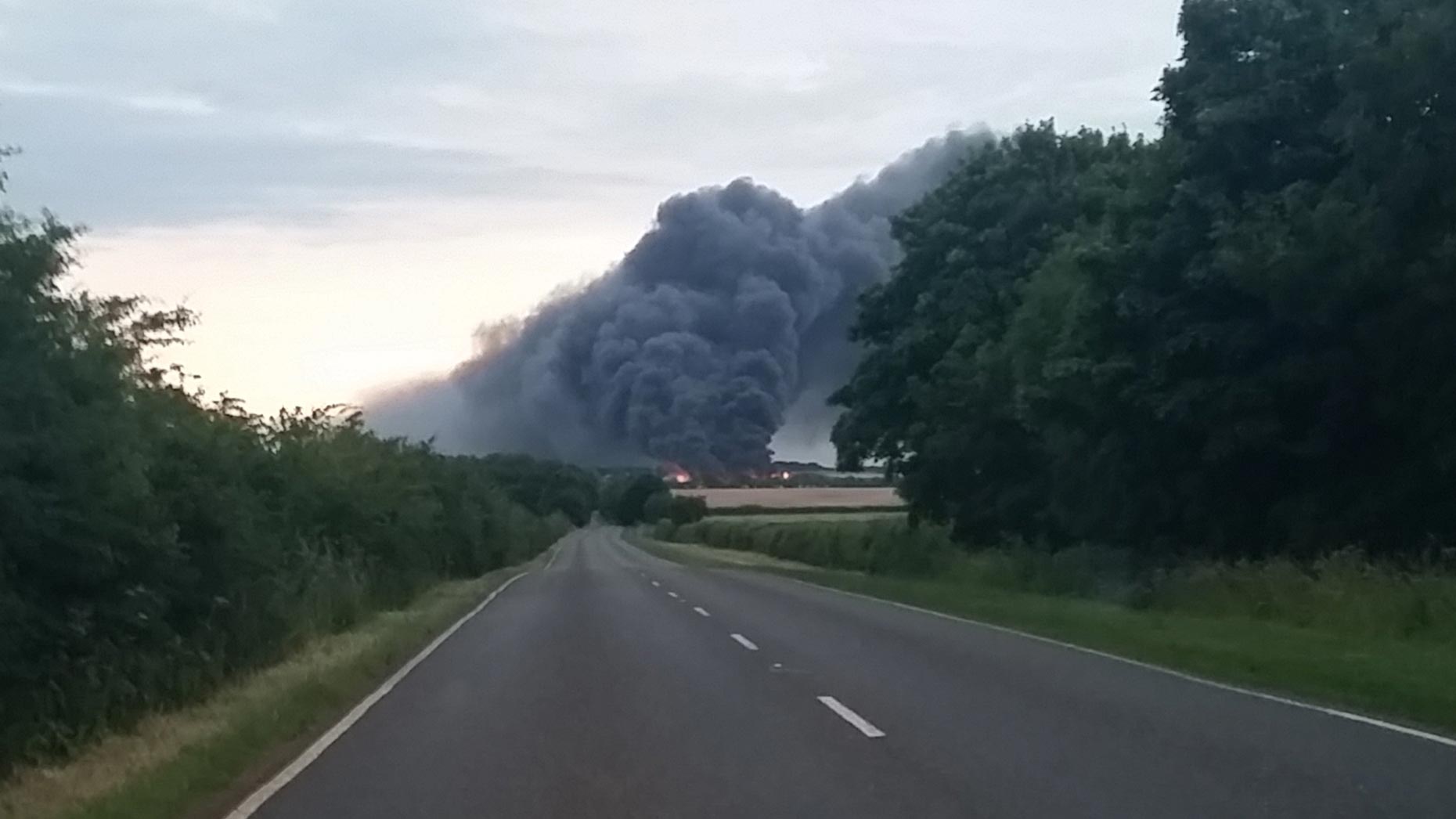 Fire crews are continuing to tackle a large fire which engulfed 4,000 bales of mixed household refuse and shredded carpets in Ancaster near Sleaford, with road closures in place for around two days.
As previously reported, emergency services were called out at just before 2am on Tuesday, July 7 to the blaze at the Mid UK Recycling Ltd site on High Dyke in Ancaster.
Some 12 fire and rescue appliances were delployed from across the county including from Sleaford and Grantham and Waddington.
The fire covered an area approximately 100m2, and firefighters have been working to cool the adjacent buildings.
Police, Fire and Ambulance responders were at the scene and police toured the area advising residents to keep doors and windows closed.
The cause of the fire is not yet known and there are no injuries reported.
Stuart Ruff, Area Manager for Lincolnshire Fire and Rescue, said: "This is a reasonably large incident and all agencies have worked tremendously hard since the early hours of this morning.
"It was initially a very fierce fire but as we took immediate action we were able to bring it under control.
"We will now continue to extinguish the small pockets of fire that continue, and relief crews have taken over from firefighters that were here at 2am.
"There remains a plume of smoke which is constantly being monitored. We have assesed this as being a low risk, but we do advise all local residents to keep their windows and doors shut until further notice.
"The cause of the fire is not yet known and is under investigation."
Road closures
Due to the operation to pump water from nearby lake Woodland Waters, road closures are predicted to last around two days for equipment to be transported during the 'dampening down' process.
The road closures in place at the time of writing include the High Dike Ancaster crossroads to the southbound junction with the A52.
Traffic is diverted from the north to the A153 towards Sleaford, to the A15, A52 to Grantham and vice versa.
Due to water pipes being used at Woody's Lake, the A153 at Ancaster crossroads to Honnington Fork, the junction with A607 is closed.
Traffic is diverted from the A607 to Leadenham crossroads, the A17, to Sleaford and to the A15 and vice versa.
The B6403 and the A153 from Sleaford to Ancaster are open for local access only.
Road closures and traffic information relating to this incident will be updated accordingly.