April 8, 2016 2.44 pm
This story is over 91 months old
Lincoln gas leak: Roads closed and businesses evacuated after digger strikes gas main
Update at 4.50pm – all roads have now been reopened. Several main roads have been closed and people are being evacuated in Lincoln after a digger struck a gas main. Lincoln Central train station has now reopened, however trains are still disrupted Road closures: Pelham Bridge, Broadway, Great North Terrace, Clifton Street, Portland Street, Scorer Street A 600m cordon is…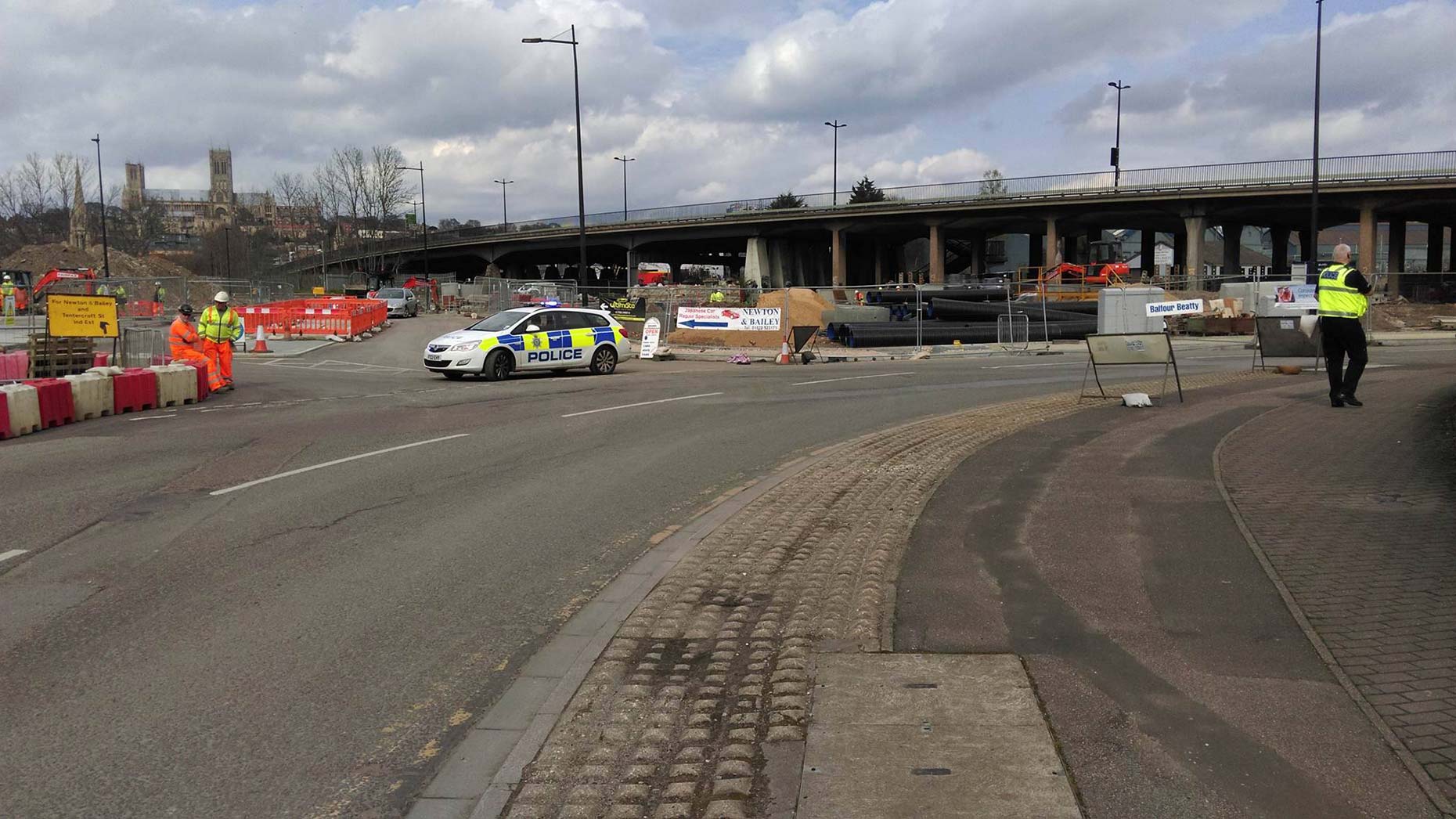 Update at 4.50pm – all roads have now been reopened.
Several main roads have been closed and people are being evacuated in Lincoln after a digger struck a gas main.
Lincoln Central train station has now reopened, however trains are still disrupted
Road closures: Pelham Bridge, Broadway, Great North Terrace, Clifton Street, Portland Street, Scorer Street
A 600m cordon is in place
Local train and bus services also affected
Lincoln bus station is closed
Premises in the area have been evacuated, including surrounding businesses
Rail interruption means level crossing barriers are down on Station Road in North Hykeham
No injuries reported
Transco engineers on the scene
Police predict the cordon will be in place for a number of hours
People who are indoors within the cordon are told to close windows and doors
The damage occurred at around 2.05pm on Friday, April 8 and was caused by a digger working on the East West Link Road in the vicinity of Kesteven Street near to Pelham Bridge.
Police say engineers are assessing the situation but cordons within 600m are being set up as a precaution and some local evacuations are being carried out.
The Lincolnshire Road Safety Partnership building has been evacuated along with the Lincoln College and Siemens buildings.
Pelham Bridge and Great Northern Terrace are closed and diversions are being organised.
Broadgate, Portland Street and Scorer Street have all been closed.
Rail services are also affected due the proximity of the incident to the railway lines.
#Lincoln due to major gas leak all services are severely delayed in and around Lincoln. Diversions in place on all routes. Apologies

— Stagecoach East Mids (@StagecoachEMid) April 8, 2016
#Lincoln URGENT NOTICE Due to gas leak in the City Centre, buses are severely delayed due to emergency road closures. 1/3

— Stagecoach East Mids (@StagecoachEMid) April 8, 2016
Anyone within that 600m cordon is asked to walk out of it and go to friends or relatives elsewhere

— Lincolnshire Police (@lincspolice) April 8, 2016
The general public and motorists are advised to avoid the area for the time being.
Police advise no one should smoke or use electrical devices in the affected area.
There are no reports of injuries.
Traffic is at a standstill in connected areas.
Residents, workers and other people within that area are asked to walk out of it and go to friend's or relative's home elsewhere.
If they have no such option they can go to the South Common, the main Lincoln University car park or the Bishop Grosseteste University where they will have access to a police officer or other emergency service personnel.
Anyone with a disability or other problem that means that they are unable to do this without assistance should call 01522 947395 for advice.
Please RT. Lincoln WalkInCentre currently CLOSED due to gas leak. Anyone requiring treatment may go to Lincoln Out Of Hours within A&E.

— LincsCommHealth (@LincsCommHealth) April 8, 2016
Further information will be released as and when we have it.