April 26, 2016 1.08 pm
This story is over 68 months old
New shops and apartments to open on former Lincoln Gadsby's site
New shops and apartments are nearing completion on the site of the former Gadsby's shop on Lincoln High Street after it was demolished as part of £22 million East West Link Road works. As previously reported, the building on the corner of High Street and Tentercroft Street was dismantled brick by brick to allow contractors to…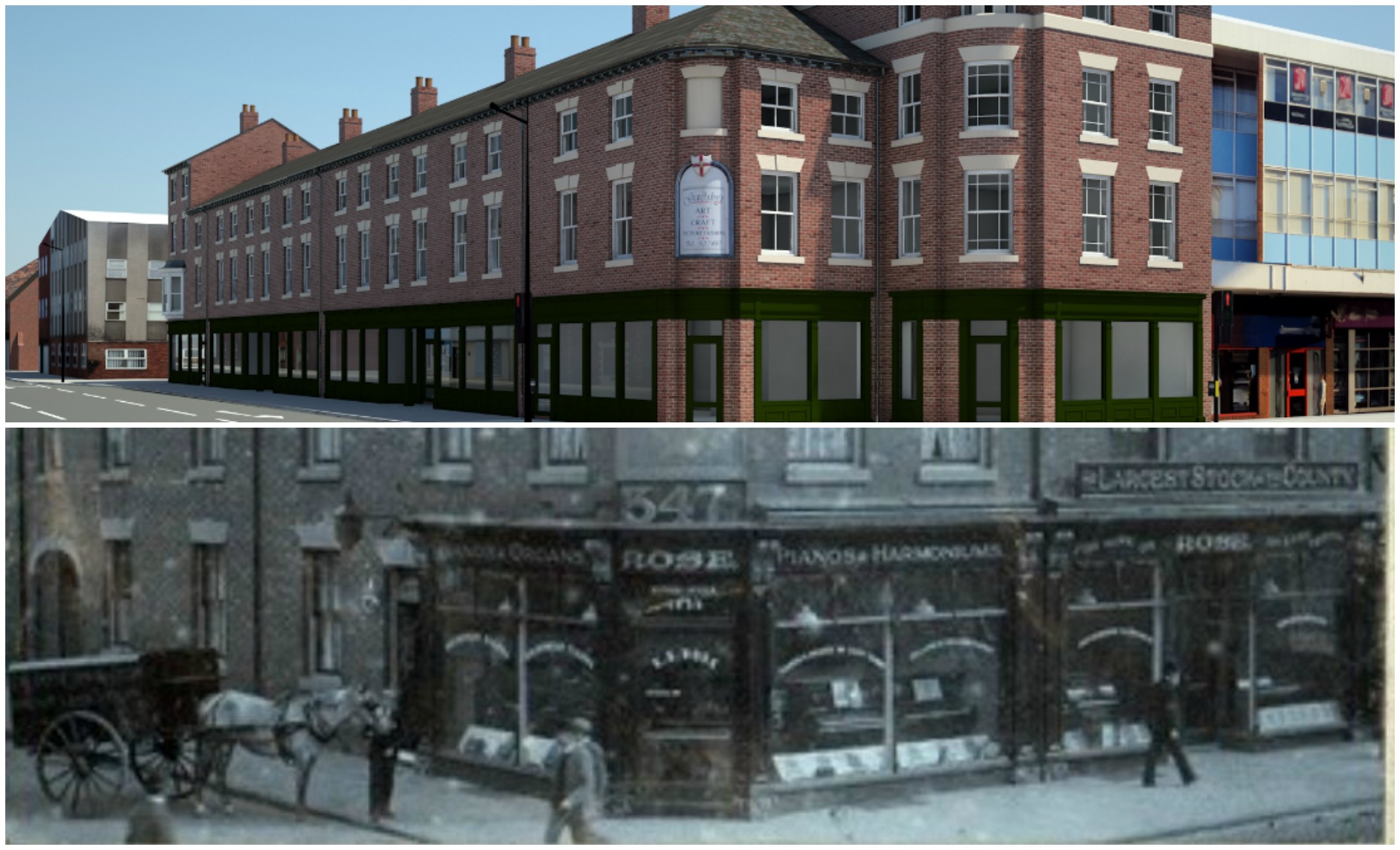 New shops and apartments are nearing completion on the site of the former Gadsby's shop on Lincoln High Street after it was demolished as part of £22 million East West Link Road works.
As previously reported, the building on the corner of High Street and Tentercroft Street was dismantled brick by brick to allow contractors to widen the junction.
The new road will connect High Street with Pelham Bridge and Canwick Road.
A slightly smaller building is now being reassembled, consisting of four retail units and 11 apartments.
Lincolnshire County Council said the retail units and apartments will be available to rent on completion of the project.
Building work has already begun, with the new structure beginning to take shape.
It will be named in recognition of the building's former musical history.
The new building will be called Rose House, named after Rose Musical Warehouse – founded by William Rose on the site in the 1860s.
William's youngest son, Edwin Samuel, inherited the business which stayed in the family for five generations until Jane Kinnear (nee Rose) and John Rose agreed to sell it to Lincolnshire County Council in order to allow the East West Link Road to go ahead.
Executive member for highways and transportation, Councillor Richard Davies, said: "The fact that we have been able to build this impressive new link road through the centre of Lincoln is a fantastic achievement and we are grateful to people like the Rose family who have allowed this to happen.
"The new road will include sections of dual carriageway and wider junctions allowing a significant amount of traffic to use the road reducing congestion through the city, particularly at rush hour."
Jane Kinnear added: "We are very touched that the name of the new building should reflect the historic ties our family have had with Lincoln. We hope that Rose House brings as much happiness and prosperity to future occupants as its predecessor did for us."
An archaeological dig carried out on the site last year uncovered evidence of Roman remains on the site and until the beginning of the industrial revolution the land was used for agriculture.