Woman trapped under lorry on Lincoln city centre road
A woman has been trapped under a lorry after an accident on a main Lincoln city centre road this morning. Lincolnshire Police received reports about the incident on Broadgate, near to Melvin Street and beneath the flyover, at around 8.12am. A spokesperson for the force said that "a woman was trapped underneath a lorry in…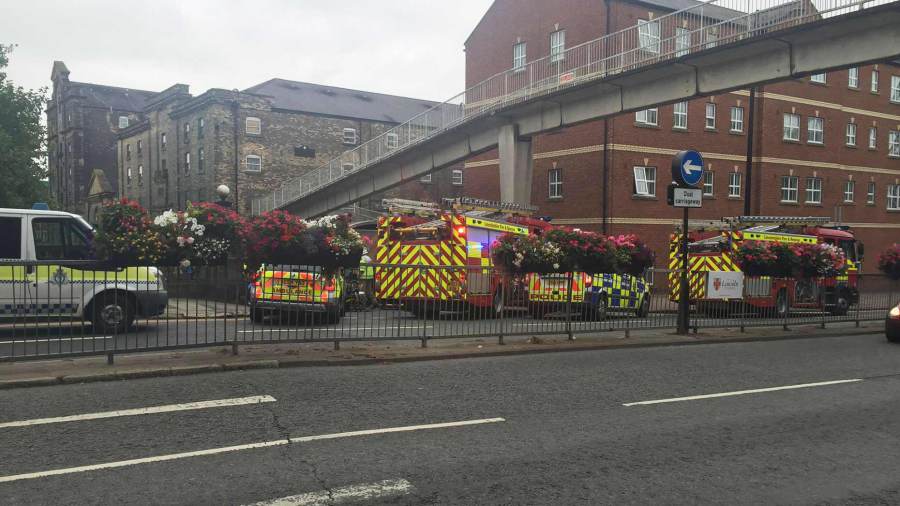 A woman has been trapped under a lorry after an accident on a main Lincoln city centre road this morning.
Lincolnshire Police received reports about the incident on Broadgate, near to Melvin Street and beneath the flyover, at around 8.12am.
A spokesperson for the force said that "a woman was trapped underneath a lorry in the Waterside South area".
An air ambulance, paramedics and firefighters attended in a bid to rescue the victim.
A reporter at the scene has said that the person appeared to have been freed from the left hand side of the vehicle which had turned into Melville Street, at around 8.45am and put in an ambulance.
Blue plastic sheets had been put up around the scene as police and paramedics worked with firefighters to free the woman.
There is no information on the condition of the victim at this stage though.
Police have said that the footbridge over Broadgate is closed, with traffic building up in all directions around the incident.
Jade White, 25, was with her daughter when the incident happened, and said that she thought that a woman had been trapped under the Brinklow Quarry lorry.
She said: "There was a woman trapped underneath – it was a pedestrian. It looks like they've jacked the lorry up to try and get her out.
"From how many people are trying to get her out, it looks deadly serious.
"I give the ambulance crew absolute credit because it can't be easy having this kind of job.
"They do an absolutely fantastic job."
Chris Maddy said: "I witnessed the immediate aftermath of this when only police had arrived on scene.
"It was horrific and I have to give utmost respect to all emergency services for all their work in the face of such a terrible accident.
"Hope the lady survives as they were doing everything they possibly could for her."
Anyone with information on the crash is asked to call Lincolnshire Police on 101, quoting incident number 63 of September 7.