September 6, 2016 9.58 am
This story is over 86 months old
"Use that knowledge": Gandhi's granddaughter inspires Lincoln graduates
University of Lincoln class of 2016 graduates celebrated the culmination of their degrees alongside Honorary Graduate Ela Gandhi, granddaughter of Mahatma Gandhi, on Monday, September 5. The first of four days of ceremonies at Lincoln Cathedral saw hundreds of graduates receive their degree certificates. Ceremonies will be taking place until Thursday, September 8, during which the university…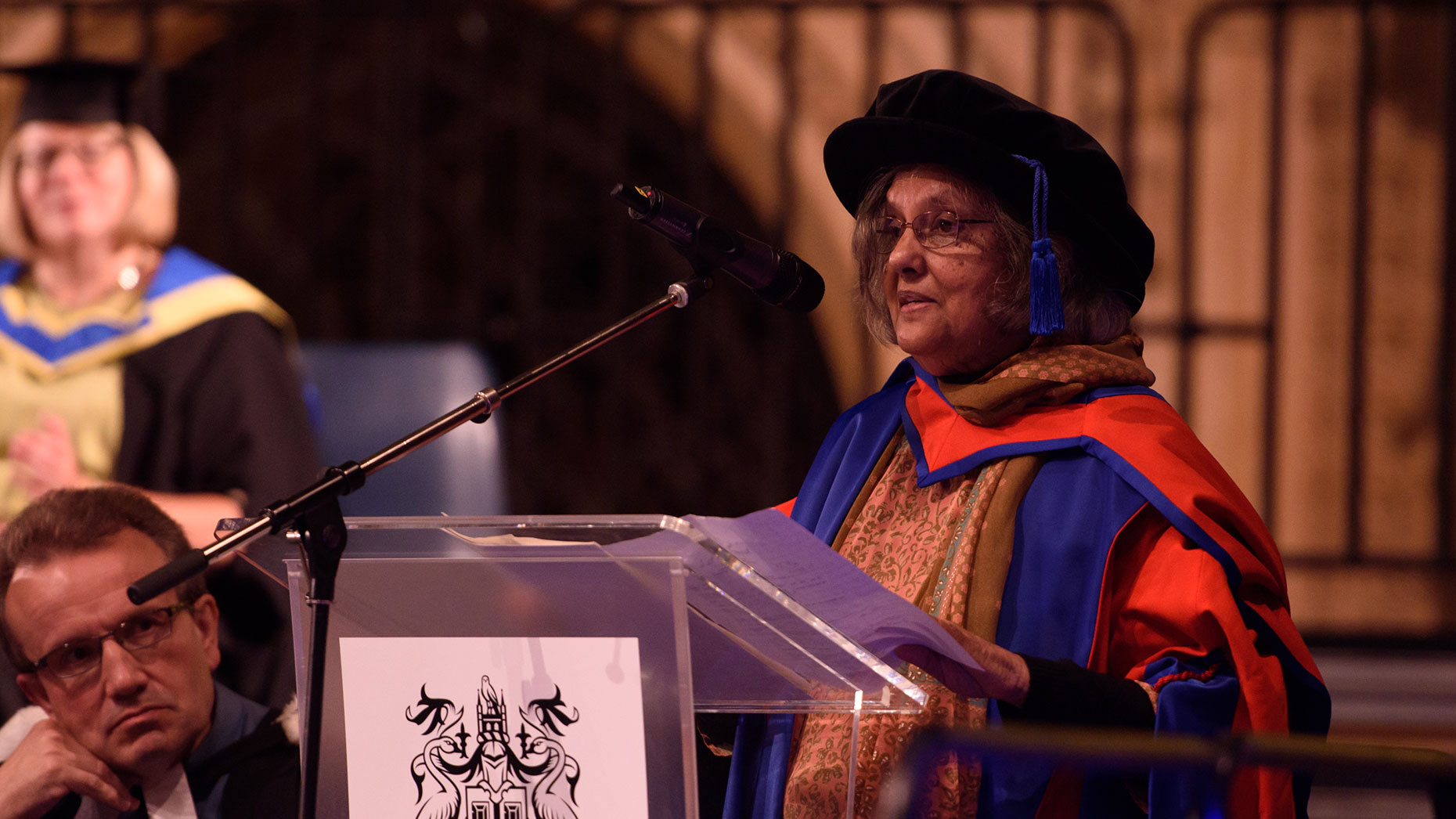 University of Lincoln class of 2016 graduates celebrated the culmination of their degrees alongside Honorary Graduate Ela Gandhi, granddaughter of Mahatma Gandhi, on Monday, September 5.
The first of four days of ceremonies at Lincoln Cathedral saw hundreds of graduates receive their degree certificates.
Ceremonies will be taking place until Thursday, September 8, during which the university will present academic awards to more than 3,000 students.
Ela Gandhi was one of a number of Honorary Graduates who have been recognised by the university for their outstanding contribution made in their respective fields.
Ela, who is a peace activist and former Member of Parliament in South Africa, told The Lincolnite it was an "honour" to have been invited.
"I'm absolutely blown over", she said. "There are many reasons I'm so excited to be in this historic city.
"My grandfather graduated in the UK 125 years ago so it's a historic occasion for me."
She described her time at the former Natal University and UNISA as one of the biggest challenges of her life.
"When I was at university there was a lot of segregation. The university that I went to was mainly for white people and we had a separate section for the non-white people.
"Lecturers would lecture to the white students and then come and lecture to us in a place that was like an old warehouse. There were 130 students and you could hardly here. It wasn't the most pleasant experience.
"One of the biggest lessons for me is the whole question of social and economic justice. My life has been dedicated to this. It's what we've been trying to attain in our country and the struggle goes on.
"Initially my biggest challenge was the apartheid and repression. My children grew up during the nine years I was banned from political activism and under house arrest.
"It was a wonderful moment for us when we were able to free South Africa. To see Mr Mandela come out, and all the changes that we made, that was euphoria in South Africa for the first five years. But delivering became more and more difficult over the years."
She had plenty of advice for those receiving their awards this week.
"It's important for us, once we graduate that we use that knowledge to the best advantage for the majority of people.
"My advice would be that we have to stick to our values. Values are very important. Values of compassion, respect, love for humanity.
"We're living in conditions where it is important for all of us to begin to look at the universe as a whole.
"We are custodians of this world, and if we don't look after this world the next generation is not going to see anything. We would destroy it in a moment."
Other figures receiving honorary degrees this year are Juergen Maier, Chief Executive of Siemens in the UK, acclaimed film and television producer Tony Garnett, and Professor Efim Zelmanov, an eminent mathematician who has won the coveted Fields Medal – often referred to as 'the Nobel Prize of mathematics'.
Celebrated poet Professor James Fenton, Queen's Nurse Candice Pellett, and Maureen Kavanagh – a campaigner who has been influential in helping people affected by major disasters, will also become Honorary Graduates at this year's ceremonies.