October 21, 2016 10.11 am
This story is over 85 months old
In pictures: North Kesteven community champions awarded at annual ceremony
A record number of people from the North Kesteven area have been awarded for their exceptional community spirit at an annual ceremony. Residents, businesses and organisations were applauded for the difference they've made to their area through their volunteer work at the NK Community Champion Awards 2016 on the evening of Thursday, October 20. The event,…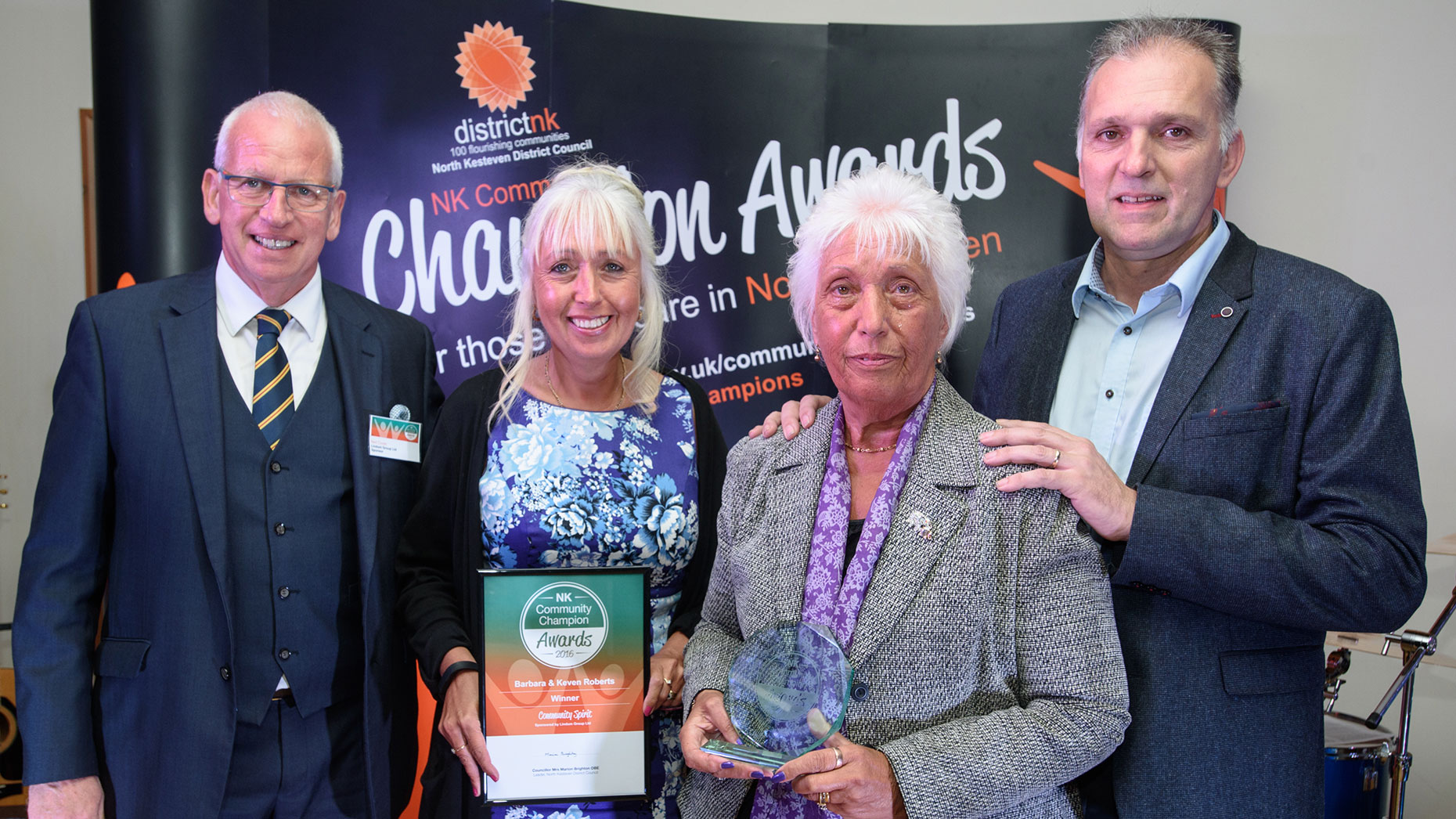 A record number of people from the North Kesteven area have been awarded for their exceptional community spirit at an annual ceremony.
Residents, businesses and organisations were applauded for the difference they've made to their area through their volunteer work at the NK Community Champion Awards 2016 on the evening of Thursday, October 20.
The event, held at The Venue, Navenby, was attended by more than 150 guests, including sponsors.
North Kesteven District Council (NKDC) Deputy Leader Councillor Mike Gallagher congratulated attendees for the significant impact they've had on the lives of many in the community.
He said: "This is our chance to thank you all for your hard work and commitment to making North Kesteven the wonderful place that it is.
"Although there always has to be a winner, the fact that so many nominations were made and that we had more finalists than ever shows the esteem in which you are all held and makes you all great achievers in all that you do.
"Each of the finalists and indeed all of the 120 nominees contribute to making North Kesteven the kind of place it is."
In total ten Community Champion Awards were given, more than ever before, and there was also a new award made, the Chairman's Award.
This was given to four Sleaford teenagers for their life-saving actions in support of a woman who was drifting in and out of consciousness in her car.
The evening's compere Rod Whiting said that through the example of Connor Robson, Luke Callow, George Brickles and Oliver Self we should all think twice before dismissing teenagers hanging around on a street corner as being nothing but trouble.
The winners were :
Young Achiever – Christina Creedon from Silk Willoughby – for her care, consideration and commitment in broad ranging ways to raise awareness of autism and stand up to bullies.
Community Business – Hill Holt Wood at Norton Disney – for extensive engagement in the provision of community resources and facilities and support of a range of community projects; and also Branston Ltd in Branston – for significant investment in children's educational resources and local community projects.
Contribution to Sport – Angela Morley, from Dunston – for dedication and commitment in championing the Special Olympics and enabling broad sports participation.
Contribution to a Better Environment – Friends of Mareham Pastures, Sleaford – a small volunteer group which over 13 years has transformed and old tip into a much-valued nature reserve.
Contribution to Arts & Culture – John Crouch, from North Hykeham – for amazing voluntary contributions towards motivating young musicians through more than 30 years of dedication through the group Jazz Vehicle.
Contribution to Health & Wellbeing – Debbie Jones, from Sleaford – for her energetic dedication to the Beyond the Blues mental health wellbeing group.
Contribution to Sustainable Transport – Charlie Kinloch, for all of his promotion of all sustainable transport options among colleagues in North Hykeham.
Community Spirit – Ian Kendrick from Waddington – for an enormous range of expressions of community support ranging from low-key neighbourliness to leading health walks; and also to Barbara and the late Keven Roberts – recognising their joint commitment and mutual support in a range of charitable endeavours, notably North Hykeham Sailabilty and Sleaford Talking Newspaper.
Each received an engraved trophy and certificate.
As well as celebrating community spirit the night raised hundreds of pounds for NKDC Chairman Cllr John Money's charity St Barnabas Hospice and heard from District Paralympian Kieran Tscherniawsky about his experiences at Rio 2016.