October 29, 2016 2.04 pm
This story is over 62 months old
Six thousand people march in protest at Grantham A&E cuts
Passionate campaigners have vowed to continue to protest against the controversial overnight closure of the A&E department at Grantham Hospital after the second march in the town in as many months. The second protest on Saturday, October 29, saw concerned local residents march from St Peter's Hill down Grantham High Street before heading onto Watergate and…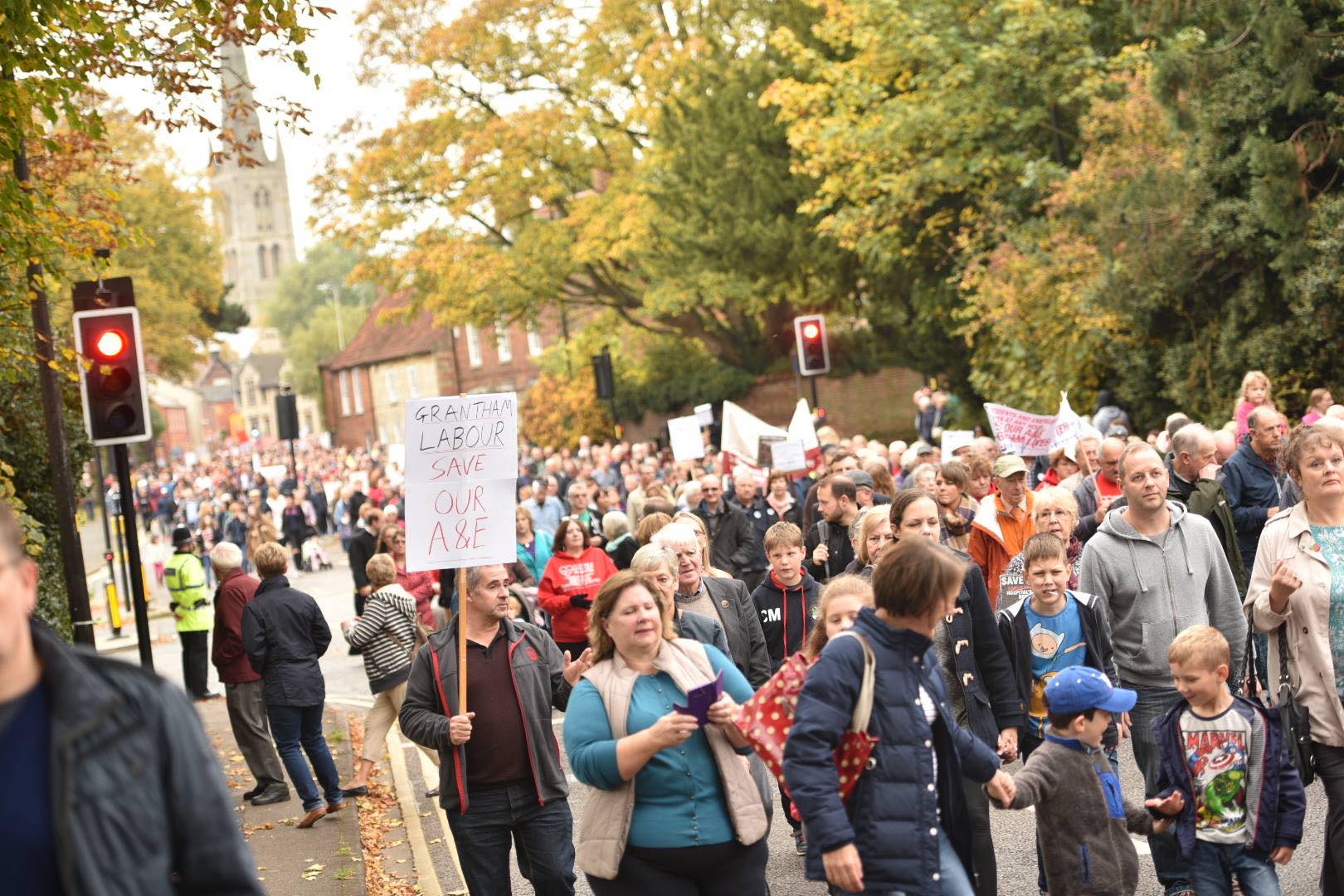 Passionate campaigners have vowed to continue to protest against the controversial overnight closure of the A&E department at Grantham Hospital after the second march in the town in as many months.
The second protest on Saturday, October 29, saw concerned local residents march from St Peter's Hill down Grantham High Street before heading onto Watergate and Manthorpe Road, walking up to the hospital.
"I would say we had double attendance from our first march in August, some 6,000 people here today," said Jody Clark from the Fighting 4 Grantham Hospital campaign.
"They [ULHT] are saying they will keep it closed overnight until February, which of course means Christmas, New Year and winter will be without emergency care and having to travel for 30 miles to the nearest A&E available — that's if you can get an ambulance and if you can get into the A&E once you get there, because Peterborough have been on black alert for the last five days.
"We are the district of Grantham and surrounding villages and we pay the same share [of tax] as anybody else, and we are entitled to the same level of service. It's their [UHLT's] bad management that has caused this issue, yet it's the people of Grantham and surrounding communities that are suffering for it."
Marianne Overton, leader of the Lincolnshire Independents at the county council also joined the march and was pleased with the large turnout.
She said: "Losing local services puts a greater pressure on the ambulance services who are already unable to cope."
Residents carried banners with the words 'Save our A&E', 'Grantham Lives Matter', and 'Our NHS is here to stay'.
Crowds were so large that Lincolnshire Police were forced to close off some of the roads for the demonstration.
A number of speakers were at the event, including Newark MP Robert Jenrick, who was standing in for Grantham and Stamford MP Nick Boles, who was unable to attend after being diagnosed with cancer earlier this week.
A previous march on September 3 saw an estimated 3,000 protesters campaign against the overnight closure.
As previously reported, United Lincolnshire Hospitals NHS Trust made the decision to slash opening hours at the town's A&E to 9am to 6.30pm.
The decision means that the A&E department will be closed more than it is open.
Hospital bosses said that there were insufficient numbers of doctors to fill shifts in the three Lincolnshire A&E departments 24 hours a day, seven days a week.