Hockey player crying in agony after breaking leg forced to wait two hours for ambulance
An ice hockey player left screaming in pain after breaking his leg during a game at Grimsby Ice Rink had to wait almost two hours for an ambulance to arrive. Armands Pastars, who plays for Sheffield Ice Tigers, injured his ankle during a cup game against Grimsby Ice Bears at around 6.45pm on Saturday, February 18.…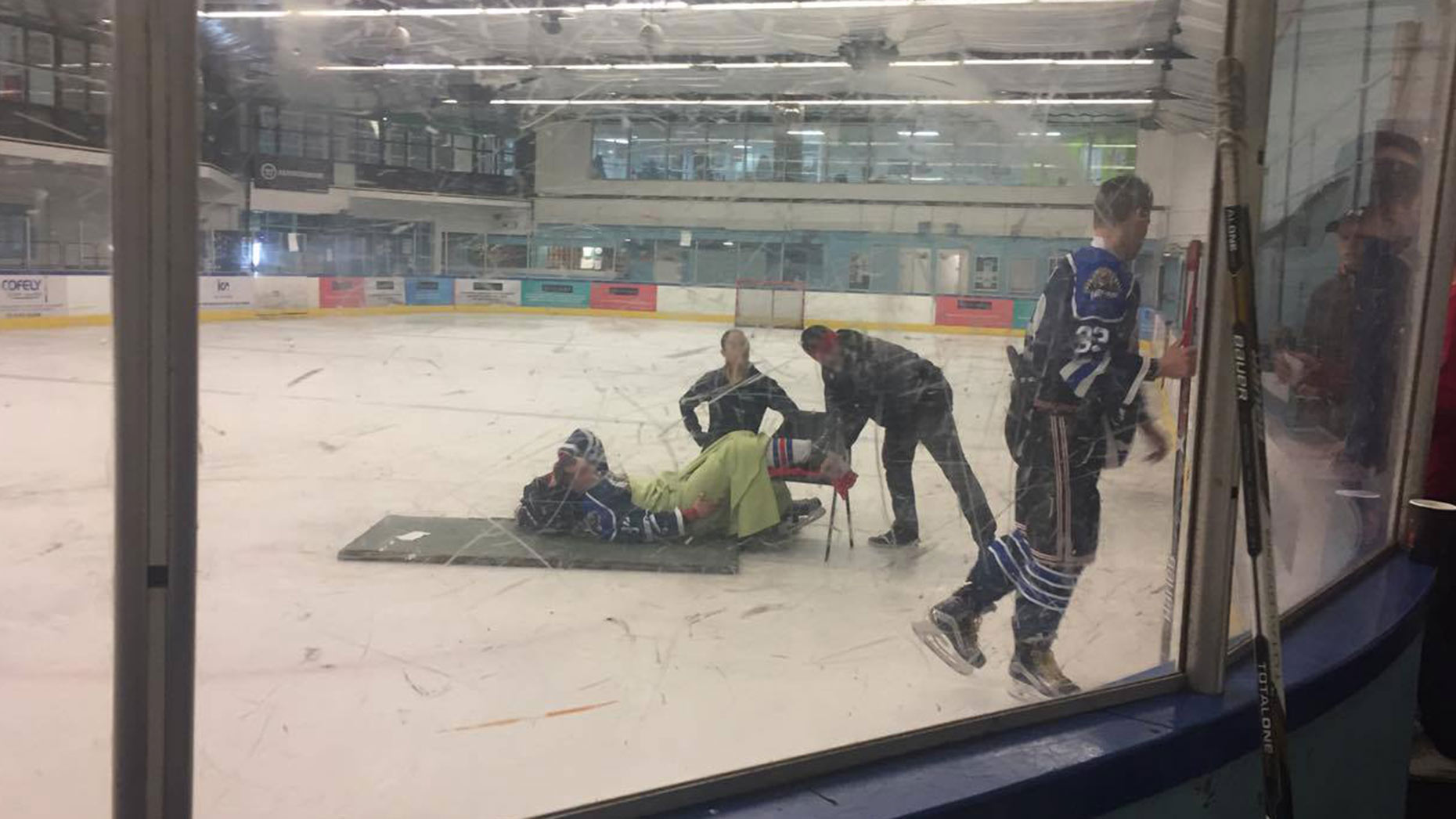 An ice hockey player left screaming in pain after breaking his leg during a game at Grimsby Ice Rink had to wait almost two hours for an ambulance to arrive.
Armands Pastars, who plays for Sheffield Ice Tigers, injured his ankle during a cup game against Grimsby Ice Bears at around 6.45pm on Saturday, February 18.
The Latvian player fell awkwardly, with his ankle going "90 degrees" leaving him crying in agony.
An ambulance was called shortly before 7pm but did not arrive until 9.05pm according to eyewitnesses.
However, East Midlands Ambulance Service has said the time of arrival was logged at 8.55pm.
Armands was taken to Diana, Princess of Wales Hospital in Grimsby, where his ankle was operated on the following day.
Edgars Jenerts, who plays for Sheffield Ice Tigers and stayed with his team mate, said: "We had to wait for around two hours, 15 minutes for an ambulance to arrive.
"He [the injured player] was not happy at all."
Alex Raithby, who plays for Grimsby Ice Bears and sat with the injured hockey player, told Lincolnshire Reporter: "We saw him fall awkwardly after a hit attempt and I saw his ankle at 90 degrees.
"He fell over screaming and I held my stick under his leg for him to rest on but it was to painful so we brought a chair on the ice so he could prop his leg on it.
"First aid was shouted for but they weren't really sure how to go about dealing with him as he was in so much pain.
"After being told an ambulance was on its way we opened the nearest fire door and had a few guys on lookout.
"90 minutes later there was still no ambulance and the guy had lost feeling in his foot and was still laid on the ice.
"Many suggestions were made as to how we could get him off the ice but the first aid didn't want to risk further injury.
"A large gym mat was brought onto the ice to slide under him but he couldn't stomach the pain from even the slightest movement.
"Two hours passed and an ambulance still hadn't arrived."
First aiders at the rink told players that Armands could not be moved off the ice as it was procedure not to move an injured player.
A spokesperson for Grimsby Leisure Centre said: "Staff at Grimsby Leisure Centre followed their first aid training.
"The injured player was made as comfortable as possible whilst waiting for the ambulance to arrive."
Huge hospital handover delays
A spokesperson for EMAS said: "We received a call just before 7pm on Saturday, February 18 to Grimsby Leisure Centre.
"The caller reported that a man had sustained a broken leg. We advised the caller to seek help from others to move the patient off the ice to prevent further illnesses or injury, but the patient was still on the ice when we arrived."
Blanche Lentz, paramedic and general manager for Lincolnshire at East Midlands Ambulance Service added: "We have to prioritise patients based on their illness or injury because patients who are unconscious and not breathing are experiencing a life threatening emergency and need help fast.
"The wider NHS was busy on Saturday which had a knock on effect on our service.
"There were eight occasions where ambulance crews waited between two to four hours at Grimsby Hospital for them to accept our patients – this should take 15 minutes.
"When our crews are waiting at hospital supporting the patient they are delayed in getting to new 999 calls that are waiting in the community.
"There is a direct correlation between hours spent at hospital and our performance. On Saturday we lost 102 hours due to hospital handover delays at hospital across Lincolnshire.
"The patient hasn't contacted us about the incident and we would welcome them to so we can talk about what happened."