March 27, 2017 7.57 am
This story is over 55 months old
Colin McFarlane: "We need street lights back on in Lincolnshire and also need to make sure they're not harmful"
I have lived in both London and Lincoln since I left Loughborough University at 21. I performed in the Lincoln Mystery plays in the Cathedral in 1989, met and married my wife in the Cathedral and christened my son there and my parents still live here, so Lincoln is a very special place for me.…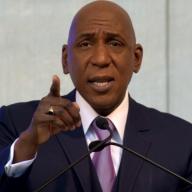 I have lived in both London and Lincoln since I left Loughborough University at 21. I performed in the Lincoln Mystery plays in the Cathedral in 1989, met and married my wife in the Cathedral and christened my son there and my parents still live here, so Lincoln is a very special place for me.
It has always been my oasis from the wonderful but mad entertainment industry I am in and that calm has been disturbed recently. I noticed an unease around the place all caused by the lights going off after midnight across the county. Since speaking out about this I have been contacted from unhappy people all over the county from Sleaford to Grantham to Grimsby and beyond.
As Commissioner Loeb from Gotham City I would like to call in Batman to sort this out, but he's not available at the mo! So while we're waiting for our hero to arrive, I thought I would get the ball rolling so we can get our lights back on as soon as possible. Please read on and help turn my dream into a reality so we can once again light the magical Lincoln we all love and be and feel safe.
Introduction
So, having lived in Lincoln since I was 18 and acted since I was 21, I travel back and forth from Lincoln to London on a regular basis and I always look forward to hearing about the latest topic of conversation in Lincoln. Over the past twelve months, putting to one side Brexit and latterly Trump, the subject that has caused the most heated debate, without a doubt, has been the lack of street lights after midnight; other than, of course, Lincoln City's incredible footballing success which I am privileged to continue to witness first hand.
We were recently asked to give a simple "either/or" answer to a very complicated subject regarding Brexit. We are being put in a similar position regarding street lights. Instead of "in or out", it's "on or off". Both scenarios ignore the fact that it's just not as black and white as that. With Brexit, the media and the politicians dressed it up in many different ways, but there was basically one story: immigration. With street lighting, we are also being told there is basically one story: cuts.
The issue
After a lot of research into street lighting across the UK, it is clear that we have a perfect storm of new technology, huge financial pressures on local authorities and a lack of guidance from central government. This results in poorly thought-out, knee jerk and costly decision-making under pressure. In the long term, on many levels, a carefully considered national policy on street lighting would save both Lincolnshire, and the country in general, a fortune. However, Lincolnshire County Council (LCC) has plunged ahead and implemented a new "street lighting transformation project", to much local consternation.
Has LCC got it right and, if not, how can we rectify the situation over the short and long terms? 
Potential solutions
It's not clear how much research LCC actually conducted before implementing its new programme. However, by modelling our next steps on the policy of councils like Cardiff, it becomes clear that there is a viable and financially low risk solution available. It is not too late and we can still achieve substantial savings here in Lincolnshire with far less upfront investment with an immediate and low risk return, while avoiding little known but potentially dangerous side effects and unintended consequences.
Street lighting can then be maintained at a level that allows people both to BE safe and FEEL safe. Furthermore, it will keep our options open for the future as the lighting technology market develops rapidly. It's a win win!
The key to this happy outcome is to learn and benefit from the experiences of other councils and follow best practices that have already been developed.  Cardiff's strategy has proved to be a popular and financial success so why try to reinvent the wheel?
The optimal solution appears to be to moderately reduce the output of existing residential street lighting in conjunction with dimming technology, and avoid using inappropriate LEDs in residential areas. In Lincoln's case, even though LEDs appear to have already been installed, they need to pause and reconsider.
Ideally, LED installations should be confined to motorways and highways until more is known about the potentially toxic and harmful effects of what is a developing technology still in its infancy and it is vitally important that we make sure that the appropriate types of LED are specified so that they will not need a costly overhaul in the future.
Lincolnshire County Council's street lighting policy
LCC has recently adopted a new street lighting policy whereby they aimed to reduce costs by "managing energy consumption to a minimum" by removing up to 3,000 existing street lights and turning off another 38,000 street lights during all or part of the night (so called part night lighting, with the "curfew" starting as early as 10pm in some areas and by midnight in all the other areas).
Additionally, dimming would be introduced on another 17,000 street lights, after their conversion to LED technology without, it would appear, LCC considering what is an appropriate and safe specification.
Although LCC's attempts to achieve savings with this technology are to be applauded, the lack of apparent knowledge of the potential harmful effects of different types of LEDs, combined with the extreme strategy of just switching lights off, is a concern.  For example, what type of LEDs were specified and installed?  From where are the specific savings coming exactly?
The current publicly available cost estimate is a capital outlay of £6.4 million, to deliver eventually some £1.77 million in cost reductions from its annual £5 million street lighting budget. However, there are many financial issues that have not yet been publicly addressed:
How much of the £6.4M has already been committed/spent?
How long does it take for the projected maximum annual savings of £1.77M to be achieved?
How are the costs and savings distributed over the four strands of the new policy?

Removal;
Part night lighting ("curfew");
LED conversion;
Dimming of those new LEDs.

Are costs and savings equally distributed or are the costs and/or savings concentrated in one or more of the strands?
The answers to these questions will drive how best to move forward.
Residents' reaction
This new policy has proved markedly unpopular with residents, whose complaints range from unhappiness with reduced safety and convenience through potential health risks from the inappropriate type of new LED lights being installed, to the way this policy has been implemented without sufficient consultation and review.
At the moment, to people in Lincolnshire, it feels like we are living in a third world country under curfew and many simply believe that they do not have a voice in this matter at all.
Even when they do attempt to raise the issues of safety and fear of crime with their councillors, they think they are simply not listened to and are ignored. Furthermore, most people are highly unlikely to be aware of the separate but crucial issue of the inherent risks of some of the LED technology being rolled out without the appropriate research or consultation. All they are told is the reason we are doing this is because we have to make "cuts".
A policy of fear is then used, "if it's not street lights then we can't fix the pot holes or we have to cut this or that". However, just because we have to make cuts shouldn't mean we can't have proper engagement with the public through prudent and constructive dialogue leading to the best solution for all.  
From my conversations with people across Lincolnshire in person and via social media, these are people's prime concerns:
Lincoln feels unsafe – Many of the public feel unsafe in their own homes; we ALL need to feel safe at night in the city and rural areas – lighting is crucial to this;
People feel confined to their homes when it's dark – Fewer people are going out because it's dark and they are fearful;
Fear of crime – This is just as valid as being a victim of crime;
It's forcing people to spend more on security – To make driveways and gardens safe;
Emergency services can't do their jobs properly – They can't find people's house numbers etc.;
You can't legislate for the unexpected – A child is sick in the night, someone has a heart attack etc. How do they even see their way to their car?
Damage to the vibrancy and economy of the city – A University city is less attractive for potential students because they feel unsafe after a night out;
PR own goal – Benefits of Magna Carta Commemoration & Lincoln City FC's spotlight on Lincoln being undercut;
Private businesses keep their lights on at night- E.g., Car dealerships, supermarkets for safety and security reasons, so why don't LCC?;
Lights off can also harm the environment – By discouraging people from walking and cycling in the early hours, we are forcing more people into their cars;
False economy – Cost to the Council of road safety accidents, burglaries, injuries in the dark, lawsuits etc.
Blanche Lentz, General Manager for Lincolnshire at East Midlands Ambulance Service, said that they have concerns regarding:
Cardiac arrest – every second counts and if we can't find house numbers quickly due to a lack of light it can be the difference between life and death;
Injuries in the work place – by our staff being unable to see clearly where they are going when having to move extremely quickly to save lives;
Access to homes at night is proving difficult, particularly when house numbers aren't clearly visible. For elderly vulnerable residents the darkness can cause unnecessary anxiety when we are trying to find their address.
The East Midlands Ambulance Service has indicated that it would welcome the opportunity to work with the council to allay their concerns.
Lincolnshire Chief Constable Bill Skelly, understanding that LCC's policy is likely to make the public fear for their safety, stated in a recent BBC Radio Lincolnshire interview:
"I do have sympathy with you… Lighting is one of those factors that can be used to prevent and to deter crime from taking place. What I can say is that the council have to make difficult decisions but they are your council, so a route into it is to lobby them and to speak to them about the decision they made to try and bring about change."
Speaking directly to a victim of two recent crimes, he said:
"I do absolutely appreciate that it has had a direct effect on you and you've seen these incidents taking place since they've decided to change the lighting."
It is almost impossible to prove definitively whether crime has gone up or down because:
Fewer people are going out after midnight because it's pitch black in many places; and
Once again, due to cuts, there are often not enough police available to deal with the complaints and they often go unreported.
There is, however, evidence to suggest that some elements of crime, such as burglaries, are indeed on the increase. At a public meeting of the East Grantham Police panel, they said there had been a spate of burglaries due to the lights going out and that: "One burglar even commented to the police that he waited for the lights to go out before leaving his home." How damning is that? For the elderly, shift workers, women and the sick and vulnerable to hear this kind of thing is a worrying and unacceptable state of affairs in this day and age.
A survey in The Lantern Report, commissioned by local authorities themselves, concluded that:
"When specific offences were considered, the estimates provide suggestive evidence that part night lighting may be associated with an increase in robbery…"
In summary, it seems eminently reasonable that residents want to:
Feel safe after midnight whether we are out and about or in our own homes;
Sleep soundly without lights that are too bright or harmful keeping us awake;
See at night without damaging our eyes or our health;
Walk or cycle home after a late night out/shift work etc. and feel safe;
Walk down the pavement without tripping over and getting injured in the dark;
See pedestrians and road junctions while driving in both good and bad weather;
See our way to our car in an emergency;
Get the best from our emergency services;
Admire the sky at night.
Why is it so hard for LCC to understand this?  If I were a councillor for the day, I would look to satisfy as many of my constituents' concerns as possible and benefit the economy. I would have an in-depth look at how best to make major savings through having a sensible lighting policy. In order to do that, I would start by talking to councils like Cardiff who have got it right.
Experience of other councils
First of all, let's be clear that it IS possible to save money AND keep the lights on, contrary to what appears to be strident attempts by LCC to have you believe otherwise. Cardiff, Westminster, Nottinghamshire, Herefordshire and Sheffield are examples of councils that are doing just that.
However, not only do we need the lights back on, we also need the "right" lights on and not ones that can potentially damage our health and the environment.
What is little known in the public domain is that, in simple terms, there are "good" LED lights and "bad" LED lights, at least for street lighting purposes. Westminster and Cardiff, the best examples, are using "good" ones and Herefordshire and Sheffield are using "bad" or inappropriate ones.
The CCT (Correlated Colour Temperature) or "colour appearance" of a light is crucial to our wellbeing and is measured in Kelvin (K). For example, lighting in the CCT range 2700K to 3000K is regarded as "good" (safe, yellow-rich, warm light) and 4000K to 6000K as "bad" (potentially unsafe, blue-rich, cool light).
Many councils' cost cutting strategies involve the use of LEDs. However, various studies point out the folly of not conducting thorough research before rolling them out and ending up with the "bad/inappropriate" ones. Public Health England pointed out in their in-depth study into the use of LEDs:
"Therefore, due to the high capital outlay and the potential long-term impact of an inappropriate installation, any new LED street light installations should be subject to an assessment involving qualified lighting professionals, who should consider the conclusions of this report and any future evidence."
Public Health England, May 2016
And the warnings are not just emanating from this country:
"Encourage the use of 3000K or lower lighting for outdoor installations such as roadways. All LED lighting should be properly shielded to minimise glare and detrimental human and environmental effect … Encourage minimising and controlling blue-rich environmental lighting by using the lowest emission of blue light possible to reduce glare".
American Medical Association, June 2016
A recent study highlights the fact that we are literally playing with people's health by not properly researching the harmful effects of LED technology. It stated:
"Public policy makers should also be convinced to curb the wide scale introduction of short wave length illumination, which is potentially the most dangerous component of light pollution." 
"Light Pollution as a New Risk Factor for Human Breast and Prostate Cancers"
Haim and Portnov, January 2013
It is the significant increase in blue-rich, short wavelength light from "bad" (high CCT of 4000-6000K) LED street lights, which is their primary cause for concern.
Both Herefordshire and Sheffield are examples of councils who are using what are now considered inappropriate or "bad" LEDs. So, although their aim to save money and keep their communities well lit is to be applauded, they have, inadvertently, chosen lights with incorrect specifications which are potentially harmful to residents and the environment; it seems LCC has made the same costly mistake.
Best practices
Cardiff is currently the best model in the UK; in line with Public Health England's advice, they carried out an 18 month pilot scheme pre roll out.
"Cardiff Council has been working closely with interest groups and campaigners to ensure that the proposed colour and brightness of the light for the new scheme is appropriate and safe."
Cllr Ramesh Patel, Cabinet Member for Transport, Planning and Sustainability
Other organisations also agree with this strategy:
"New street lighting should be tested in situ before a lighting scheme is rolled out across a wider area. Local authorities should give careful consideration to the type of LED lighting they use and consider the potential impacts of higher temperature (Kelvin) blue-rich lighting has on ecology and human health."
Campaign to Protect Rural England, December 2014
Cardiff recognises that LED street lights are a developing technology and if the cheaper options are used, the "blue-rich light" they emit can be harmful to us. This blue-rich light from "bad" LEDs with the inappropriate specifications is replicating daylight at night time, which is completely out of sync with the natural world. It is also highly discriminatory towards the growing proportion of the population aged over 50 with AMD (Age-related Macular Degeneration) whose eyes' ability to transmit blue light is severely compromised. This is a fact that seems to be ignored by Councils in their Equality Impact Assessments.
After in-depth research and consultation with the public and lighting manufacturers, Cardiff decided that there should be a two-strand approach to keep the community well lit AND save money:
Main roads and highways would be lit by "good/appropriate" LEDs (3000K) not "bad/inappropriate but cheapest" LEDs (4000-6000K);
Residential areas would not use LED technology at this point but would be lit by a lowering of output and dimming of existing lighting.
Cardiff's approach to residential street lighting is designed to improve the night time environment and to deliver a host of positive outcomes for residents and visitors, including:
A reduction in street crime and the fear of street crime;
Better visual guidance revealing obstacles more clearly;
An 8% reduction in the Council's carbon emissions;
A taxpayer saving of £800,000 a year in energy costs, just from switching 13,608 street lights to LED lights on almost all of the city's main bus routes and highways, at a capital cost of £4.4MM.
In terms of the reduction of crime, Cardiff took into account the findings of eight different studies and concluded that improved street lighting, either through more lights or brighter lights, reduced crime. With improved visibility, potential offenders are more exposed and less likely to commit crimes.
There are many ways to both save money and keep communities well-lit and safe using LED technology. However, it is developing all the time and there is little guidance or consistency across the country.
Implementation
Simon Nicholas (a leading street light campaigner) says that:
"Virtually all UK councils are getting their street lighting policies badly wrong. In the main, councils have ignored the communities they are meant to serve, and rushed blindly into cutting or replacing existing street lights to save money with scant knowledge of a constantly developing lighting industry that in a short space of time will render their plans obsolete, as technological advances negate ill thought out council planning. All local authorities should explore the option of dimming existing street lighting – which still has years of life left in it – rather than spending millions on brand new LEDs without due consideration. Cardiff spent £1.7 million to dim 22,365 existing street lights and is now saving £312,000 a year. The cost of this is a fraction of what it would have cost to convert the existing lights to LED."
However, LCC seems to be ignoring best practices and maintaining that everything is going swimmingly.  Councillor Davies of LCC even proclaimed recently:
"We have been piloting LEDs in Lincolnshire for nearly 20 years now, one of the reasons we're not able to convert the vast majority of our lights to LEDs is a lot of them already are, a lot of them are already very high efficiency"
BBC Look North. March 2017
This appears to be highly implausible since the first use of LED technology for street lighting applications did not take place anywhere in the world until 2006!
It's clear that we need real, substantial dialogue here in Lincolnshire.
LCC could, for example, address the critical issues of their residents and constituents, and instead of potentially squandering millions of pounds on the wrong LEDs, invest a fraction of that on reducing the wattage and dimming their existing lighting. This way you can keep the lights on and still save money.  Additionally, you keep your future options open as LED technology is developing so rapidly and potentially becoming much cheaper.  It's common sense!
Conclusion
In conclusion, to satisfy all the concerns listed above and to reach a cost effective and long lasting solution that gives Lincolnshire the street lighting it needs and deserves, over the long term it ideally requires three things:
A national policy – led by central government to give guidance, promote awareness, set a minimum standard and, in so doing, drive the costs of what is required down; so that the necessary but currently expensive lighting options become more affordable for all.
Public engagement – involvement at a local level in a street lighting policy with which ALL the local community residents are happy, not one imposed on them in which their complaints and concerns are steadfastly ignored.
Transparency – honesty and accountability from Councils nationwide on their proposals and budgeting, thus far and going forward.
In the short term, though, LCC needs to learn and benefit from the experiences of other councils and follow best practices that have already been developed.
The optimal solution appears to be to upgrade the existing residential street lighting with dimming technology, and avoid using inappropriate LEDs in residential and commercial areas.
However, no one is currently prepared to admit that they have got it wrong. There is a culture of refusing to admit that mistakes have been made. If the LCC and any other councils are serious about saving money as well as maintaining the health and well being of its constituents, they need to wake up to reality.
Listen to others who have got it right like councils such as Cardiff, listen to the people paying their wages and come up with a policy and strategy that benefits everyone both financially and spiritually, as well as keeping us safe in our homes.
Leading street light campaigners such as Simon Nicholas have offered to personally meet with councils and give them the benefit of their years of experience and expertise. I firmly believe it is an offer LCC should accept so that we can right the mistakes and create suitable street lighting, not only for our county – but indeed for the whole country – that is truly fit for purpose.