May 4, 2017 2.02 pm
This story is over 55 months old
Man who caused teen's death was driving at 99mph and on his mobile before fatal A1 crash
A man has been jailed for four-and-a-half-years for causing the death of a 17-year-old by driving dangerously on the A1 at Grantham. Kenneth Wallace, 53, a PR consultant from Barn Hill, Stamford, was driving a Mercedes Benz car north on September 13 2016 when he struck Calum Warrilow (aka Dowers), from Leicestershire, who was riding his…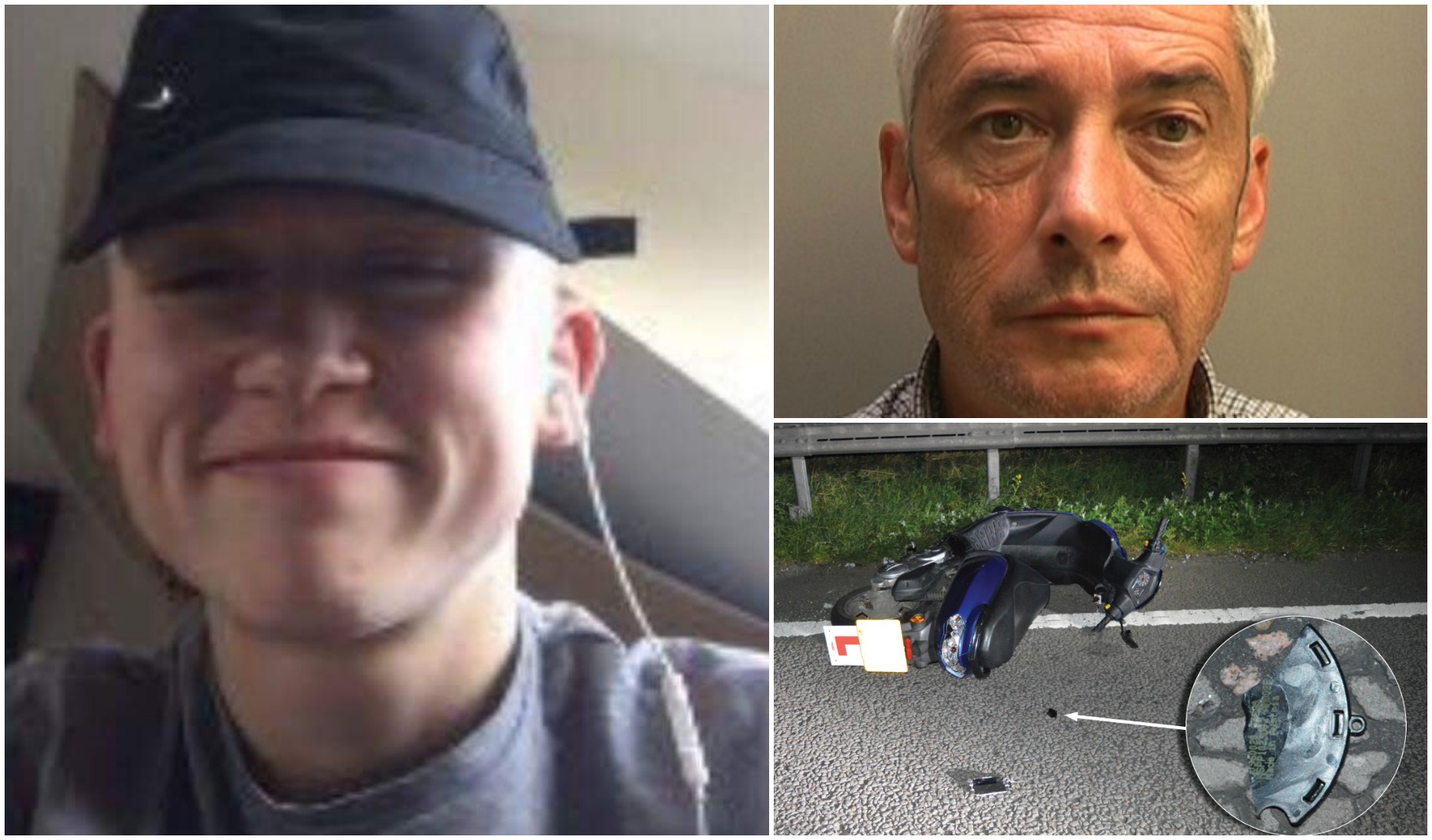 A man has been jailed for four-and-a-half-years for causing the death of a 17-year-old by driving dangerously on the A1 at Grantham.
Kenneth Wallace, 53, a PR consultant from Barn Hill, Stamford, was driving a Mercedes Benz car north on September 13 2016 when he struck Calum Warrilow (aka Dowers), from Leicestershire, who was riding his scooter along the same section of road.
Courts heard in the lead up to the collision Wallace overtook a lorry at around 99mph and overtaken a car before knocking Calum from his scooter.
This collision left Calum helpless in the carriageway. Wallace was seen to initially brake, before speeding away.
Moments later the lorry reached the scene of the collision and was unable to avoid running over Calum, and killing him. No blame has been attributed to the lorry driver.
Less than 3km north of the collision site is a speed camera (near the Downtown store), which Wallace activated when fleeing the scene of his crime at 81 mph.
A detailed scene examination took place and a small piece of plastic was located near to Calum's scooter.
The following day, police located Wallace and the Mercedes Benz on the A43 in Northamptonshire. Wallace was arrested and his car seized.
When police in Northamptonshire arrested Wallace the following morning he was significantly over the drink drive limit.
An examination of the car's nearside wing mirror showed it was damaged and the small piece of plastic found at the scene was an exact mechanical fit with a component within the wing mirror.
In a police interview Wallace admitted to using his mobile telephone while driving at the time and being in a poor emotional state.
The court heard Wallace had been continuously looking down at a tracking app on his mobile phone, sending text messages and searching Google before his E-Class Mercedes-Benz struck Calum.
Wallace, who believed his wife was meeting a man at a pub in Southwell, Nottinghamshire, had fitted a tracking device to her car and was heading up the A1 from the couple's Cambridgeshire home to find her, Lincoln Crown Court heard.
Simon Heads, Head of the Serious Collision Investigation Unit for East Midlands Operational Support Services, said: "This is an extremely sad case in which a young man has lost his life. Wallace accepts that he was driving erratically, in a poor emotional state and using his mobile phone.
"This resulted in Calum being knocked from his vehicle, putting him in extreme danger. The defendant's decision not to stop and aid Calum on the ground is morally reprehensible.
"I would like to thank the motorists that did stop at the scene and did the right thing – their information helped us bring this man to justice quicker.
"Whilst nothing can bring Calum back, I hope this sentence helps his family to feel some sense of justice and over time provides them some comfort.
"This case should send out a strong message to anyone who continues to use their mobile phones despite the harsher penalties for doing so.
"It is also a reminder not to get behind a wheel when your mental state is overwhelming. Please be responsible – we do not want this happening to someone else's son."
Kenneth Wallace was also disqualified from driving for nine years and three months.