November 17, 2017 9.39 am
This story is over 49 months old
Disputed Lincoln Brayford footbridge gets final approval after appeal
Controversial plans for a new footbridge over the Brayford Wharf level crossing in Lincoln have been approved by the Planning Inspectorate. Designs, which had been downsized without lifts due to costs, were initially refused by the City of Lincoln Council. The council's planning committee, as well as a number of local objectors, felt that the…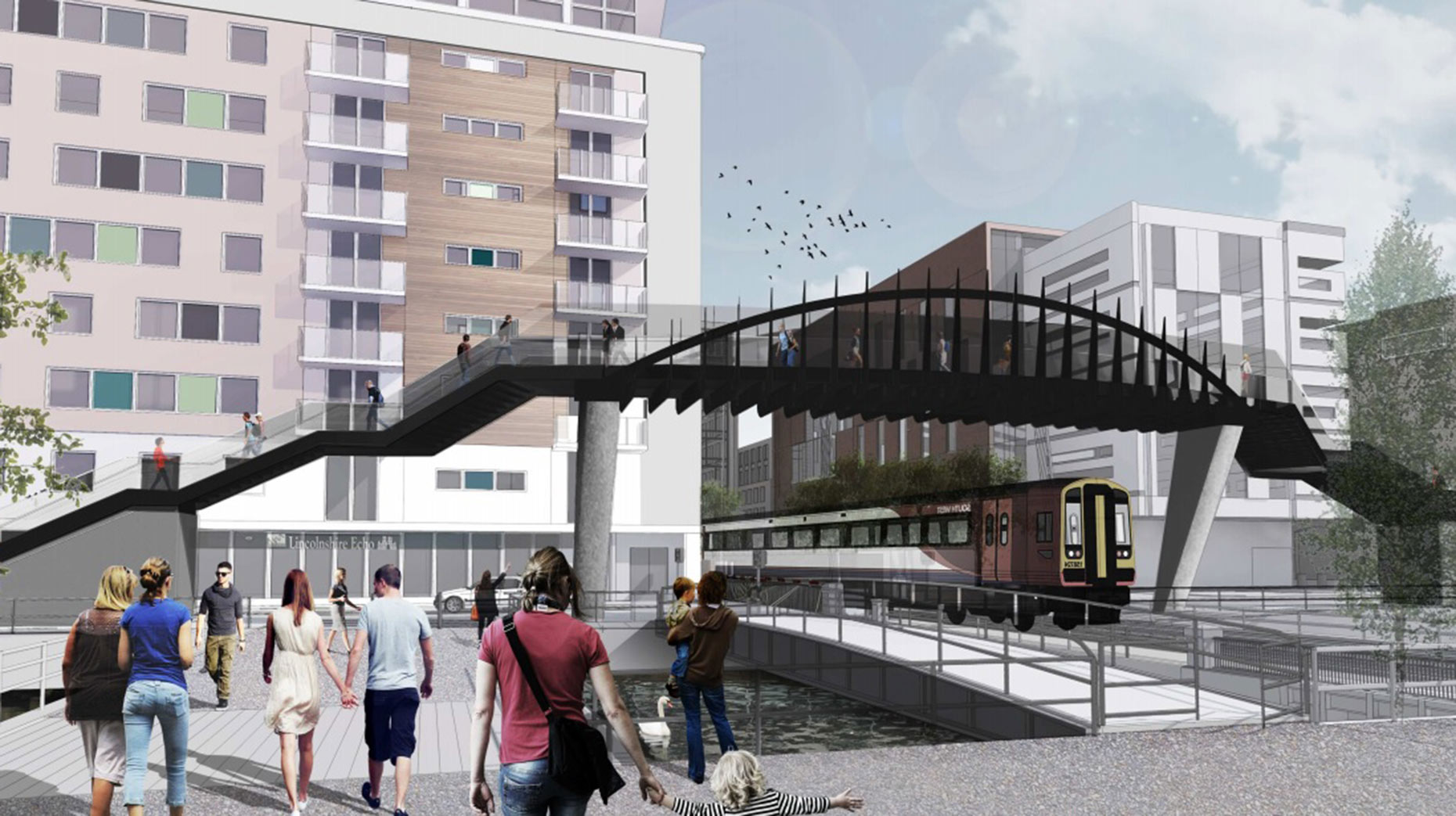 Controversial plans for a new footbridge over the Brayford Wharf level crossing in Lincoln have been approved by the Planning Inspectorate.
Designs, which had been downsized without lifts due to costs, were initially refused by the City of Lincoln Council.
The council's planning committee, as well as a number of local objectors, felt that the removal of two lift shafts restricted access for disabled people.
Network Rail, behind the plans, appealed the decision with the Planning Inspectorate, stating initial designs were "too expensive", adding that people who cannot use the stairs will still be able to use the crossing as normal.
An inspection took place at the crossing on October 31.
Granting the final and overriding green light for the project, Inspector Alistair Phillips said:
"It is clear to me that the proposal would reduce the risks associated with the existing arrangement by providing a viable alternative option for many users."
"Brayford Wharf East crossing is a full barrier level crossing which is currently one of the UK's highest risk rail crossing points for pedestrians.
"This is as a result of pedestrians and other users being frustrated at the lengthy highway closures with no alternative but to wait. Consequently, some have rushed through once the closing sequence has commenced and indeed I observed this at my site inspection."
He added: "The appellant states that due to funding arrangements the bridge is needed urgently or the funding will be lost."
A number of objections were submitted as part of the inspection. Louise Taylor wrote to the Planning Inspectorate: "As a disabled person, I must object to the proposed new bridge because it has no provision for disabled access, as required by law.
"It discriminates against disabled people of all types."
She added: "I'm sure Network Rail has the funds to to this and are only trying to cut costs."
Network Rail has not yet confirmed the cost of the project, time frame for building work, or if the scheme will require the closure of Brayford Wharf East.
A spokesperson told The Lincolnite: "We are delighted that our plans for the stepped footbridge at Brayford Wharf have been approved.
"This is one the highest risk level crossings in the region and we have worked with the council, local politicians and University of Lincoln for many years to find solutions at both High Street and Brayford Wharf which first and foremost reduce the risk to the public, but which secondly are both affordable to the taxpayer and visually 'iconic' for those who live, work and visit Lincoln.
"We thank everyone who took part in the planning process and look forward to providing further details on timescales for construction in due course."
The crossing at Brayford Wharf sees almost 7,000 vehicles and over 16,000 pedestrians use it every day, as well as around 140 freight and passengers trains.
Network Rail have long campaigned for safety improvements, releasing hair-raising footage of a number of near-misses on the line.