'Heartless and cowardly': Outrage after arsonists destroy Lincoln warm rail
"They should be ashamed"
"Spiteful", "nasty", "disgusting" were just some of the comments from people in Lincoln after a clothing rail for the homeless was burnt down in the city centre.
As reported previously, Lincolnshire Police are treating the fire off Lincoln High Street as arson.
The rail was destroyed in the blaze just after 4am on Friday, January 5.
No arrests have been made at the time of writing.
The Lincoln Warm Rail was put up by community group Compassionate Lincoln  in order to offer warm clothing and other items to people sleeping rough. 
'We are devastated'
Compassionate Lincoln posted a statement on social media to thank people who had supported the project. They promised that one person would not spoil their mission.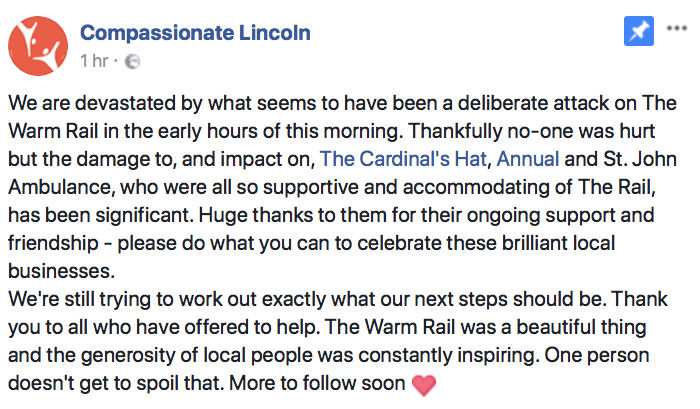 "Why would you do this?"
Hundreds of people reacted with sadness and anger when the news was shared on The Lincolnite. Many also attempted to rally support for the group and collect replacement donations.
Lucy Thomas said: "This is pure evil. I have donated to this rail and will continue to do so."
Kat Pallieter commented on social media: "I hope whoever did this never finds themselves in times of need or the cold. Stuff like this makes my blood boil!"
Helen Carr said: "I really do not understand the cowardly, disgusting actions of this heartless person, or people. Why would you do this?"
Mandy Lindley added: "Whoever did this obviously doesn't care about anyone. They just think it's a laugh to destroy things.
"They should be ashamed of themselves."
Jill Brown called for the people of Lincoln to come together to replace the rail. "Okay everyone, donate more coats. Anyone able to build a new rail? We will not be defeated."
Anyone wishing to contact the Compassionate Lincoln group or make a donation can visit their Facebook page here.