January 28, 2018 10.38 am
This story is over 54 months old
Souls of Lincoln: Karen Crow – The 'ghost lady'
"I've got the best job in Lincoln"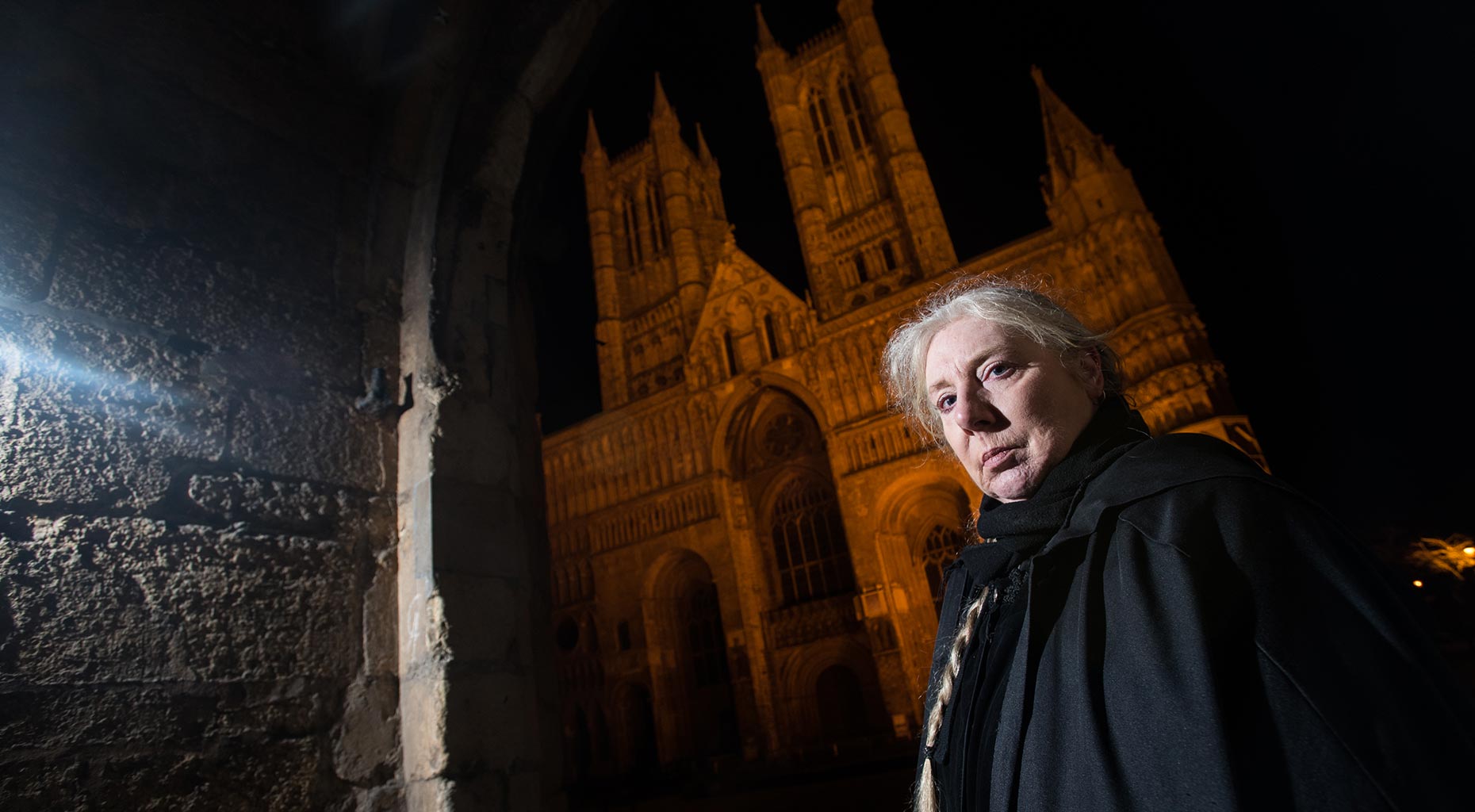 The booming bells of Lincoln Cathedral ring out across the cobbled square, just as street lamps illuminate a tall, cloaked woman with a solemn stare and a snow-coloured plait cascading down to her waist. Before the apprehensive crowd can break from their stupor and utter "g…g…gho…", she speaks.
"Good evening everyone… and welcome to the Lincoln Ghost Walk."
Karen Crow is a familiar face, not only as a trader of spine-tingling tales of the dead by night, but also as the resonant town crier by day. It's a hectic life which sees her flitting between green cloak and black as regularly as most of us change socks, but to thespian Karen it's the role of a lifetime.
On a traditional Friday night walk, Karen leads her victims to tread the footsteps of the city's most famous and alluring spectres. Her words bring to life the desperate galloping horseman of Exchequergate, too late to save his friend from a wrongful hanging, the playful pranks of child ghosts, horrible histories of the plague pits of Lincoln and the real story of the castle's stuffed lurcher.
Ghost walkers have introduced thousands of people from all over the world to the city, from exploring tourists to visiting celebrities and politicians.
In fact, she explained, Tom Hanks and his family had a very close, and unfortunately undignified, encounter with the rolling head of Saint Hughes (dropped by bumbling thieves in the 1200s) during filming for The Da Vinci Code.
"All the actors were staying in the White Hart," Karen said. "They asked if they could have a private walk. Tom Hanks and his family loved it. In fact their security man got caught in the back of the knees by the head on Greestone Steps. He couldn't wait to get home to America and tell everyone he had been knocked over by the Bishop's head in Lincoln.
"We have had our MPs and MPs from other places. Famous people who come to the Theatre Royal, they often come along, Sue Pollard has been on the Ghost Walk and Ruth Madoc."
The Lincoln Ghost Walk is 22 years old, and its first 'ghost lady' was Margaret Green. "Margaret's shoes are very big to fill," said Karen. "For a lot of people she will always be the ghost walk lady, she had been doing it for a long time and is well recognised in the city. I suppose if I could be remembered half as fondly as she is, I would be very proud."
For Karen, making a living from the tales of the dead started with a love of acting. She toured with her performances and taught on the University of Lincoln performing arts course ten years ago. "Margaret saw a performance I was in for the Lincoln Shakespeare Company at the gardens of the Bishop's Palace and asked if I'd like to join her. I had a young family at the time so couldn't commit fully. Over the last 18 years though my children have grown up and moved away, Margaret has taken a back seat as she's got older. We've swapped so I am doing the lion's share."
Ghostly sightings
"Do I believe in the supernatural? I had always been interested in ghost stories, plays and theatre in general, novels about ghosts and ghostly sightings. I have to admit I was a bit skeptical when Margaret asked me about it, especially some of the stories.
"This is, to a certain extent, entertainment, I am a performer. But things that are happening now have been happening for years and are still happening." Karen and her fellow walkers hear new stories every week which they work hard to verify and corroborate. She even lived for a time in a cottage in Greetwell she believes was haunted.
"Because we get so many sightings we now do an alternative route, which is another hour and ten minutes of different stories about this area of Lincoln
"People come out of the shops to tell us things that have happened. People visit us who are staying in the hotels and they tell us things that have happened to them.
"Very recently there was a sighting down Steep Hill at Bunty's Tea Room. The lady there locked up and went out. When she came back in the morning and opened the door, right in the middle of the floor was a tiny golden key.
"Where it came from and what it fits, no one knows."
One of the most famous paranormal spots on the route is Greestone steps, where guests often share photographs splattered with supernatural 'orbs'.
"The most remarkable ones I've seen is an Elizabethan gentlemen in a ruff, an Edwardian policeman and a figure with no face. Clear as day. This is while we were actually on the walk.
"We have never felt anything malicious. If you acknowledge spirits that tends to stop any poltergeist activity. I always tell this to children, because children and pets are very susceptible to seeing things."
Ambassador for Lincoln
The walkers are out Wednesday, Thursday, Friday and Saturday nights every week of the year, including bank holidays. At Halloween, they can welcome over 50 ghost hunters.
"If people are looking for things to do in Lincoln in the evening, unless they're going to a show or to the pub there isn't much. We are a bit unusual in that regard. People can see what the weather is like and how we feel. We don't take bookings.
"I'd like to think that I am an ambassador for Lincoln. The ghost walkers are sometimes the first people that the visitors talk to. We introduce them to our city, which is why we like to give history as well as the spooky stuff. We also like to promote local businesses, food, drink, the resaturants and the bars, and anything we can do to make the visitors to our city enjoy our city."
There are many proud Lincolnians who wave the flag for the city, but Karen may just shout the loudest. Her story-teller roles including the responsibility for civic town crying, won through a competition at the sausage and potato festival ten years ago. She is an unmistakable voice of Lincoln.
"I would have to say my proudest career moment was taking the procession at the awarding of the Freedom of the City to RAF Waddington and Scampton.
"I was asked to write a special town cry to welcome them into our city. They marched past us with their bayonets fixed and their colours flying. Just as they got past us, the Red Arrows flew over our heads, and I just thought 'I've got the best job in Lincoln."
---
The Lincoln Ghost Walk is run all year round on Wednesday, Thursday, Friday and Saturday, including bank holidays, at 7pm from the Tourist Information Centre on Castle Hill.
Walks last just over an hour and cost £5 for adults and £3 for children. Organisers do not take advance bookings other than for private parties.
The team are always interested in hearing tales from across Lincoln, and are currently appealing for stories about the hauntings of Lincolnshire airfields in preparation for a special event in commemoration of the 100th anniversary of the RAF.
Just email [email protected] or visit the Lincoln Ghost Walk on Facebook.