Recycling company fined for serious fire
90 firefighters spent about a week trying to put out the fire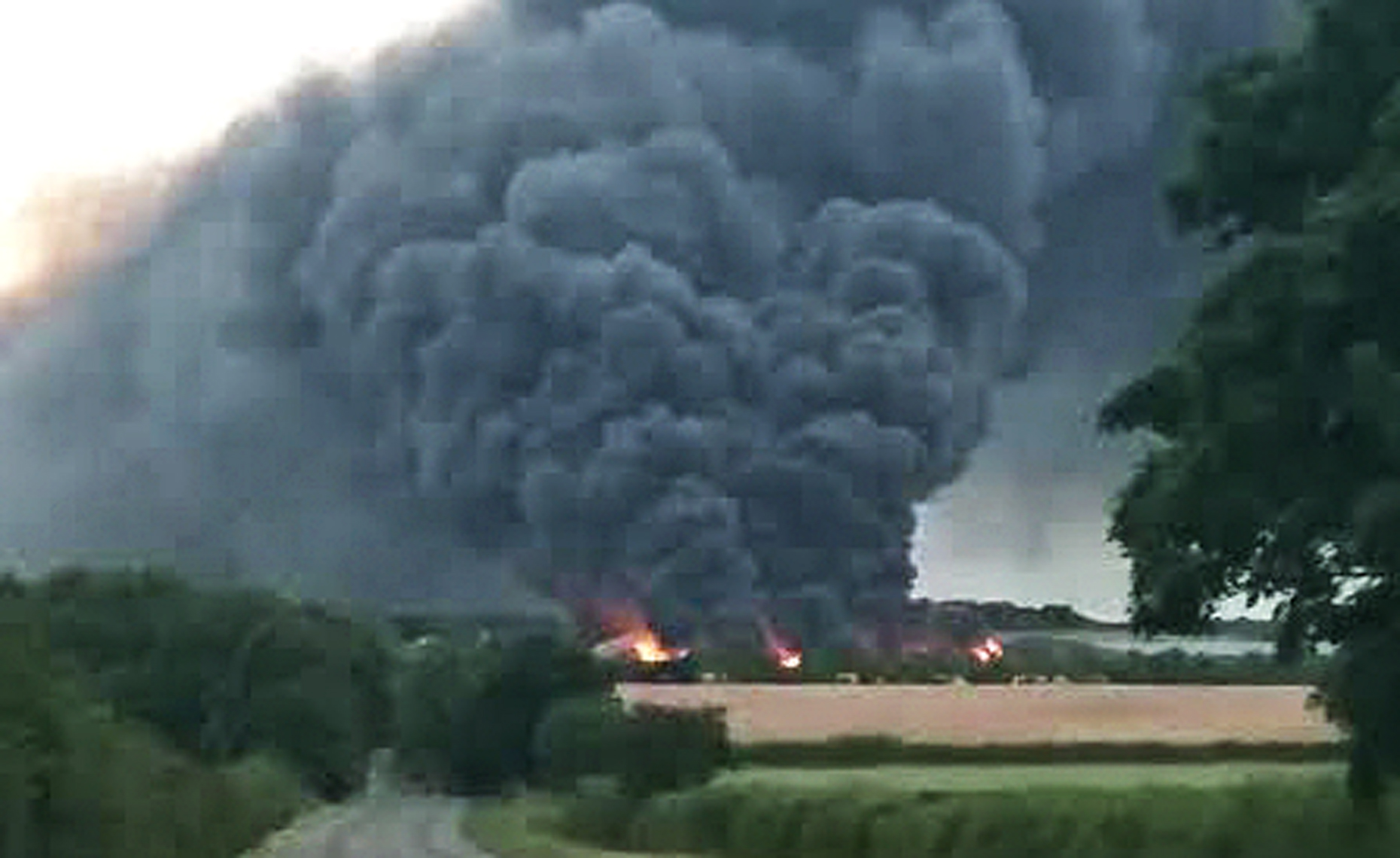 A recycling company was today fined £100,000 after admitting breach of environmental and planning regulations following a serious fire at its premises.
Mid UK Recycling Ltd, which has a contract to recycle waste collections on behalf of Lincolnshire County Council and a number of other local authorities, pleaded guilty to keeping controlled waste on land at Ermine Street, Barkston Heath, in a manner likely to cause pollution to the environment or harm to human health on or before July 7 2015.
The company also admitted failing to comply with a planning enforcement notice relating to storage of material at the site.
In addition to being fined the company was ordered to pay prosecution costs of £50,000.
The firm has already agreed to pay £230,000 compensation to Lincolnshire Fire and Rescue for the cost of dealing with the blaze in July 2015.
Judge John Pini QC, passing sentence, said the company had a history of not complying with guidance and enforcement notices.
He said: "The prosecution point to the history of non-compliance by a failure to respond to advice given a number of times. The repeated guidance and the failure to heed it properly, with knowledge of the risks, is to a considerable extent what grounds recklessness as opposed to negligence.
"The prosecution case is that despite warnings and advice from the Environment Agency, fire prevention guidance was not incorporated into the written management systems and the planning permission was not adhered to.
"Had the fire prevention guidance been implemented as it should have been, and condition six [of the planning permission] adhered to the fire could have been minimized or avoided completely."
The fire, which broke out after waste scheduled for recycling, spontaneously combusted and destroyed a stockpile of waste which consisted mainly of shredded carpet, mattresses, plastic bottles as well as bales of waste. The bales of waste were stacked three times higher than the permitted level. One of the recycling buildings was destroyed and 50 workers had to be evacuated from the site.
90 firefighters dealt with the blaze which burned for almost a week before being finally put out.
A subsequent report described the cause of the fire as "stockpiling loose and baled waste without properly reviewing the risk of taking necessary actions to mitigate the risk in a timely manner. The direct result was self combustion of waste resulting in a significant fire. If the waste within the bale storage area had been managed in accordance with fire prevention guidance the impact of the fire would have been greatly reduced".
Nearby roads including the A153 and the B6403 were closed for up to 48 hours affecting a number of local businesses in the Ancaster and Wilsford area.
Local residents were advised to keep their windows and doors closed due to the large amount of smoke coming from the fire.
The court was told that extensive steps were put in place after the fire to ensure that Mid UK Recycling complies with the various regulations and guidance.
Mowbray Christopher Mountain, 44, of Burghley Park, near Stamford, managing director of the company, pleased guilty to the same two charges.
A second company, MC Mountain & Sons Ltd, which owns the site, pleaded guilty to failing to comply with an enforcement notice.
No seperate penalty was imposed on either Mr Mountain or MC Mountain & Sons Ltd.
Richard Banwell, prosecuting, told Lincoln Crown Court that the effect fire at Barkston Heath on July 7, 2015 could have been minimized or even prevented if the company had followed fire prevention guidance.
The company had been served with a planning enforcement notice to reduced the height of waste stored outside from 10 metres to the permitted height of 3.5 metres.
The firm was also told to adhere to conditions set out as to where waste was stored outside of the buildings and to ensure that waste kept outside was baled and wrapped.
He said breach of the conditions has been noted on visits to the site by council officers and staff from the Environment Agency.
"It is a picture of non-compliance which sometimes gets better.
"Large amounts of waste were stored outside up to 10 metres in height. Loose waste was stored externally which was not baled or wrapped. That led to an enforcement notice being served. They were required to reduce the height of the waste to 3.5 metres, store waste in the correct areas and to bale and wrap all waste stood outside."
Mr Banwell said that there had been a build up of recycling waste at the site after nine shipments for export were cancelled by customers. He told the court that the company should have reacted by sending the surplus recycling material either to landfill or to an incineration plant.
John Cooper QC, representing each of the three defendants, told the court: "Mr Mountain and the company are extremely sorry for this incident. They are a reputable company and they take it most seriously.
"It was a farming business initially and has developed into waste management. The site at Barkston Heath opened in 2014 and has 460 workers.
"Nearly 100% of the recovery and recycling they deal with by not sending it to landfill sites. It isn't a business that is making huge amounts of money. It is a local business that started locally.
"Too significant a financial burden will close the company and 460 jobs will be lost."
Mr Cooper said that before the fire Mid Lincs UK had sought planning permission to extend the outside area where waste could be stored and believed this would be granted. However their application was turned down.
He told the court that Mr Mountain has since paid compensation to local businesses whose trade was affected by the fire.
Norman Robinson, Environment Agency area director for Lincolnshire and Northamptonshire, said: "Crime of this nature can have a terrible impact on the environment and local communities. That's why it's vital those who handle waste work within the regulations.
"The company and the director in this case have repeatedly failed to comply with requests from our officers to implement and comply with fire prevention guidance.
"While we work with businesses to help them meet their environmental obligations, where there are breaches we'll take enforcement action as in this case.
"This case demonstrates the need for everyone to take their environmental responsibilities seriously. We expect large businesses to set a good example to others in the industry, we hope to work positively in future with the operator.
"To report pollution or illegal waste activity, please call the Environment Agency's incident hotline on 0800 80 70 60 or report it anonymously to Crimestoppers on 0800 555 111."