Imps fan reunited with lifesaving first responders
He suffered a cardiac arrest after a match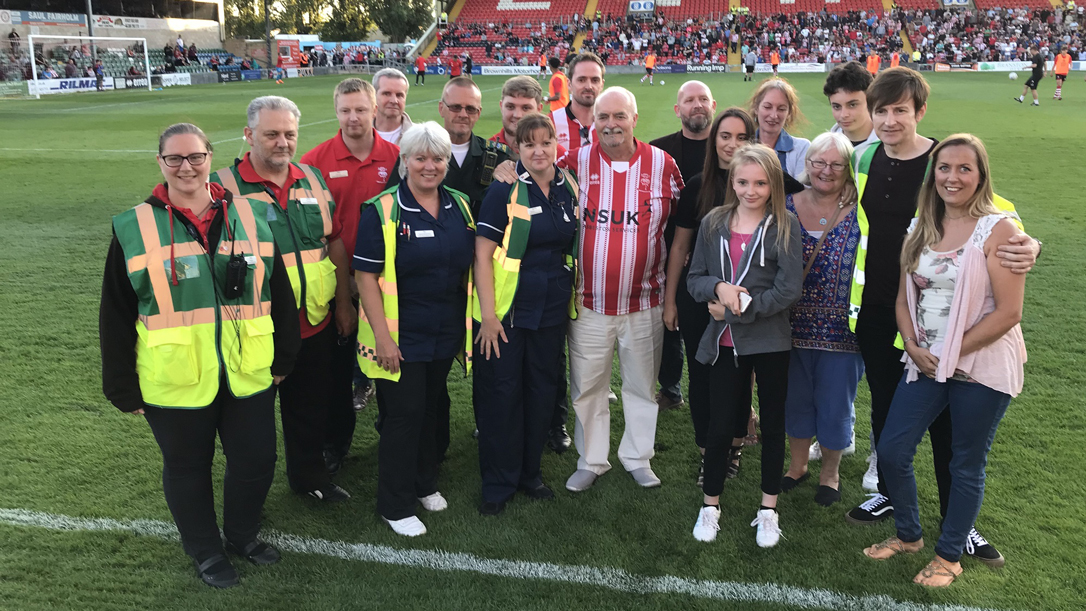 A Lincoln City fan who suffered a cardiac arrest after a match has been reunited with the crews that saved his life.
Michael Bull, 62, from Lincoln, had finished watching the Lincoln City V Exeter match when he headed back to his car and suffered a cardiac arrest.
Michael and his family were invited to watch the Imps pre-season friendly match against Norwich last night and, while disappointed Danny Cowley's squad suffered a 3-1 loss, he was glad to get the opportunity to properly thank the heroes that saved his life.
Fateful night
On the evening of March 30 his friends spotted him slumped at the wheel of his car and summoned two nearby police officers to help.
Sergeant Rob Gray and Police Constable Adam Barton immediately started Cardiopulmonary resuscitation (CPR) on Michael while East Midlands Ambulance Service (EMAS) Paramedic Gary Duckett, who also works as part of the Lincoln City Football Club medical team arrived on the scene.
Gary Duckett said: "When I arrived at the car, two policemen were carrying out CPR. Straight away I pulled Michael out onto the floor by his belt and got the defibrillator on him."
Paramedic Adrian Doughty, Student Nurse, Andrew Doughy and First aider Mick Hargreaves were minutes behind Gary and the team worked together to restart his heart.
Shortly after a fast response vehicle and ambulance crew arrived to help stabilise Michael and transport him to Lincoln County hospital for further care.
He was transported to Leicester Hospital where he had an implantable cardioverter-defibrillator (ICD) fitted. A small device that detects abnormalities in the heart and shocks them back into rhythm.
Reunion
Michael said having the chance for him and his family to meet the team and thank everybody personally for what they did for him was something special.
Michael Bull said: "Knowing that so many people from EMAS and Lincoln City Football Club medical team were involved in resuscitating me, then getting me to hospital, and the fact that I am now feeling so well, is down to the pure professionalism and team work displayed by your wonderful staff.
"What a team of professional heroes you have within the service. The paramedics and ambulance staff were so dedicated that I know for sure I would not be here now if not for their quick reactions.
"I will never be able to thank them enough, except the person who cut my football shirt up! Thank you, thank you, thank you!"
Paramedic Gary Duckett had visited Michael when he was on the intensive care unit at Lincoln County Hospital but said it was lovely to see him back watching a game that he loves.
He added: "It is great to see Michael doing so well, attending matches and seeing him with his family and friends."