Rail bridge beams arrive for Lincoln bypass
A 160-tonne crane was needed to lift them in place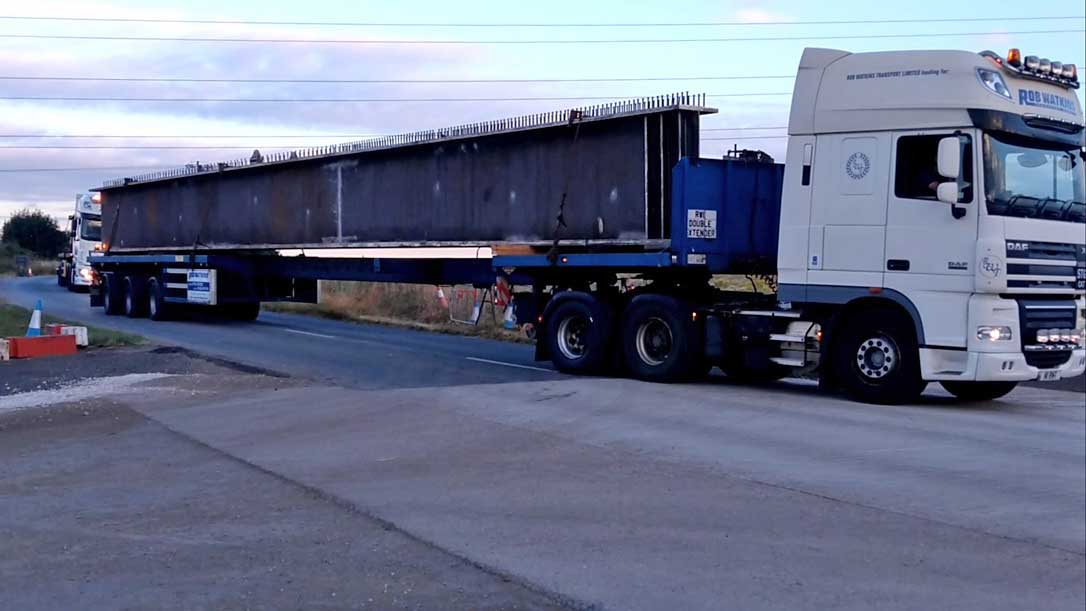 The first four of 16 steel bridge beams, each weighing up to 30-tonnes, arrived at the Greetwell Road site compound today.
The beams are so heavy they required a 160-tonne crane in order to lift them on to the site.
They will help to make up the deck of a 1,200-tonne rail bridge, which will span over top of the Lincoln to Market Rasen rail line as part of the Lincoln Eastern Bypass.
Cllr Richard Davies, Executive Member for Highways and Transport, said: "The journey from Wales was a careful one for the delivery drivers, especially when they got to Greetwell Road. Because space is limited, we had to temporarily manage traffic to allow the delivery trailers space to manoeuvre onto site.
"From next Thursday, once all the beams have arrived, the team will start connecting them into pairs to create eight 41-metre, 95-tonne sections that will support the entire length of the new bridge deck."
Manufactured by Braithwaites in Newport, South Wales along with all the other bridge sections, the bespoke beams took three months to create.
Cllr Davies continued: "After all of the beams are safely on-site, the next major step in the bridge's construction will be when they are lifted into place in mid-August, when Network Rail closes the Lincoln to Market Rasen line for eight hours.
"The bridge deck will then be built in situ over the next three months so that we can start using it to move materials over the rail line for use elsewhere on-site.
"Things are also progressing really well with the rest of the bypass and we're still on track to have the entire road complete and open to road users by the May 2020."
The Lincoln Eastern Bypass project is part-funded by a £50m Central Government capital grant and aims to minimise traffic congestion, support Lincoln's growth and enhance the inter-city environment.