Objectors ransoming Grantham Relief Road, says highways boss
Objections mean an enquiry is likely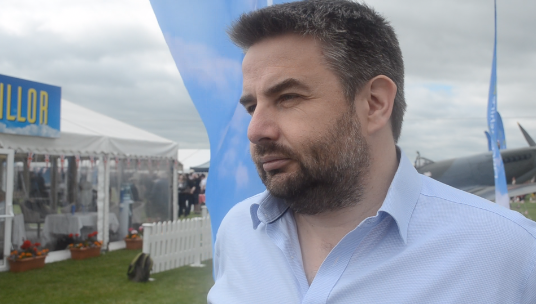 Lincolnshire County Council's highways chief has said objectors to the Grantham Relief Road have them 'over a barrel' when it comes to getting the new route approved.
Network Rail was among several objectors to the legal orders and land acquisitions for the £81 million project which is hoped to join the B1174 to the A1.
The relief road would look to link the A52 at Somerby Hill to the A1 which should reduce congestion in the town centre.
Speaking to Local Democracy Reporter Daniel Jaines, LCC's executive councillor for highways, said the authority was now 'pretty close to having done a deal with them'.
He also raised issue with how difficult he felt it had been to get initial approval from organisations such as Highways England.
He said: "Again, frustrating really isn't it that Highways England and Network Rail, two Government arms, are so difficult to work with, especially when we talk to them on a weekly basis and have done about all of the projects for years and at the last minute they appear with these concerns and problems?
"It's incredibly frustrating but I'm afraid it's the nature of road building in the UK."
Asked what the solution to the objections was, he replied: "Agreeing to give them the money they want, simply put.
"In one instance for Network Rail wanted some car parking space, they'd never mentioned that previously and you think why would you wait till now to do that?
"You basically have to agree with what they're asking for — these things are called ransoms for a reason and the fact is they have us over a barrel. The alternative is we don't build the road."
He said however, that the project would only be delayed by a few months since the county council had 'managed to deal with it and expedite concerns quickly'.
A Network Rail spokesperson said: "We continue to work closely with Lincolnshire County Council on the construction of the Grantham Southern Relief Road."
A Highways England spokesperson said however: "We're supportive of measures to improve journeys around Grantham and have raised no objections to the council's plans. We look forward to continuing to work closely with the local authority as the project moves forward."
Coucillor Davies is concerned that a public enquiry could be held at the end of the year if a solution isn't found.
If objections are withdrawn the enquiry will not go ahead.
Objections to the legal orders originally included:
Network Rail – affected land, width size of the easement, details of CPO, access rights to new access track and potential additional easements
Zurich – justification and use of compulsory purchase order
Western Power Distribution – protection of interests in vicinity of the scheme
Grantham Motor Company – site access, position of transporter layby and stopping up proposal
---
SUBSCRIBE TO LOCAL DEMOCRACY WEEKLY, our exclusive email newsletter with highlights from coverage every week, as well as insights and analysis from our local democracy reporters.