November 29, 2018 2.50 pm
This story is over 37 months old
Lost ticket deadline looms for unclaimed £76m jackpot
Make sure you check behind the sofa!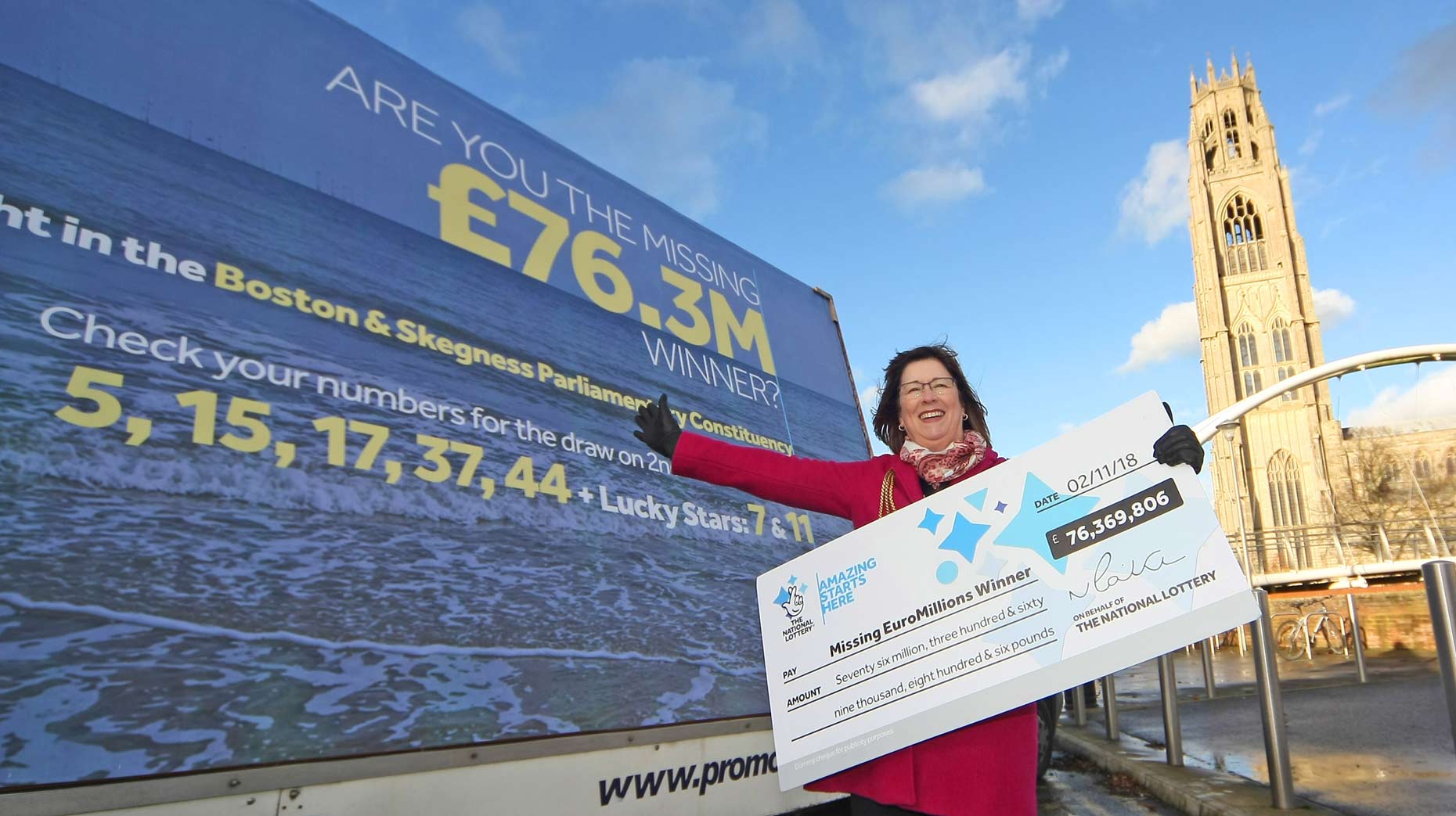 Camelot returned to Lincolnshire on Thursday in a bid to find the winner of the unclaimed £76 million lottery ticket as the lost ticket deadline is looming.
A person who bought a lottery ticket in the Boston and Skegness area, who won a total of £76,369,806.80, has still yet to claim the biggest ever unclaimed prize in the UK.
The winning numbers drawn on November 2 were 5,15,17,37,44. They also matched two lucky star numbers 7 and 11.
If the winner is not in possession of their winning ticket for whatever reason, they have until 5pm on Sunday, December 2 to register a claim in writing with Camelot.
Under its licence, Camelot has the discretion to pay prizes in respect of stolen, lost or destroyed tickets if the player has submitted a claim in writing within 30 days of the relevant draw.
If the player can provide sufficient evidence the claim will be investigated to consider its validity and if it is able to pay the prize 180 days after the draw.
The deadline for the winner to come forward with the physical ticket is midnight on May 1, 2019.
If no-one comes forward with the winning ticket before the prize claim deadline, then the prize money, plus all the interest it has generated, will go to help National Lottery-funded projects across the UK.
Camelot return to Lincolnshire
As previously reported, representatives from Camelot went to Boston earlier this month with a giant cheque to try and find the winner, but were unsuccessful, so they returned again!
Two National Lottery advans travelled the length and breadth of the Boston and Skegness Parliamentary Constituency on Thursday, November 29 in a bid to find the elusive winner.
The advans will be touring the constituency over three consecutive days – November 29 to December 1 inclusive.
The National Lottery tried to raise awareness on the streets and in all retailers in the area. All 82 National Lottery retailers in the constituency will receive prominent display posters.
Due to player protection rules and licensing laws, while organisers would be able to locate the exact location and time of the purchase (and even locate CCTV), they aren't able to go any further in their search.
Senior Winners' Advisor at The National Lottery: "We're doing all we can to reunite the ticket-holder with this amazing £76.3M prize – the biggest ever unclaimed prize in the UK.
"By catching locals across the constituency as they're out and about for business or pleasure as the weekend approaches and as people are contemplating a start to their Christmas shopping, we're looking to get the message out to as many people as possible.
"What a Christmas it would make for the lucky ticket-holder if they manage to see one of our advans over the next few days, check their tickets and claim their prize."