Behind bars: Lincoln criminals locked up in November
It included a drug gang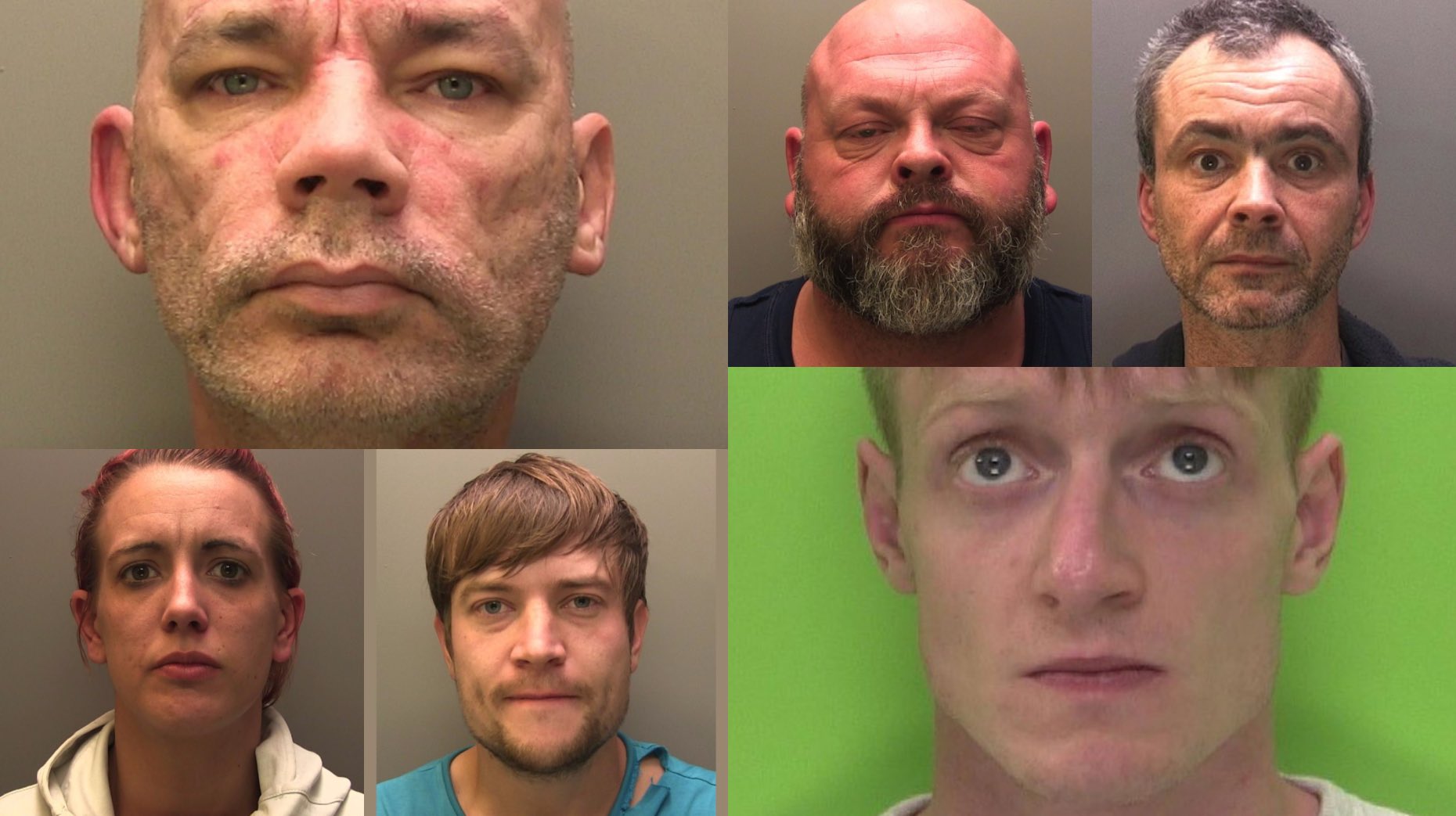 A drug gang jailed for a total of over 47 years and a man jailed after a paedophile hunters sting were among those in court in November.
Here's a summary of notable court reports from last month:
---
Lincoln drug gang
Seven people were jailed for a total of over 47 years after being found guilty of a conspiracy to supply heroin and cocaine in Lincoln.
Police action was carried out in various locations including Lincoln's High Street and Portland Street.
The conspiracy centred around a property in the Bailgate area of the city, which was being used to prepare significant quantities of Class A drugs for onward sale in Lincoln.
Norman Foreshaw, 39, of White Hart Hotel, Gainsborough was jailed for 16 years.
Roger Bayes, 48, of Keddington Avenue, Lincoln was jailed for 12 years.
Charlie Murray, 28, of Washington Street, Hull was jailed for four years and seven months.
Elon Williams, 24, of Washington Street, Hull, was jailed for four years and seven months.
Robert Sharpe, 50, of Greetwell Gate, Lincoln, was jailed for three years and 10 months.
Sharon Hopkinson, 45, of White Hart Hotel, Gainsborough was jailed for three years and six months
Dwan Fowler, 31, of Jarvis Close, Lincoln, was jailed for two years and seven months.
James Hewitson, 36, of Newark Road, Lincoln, who was found guilty at Nottingham Crown Court on September 11, will be sentenced at a later date.
---
Samuel Warner
Samuel Warner, 46, from Lincoln was jailed for two years for offences against minors after being filmed by a group of so-called paedophile hunters.
'Hunter group' Justice4Kids claimed to have posed as young girls in order to bait Warner online.
A video in which a group appear to confront him near to the Lincoln city centre police station has been viewed more than 26,000 times on Facebook. In the video, Warner is accused of arranging to meet with what he believed to be a minor and sending images. He tells them he "doesn't know why" he exchanged messages.
Warner will also be subject to a 10 year Sexual Harm Prevention Order and have to sign the sex offenders register for 10 years.
---
Alex Cawood-Charlton
Alex Cawood-Charlton, 26, has been jailed for 18 months after being arrested by armed police on the University of Lincoln campus back in May. He was also among four sentenced in relation to an armed burglary in Worksop.
Porcher Toynbee, 22, knew the victim of the robbery and made arrangements to visit him – but instead of making a friendly house-call she brought three masked men with weapons. The victim suffered an axe injury in the incident in Norfolk Street in Worksop, at around 9pm on May 14 2018.
His injuries included a 10-inch gash to his head and a fractured eye socket. The investigation later led detectives to identify Toynbee's boyfriend Aaron Meehan, 37, and friend Cawood-Charlton as two of the three masked men. Toynbee's father Alan O'Neil, 45, was identified as being involved in plotting the robbery.
Meehan, of Wiltshire Road, London, was jailed for four years
Toynbee, formerly of Bawtry Close, Lincoln, was sentenced to three years
O'Neil was jailed for two years
---
Michael Bradbury
An uninsured motorist who seriously injured three cyclists when he fell asleep at the wheel has had his jail sentence cut by nine months.
Michael Bradbury, 30, was jailed for 45 months earlier this year after a court heard how he drove off without helping the riders despite knowing "he had hit something".
Among his victims was Colchester dentist Bill Tweddell, 58, who was immediately knocked unconscious and suffered multiple injuries in the collision which left him paralysed and wheelchair bound.
A later hearing at Lincoln Crown Court was told on Monday, November 5 that the prison guidelines used to sentence Bradbury, from Sleaford, were too high. The sentence was then reduced from 45 months to 36 months.
---
Jake Coyle
A Lincoln woman "feared for her life" when her former partner broke into her home and attacked her. Jake Coyle, 27, of Hamilton Road, Lincoln was the subject of a restraining order when he turned up at her home on the Ermine West estate.
His former partner, Whitney Swann, refused to let Coyle into her home on a Sunday night but he put a slab through the rear lounge window. Coyle admitted assaulting Ms Swann and causing her actual bodily harm, breach of a restraining order and damaging property as a result of the incident on September 23.
He also admitted two charges of common assault to police officers. As a result, Coyle was jailed for 30 months and given a five year restraining order banning him from contacting Ms Swann.
---
A summary of notable court reports from across the county this month: