February 28, 2019 5.02 pm
This story is over 34 months old
Behind bars: Lincolnshire criminals locked up in February
See criminals locked away in the last month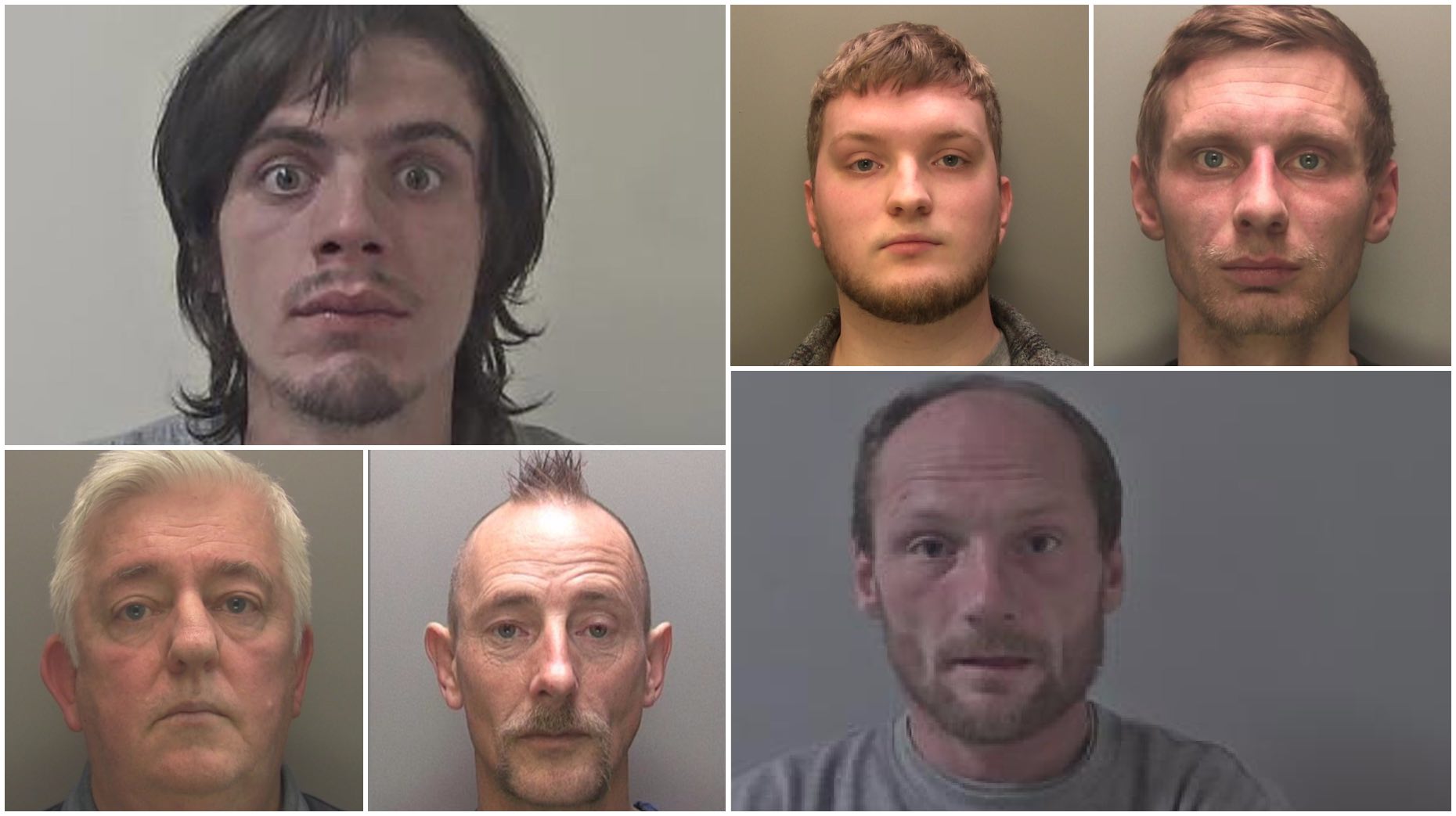 A man who killed his victim with one punch and another who inflicted horrific injuries on his homeless victim were among those jailed across the county in February.
Here's a summary of notable court reports from this month:
---
Dion Hendry
Dion Hendry, 24, of no fixed abode, was sentenced to life in prison for the murder of Raymond Ward after inflicting horrific injuries on his victim over the disappearance of two bags of heroin.
The body of Ward, 51, was found in a disused local authority building on Cliff Gardens in Scunthorpe in July last year.
He was homeless at the time of his death and was sleeping in the building along with other homeless drug addicts including Hendry, who will now serve a minimum of 18 years in jail.
---
Marc Bennison
Marc Bennison, 37, of no fixed abode, was jailed for four years for the manslaughter of Christopher Shipway in Grimsby.
Shipway did not recover from the serious injuries he suffered after an assault during an argument with Bennison just before 3am on Old Market Place on August 25 last year.
Shipway was punched just once by Bennison and fell backwards sustaining serious head injuries. He later died from those injuries in hospital on September 1.
---
Rhys Lynn
Rhys Lynn, 24, of Hawthorn Avenue in Cherry Willingham was jailed for five years and four months after using fake social media profiles to threaten young girls into sending him naked photographs of themselves.
Lynn told his victims that he would distribute images of them that he had already obtained. He threatened to rape a 15-year-old if she did not comply.
The five girls involved, one of whom was only 12, were left badly affected by their contact with him over the internet with a number of them having since had to undergo counselling.
He was placed on the sexual offenders' register for life and given an indefinite sexual harm prevention order.
---
Michael Etock
Boston army veteran Michael Etock was jailed for two years for sexually abusing a teenage girl.
Etock, 62, kissed and groped his victim before telling her to keep quiet about what happened. After the girls made a complaint to police Etock sent text messages encouraging her to drop it.
The messages were sent by Etock's wife Sharon who had allowed him to use her phone to contact the girl. Sharon was jailed for eight months after admitting to perverting the course of justice.
---
Jamie Nickell & Jake Mann
Jamie Nickell, 26, of Addison Drive in Lincoln was sentenced to four months in prison after he was filmed drop kicking a tent where two homeless people were sleeping.
Nickell was shown to the court on CCTV footage taking a run up before landing feet first into the two vulnerable men in a shop doorway, injuring one.
He pleaded guilty and was jailed for four months after the incident which happened on Whitefriargate in Hull city centre.
The incident was filmed by his friend Jake Mann who was jailed for 14 weeks.
---
Pavel Makevic
Pavel Makevic was jailed for over four years after knocking down and killing a pedal cyclist as he drove over a level crossing.
Makevic did not hold a valid driving licence. He was one and a half times over the limit and speeding when he hit Albert Harding, who was cycling over the crossing at Broadfield Lane in Boston.
Makevic was jailed for four years and nine months. He was also banned from driving for five years and five months.
---
Justin Barnes
Justin Barnes, 46, of Station Road in Metheringham has been jailed for six years after being convicted of the sexual abuse of a teenage girl.
Barnes denied the offences but was found guilty by a jury after a trial. Barnes was found guilty of assault by penetration, three charges of sexual assault and two further charges of sexual activity in the presence of a child.
The offences happened between January 2014 and March 2017. The jury heard that he sexually assaulted the victim on a number of occasions and also performed a sex act in front of her.
Judge Simon Hirst ordered him to be placed on the sex offenders' register for life. He is also barred Barnes for life from working with children and vulnerable adults.
---
Dominico Pinto
Dominico Pinto, 41, of Witham Mews off High Street in Lincoln, was jailed for two years after attacking his former partner with a crowbar knocking out her front teeth.
Pinto was waiting for his ex Marzena Gladysz when she returned home from taking her children to school on July 9 2018.
He then struck her with the crowbar and kicked and punched her. She suffered a number of injuries and lost five teeth including two at the front as a result of the attack.
Pinto was also given 200 hours of unpaid work and a rehabilitation activity requirement of up to 30 days. He was also given a life-time restraining order banning him from contacting Ms Gladysz.
---
Mark Drury
Mark Drury, 45, of Garfitts Lane, Boston was jailed for 12 months after impersonating a Trading Standards officer in an attempt to recover a dangerous car.
A Trading Standards investigation was launched in August 2017 after Drury sold Norfolk resident Mrs Woodlow a 'dangerous' used Honda car. It was sold to an innocent buyer at the yard where he was manager in Kirton, near Boston.
---
Graham Horrocks
Graham Horrocks, 33, of Old School Court, Louth was jailed for three and a half years after being convicted of sexually abusing a young girl.
Horrocks denied sexual assault of a child under the age of 13 on a single occasion but was found guilty by the jury.
He was cleared by the jury of a second charge of sexual assault of the child on at least 10 further occasions.
---
Alan Shepherd
Alan Shepherd, 68, formerly of Brereton Road in Cleethorpes was jailed for 14 years after being found guilty of rape and indecent assault.
He was on trial at Hull Crown Court charged with multiple sexual offences against several victims. The charges related to three victims from Barnsley who cannot be named for legal reasons, girls who were under the age of 16 when the abuse took place.
---
Andrew Martin
Prolific burglar Andrew Martin, 48, of Buckingham Street in Scunthorpe was jailed for over two years, days after carrying out a night raid on a student house.
Martin committed his first house burglary at the age of 11. He has served eight previous jail sentences for burglary.
He entered the property on Lindum Road in Lincoln through an open window while the occupants were asleep on July 24 2018.
He stole a flat screen television worth £1,000 from a communal lounge before leaving.
---
Robert Barnes
A judge has praised the "remarkable bravery" of a Lincolnshire couple who sat on violent house burglar Robert Barnes.
Barnes, 28, of no fixed address, admitted carrying out the burglary on November 20 and a second charge of possessing a bladed article. He was sentenced to two years imprisonment for the burglary and an extra four months for the knife offence.
Former railway worker and Korean War veteran John Headington, 85, and his wife Susan, 57, managed to sit Barnes for several minutes until police arrived at their South Lincolnshire home.
---
Stephen Kellow
Heroin addict Stephen Kellow, 35, of Brant Road, Lincoln was jailed for three years after carrying out a series of burglaries to fund his drug habit.
Stephen Kellow was already on bail facing theft charges when he broke into a property in Maltkiln Lane, Waddington, at 3.30am on January 6 2019.
Together with an accomplice Kellow smashed a window to get into the house. The stolen items included designer watches, an iPhone, bottles of wine and brandy and cash.
The victims were asleep in bed at the time but woke after hearing their bedroom door close.
---
Stuart Wright
Stuart Wright, 48, of Lewis Street in Gainsborough was jailed for five years after a sawn-off shotgun was found in the boot of his car.
Wright had earlier turned up at the accident and emergency unit at Lincoln County Hospital where he mentioned to staff that he had a gun.
Police went to Gainsborough and searched his vehicle which was parked on Lewis Street. In the boot 22 shotgun cartridges and a double-barrelled sawn-off shotgun were found. Wright was arrested at the hospital.
---
Juozas Gedvilas
Drunk driver Juozas Gedvilas, 55, of Hartley Street, Boston was jailed for eight months after threatening another motorist with a claw hammer because he took his car keys from him.
Gedvilas, described as hardly being able to stand up, left victim Presley Myers and his two teenage passengers terrified when he produced the weapon following a near collision between their vehicles on Oxney Road in Peterborough.
Gedvilas failed a breath test with the reading being 116mgs of alcohol per 100ml of breath, putting him more than three times above the legal limit of 35mgs. He was also banned from driving for 16 months.