March 1, 2019 12.13 pm
This story is over 56 months old
'Devastated' army veteran's four day protest against city council
He wants a suitable home for him and his kids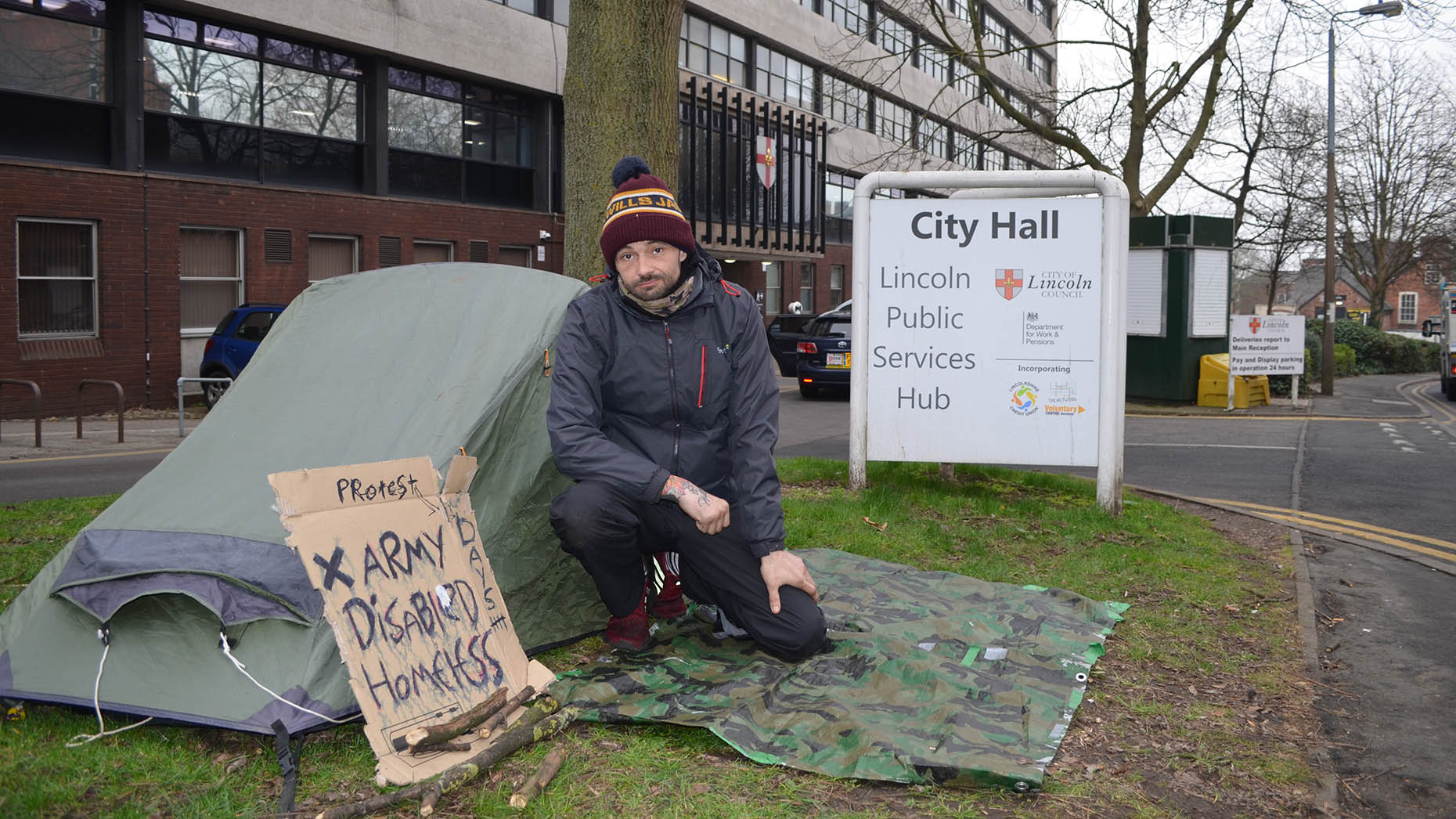 A "devastated" army veteran has been camped outside City of Lincoln Council offices for four days after he claims the authority is not doing enough to help him find a home.
Tom Foley, 36, who is originally from Doncaster, pitched his tent outside City Hall in hope that the council will find him a suitable home.
Mr Foley, who was a port operator and driver in Royal Logistics Corps for five years after joining at 16, said he needs a house to be able to see his three kids.
After leaving the army, he joined the construction trade at 21 working as a contractor and travelled around towns and cities across the country for work.
He described the lifestyle as "hectic" and said he never "settled anywhere".
But spinal stenosis, a condition which leaves him with fractures and tears in his spine, left him unable to continue work and without a home.
Mr Foley has been homeless for just over a year and moved to Lincoln in the hope of studying at university and to write books.
But after approaching the city council to find accommodation, he said the authority only offered him a bedsit in Gainsborough, which he said is not enough for him and his kids.
Rejecting the offer left him without short term accommodation which the council provided for him.
After leaving, Mr Foley decided to camp outside the authority's offices in protest.
"I'm devastated," he said. "I'm absolutely devastated and I'm worn down.
"I can't have my kids in a room, my youngest lad is seven and is autistic and will not share a bed with anybody. I can't do that."
He added that the council were not doing enough to help him find a suitable home.
Caroline Hannah, rough sleeper project co-ordinator at City of Lincoln Council, said the authority offered Mr Foley accommodation and are happy to work with him to reach an outcome.
She said:  "Mr Foley presented himself as homeless to us on January 24 and was placed in short-term accommodation.
"As in all homeless cases we conducted an assessment of his needs and after careful consideration we contacted Mr Foley to offer him a privately rented bedsit.
"Mr Foley declined our offer and asked for a one bedroom flat which we were unable to provide as there was no availability in the private sector.
"Once our offer of a private tenancy on the bedsit had been declined, his entitlement to short-term accommodation came to an end.
"Mr Foley continues to be able to access the Nomad Trust's night shelter and day services but has chosen not to do so.
"We have also said that we will help him to rent in the private sector by offering him assistance with his rent deposit.
"In addition, we have checked that he is in receipt of, or applying for, all of the benefits he is entitled to.
"We will continue to provide advice and assistance for Mr Foley to secure his own accommodation and we have contacted landlords on his behalf."