September 5, 2019 2.52 pm
This story is over 27 months old
Family devastated by fire which killed beloved pets
They tried to run back into the house to save the animals but were stopped by firefighters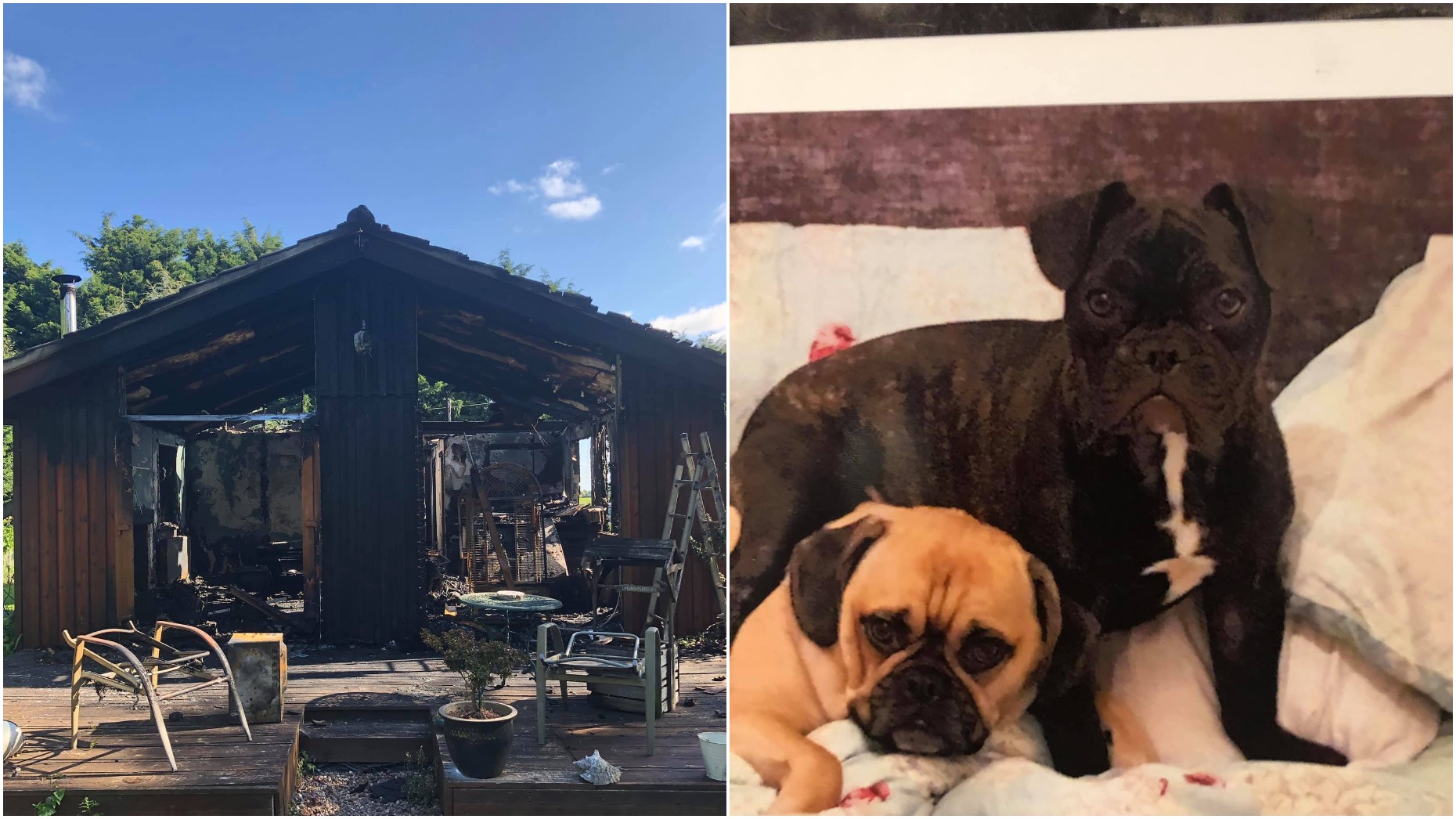 A Boston family has been left heartbroken by a fire which ripped through their home killed their beloved three dogs and parrot.
Shaun Maguire went out with his family on Sunday, September 1 to the Boston Steam and Vintage Festival but when they returned in the next hour their lives had been turned upside down.
They saw three fire engines working to douse the flames, but firefighters could not save the wooden lodge that Shaun had built himself ten years ago or the animals trapped inside.
Lincolnshire Fire and Rescue told the family that the fire was caused by a fault on the fridge freezer, but they did not have any insurance to help rebuild.
Instead, they have taken to fundraising websites online to first get help to clear the old house and then to rebuild a new home.
People have already donated £1,760 at the time of writing and tradespeople have even offered to give their services for free to help the family get back on their feet.
Jake Maguire, Shaun's son, tried to run back into the house to save the dogs but was stopped by the firefighters.
"My dad lost everything in this fire and had no insurance," Shaun said. "He built this house with his bare hands and we will not be beaten by this fire.
"We need to demolish and rebuild. Please if anyone can help in any way next weekend even just to move stuff into a skip then I would appreciate your time. one hour, one day or the weekend.
"Even if you can help donate tools to use, equipment to borrow just anything to help. I can't pay you for your time but will supply all food and drink throughout the day."
Stacey Maguire broke down in tears as she told Lincolnshire Reporter: "As we were driving back we could see black smoke billowing into the sky. It stood out on the blue sky.
"A woman passing by had seen the smoke and called the fire service. When we were there watching the house go up in flames we were just screaming for our animals. My husband Jake tried to run in but was stopped.
"If we could just return back to Sunday we just wish that we took the dogs with us. The firefighters said that the animals weren't caught up in the flames but either died from shock or from smoke inhalation.
"We have lots of fond memories with all of them and have laid them to rest at home."
They have since built a tribute for their animals, a five-year-old labrador called Mollie, a 2-year-old French bulldog, a four-year-old puggle called Bertie and a ten-year-old parrot called Red.