November 26, 2019 1.40 pm
This story is over 48 months old
Lincoln MP hopefuls clash over social media hate at first hustings
The Tory Twitter saga takes centre stage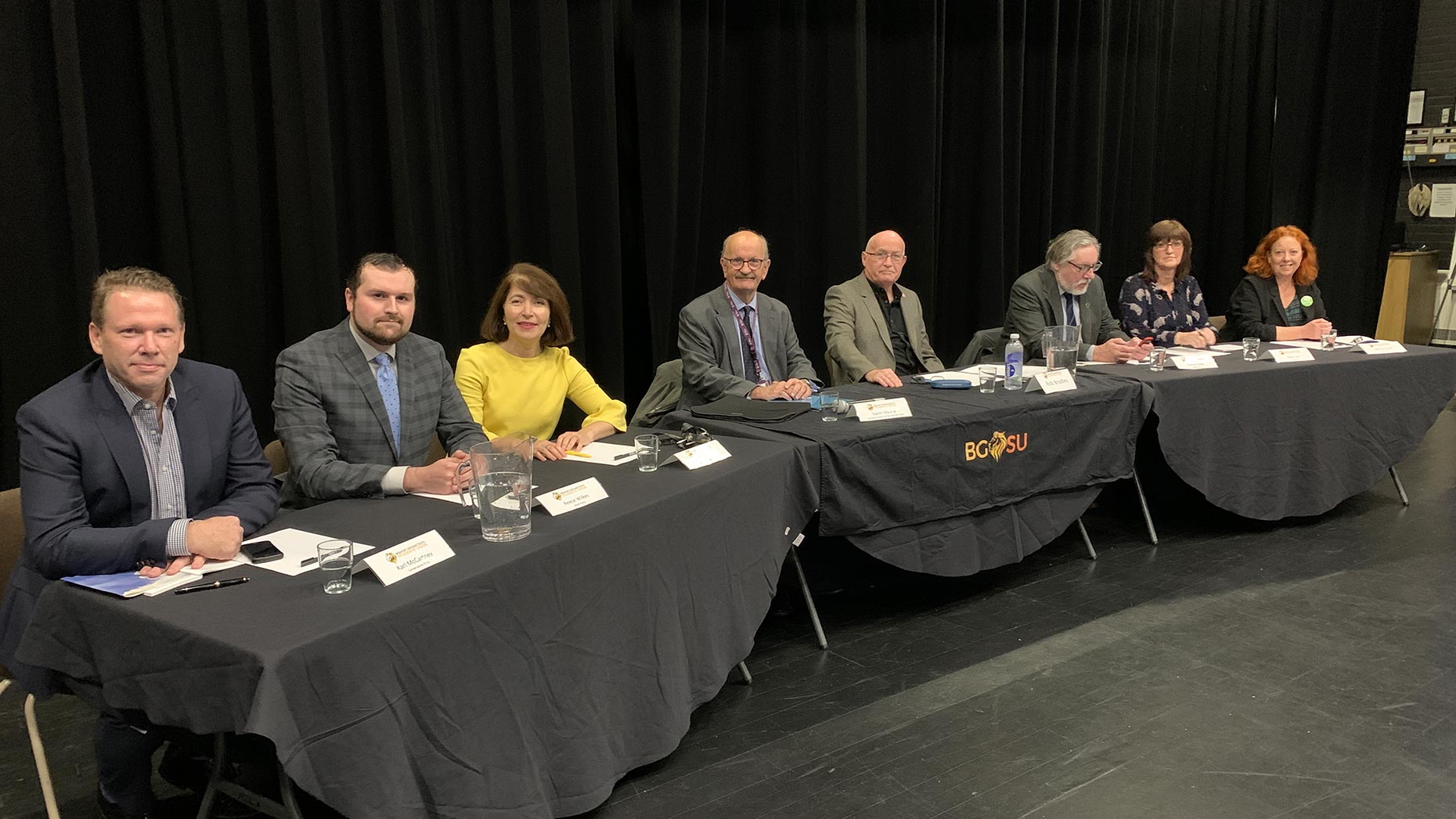 Candidates bidding to become Lincoln's next MP clashed over the "spreading of hate" and "freedom of speech" on social media on Monday night in the first election hustings of the campaign.
Conservative candidate Karl McCartney said he would "defend anybody's right to say what they want" on social media, during the event organised by Bishop Grosseteste University.
However, opposition members hit out saying it was helping spread a message of hate.
The public questions started with an audience member asking all seven Lincoln candidates "Do you believe everything you read on Twitter?"
It followed calls for Tory candidate Karl McCartney to be suspended after allegedly re-tweeting far right figures such as Tommy Robinson and Katie Hopkins.
Mr McCartney told those attending he did not believe everything he read on the social media platform.
"If you tweet something or type something out, you probably believe it. If you re-tweet something you're perhaps interested in what that point of view is," he said.
"However, I will defend anybody's right to say what they want to say within the law because that is the freedom of speech rights within this country."
He said he had re-tweeted "all sorts of people over the years" including Karen Lee's views on Chris Williamson and former student union presidents alleging Ms Lee had said "students were a disease," adding that he did not necessarily agree with those views and they had not sparked complaints.
Labour candidate Karen Lee denied she had ever said students were a disease, adding "just because someone says something, and says it again and again and again doesn't make it true."
She said she used Twitter to get her message out, not "to spread hate".
"In this country we're in a really difficult position, the far right are everywhere and there are people like Tommy Robinson who spread a message of hate and all of us have a duty not to spread that message.
"If you re-tweet something you are helping spread that hate-filled message," she added.
She told the audience she had "really high security" at her home due to serious threats against her and her family.
"For someone to share a message of hate is absolutely reprehensible and should absolutely not happen. As a former MP I just would not do that," she said.
---
The Lincolnite and BBC Radio Lincolnshire will host a live debate will all the candidates on Monday, December 9 at 7pm. More info here.
---
Liberal Democrat candidate Caroline Kenyon said it was "completely disingenuous" to say re-tweeting with no attached comment did not imply condoning what was said.
She said she was "extraordinarily careful" with her social media and warned people to be "as vigilant as if you were defaming somebody or criticising someone in writing."
She said: "It's your own personal statement of who you are and what you believe and by sharing posts which other people find repugnant, hurtful or distressing, I'm sorry, but I think it's really clear that if you do not attach a comment that says 'I do not agree with this, how unpleasant' it indicates a very clear condonation of that comment."
Brexit Party candidate Reece Wilkes said people had "to be very careful" when it came to Twitter. He said re-tweeting "may" indicate a belief but reminded people those who did so were not the author of the tweet.
He also said it was "very easy" to accidentally like a post.
Independent Rob Bradley praised Twitter but also warned people to be careful, while Liberal Party member Charles Shaw said he refused to re-tweet messages, using the platform instead to simply share a message.
Green Party candidate Sally Horscroft called on people to attack the policies not the people, but added they "cannot condone hate speech".
Big on Brexit
Brexit played a major part in candidates opening statements, with the Lib Dem and Green Party candidates both arguing to remain, while the Conservative, Brexit Party, Liberal Party and independent candidates calling for swifter action on leaving, and blamed opposition members for the delays.
Mrs Lee said the election was about "so much more than Brexit" but was highly critical of Boris Johnson's withdrawal deal.
But that wasn't all
Education, transport, the NHS, climate change, rough sleeping and homelessness also took top billing in several candidates pledges, while the independent candidate called for reform in how national politics worked.
Both former MPs highlighted projects which they said had come to fruition while they were in power, with Karl McCartney pointing to projects including the Lincoln Eastern Bypass, trains to the capital and Network Rail's new footbridges, while Karen Lee said she had undertaken projects including the Transport Task Force and helping set up an intervention team to help tackle rough sleeping.
A range of questions asked
Through the course of the night, candidates were also asked about voting reforms, LGBTQ rights, protecting free healthcare for all, Tony Blair saying both parties were "peddling fantasies", how parliament would uphold scrutiny and prevent the abuse of executive powers, drug and alcohol support and autism protections.
---
SUBSCRIBE TO LOCAL DEMOCRACY WEEKLY, our exclusive email newsletter with highlights from coverage every week, as well as insights and analysis from our local democracy reporters.