December 6, 2019 9.46 am
This story is over 28 months old
Lincolnshire health visitors to receive pay rise after months of strikes
Various protests and demonstrations were held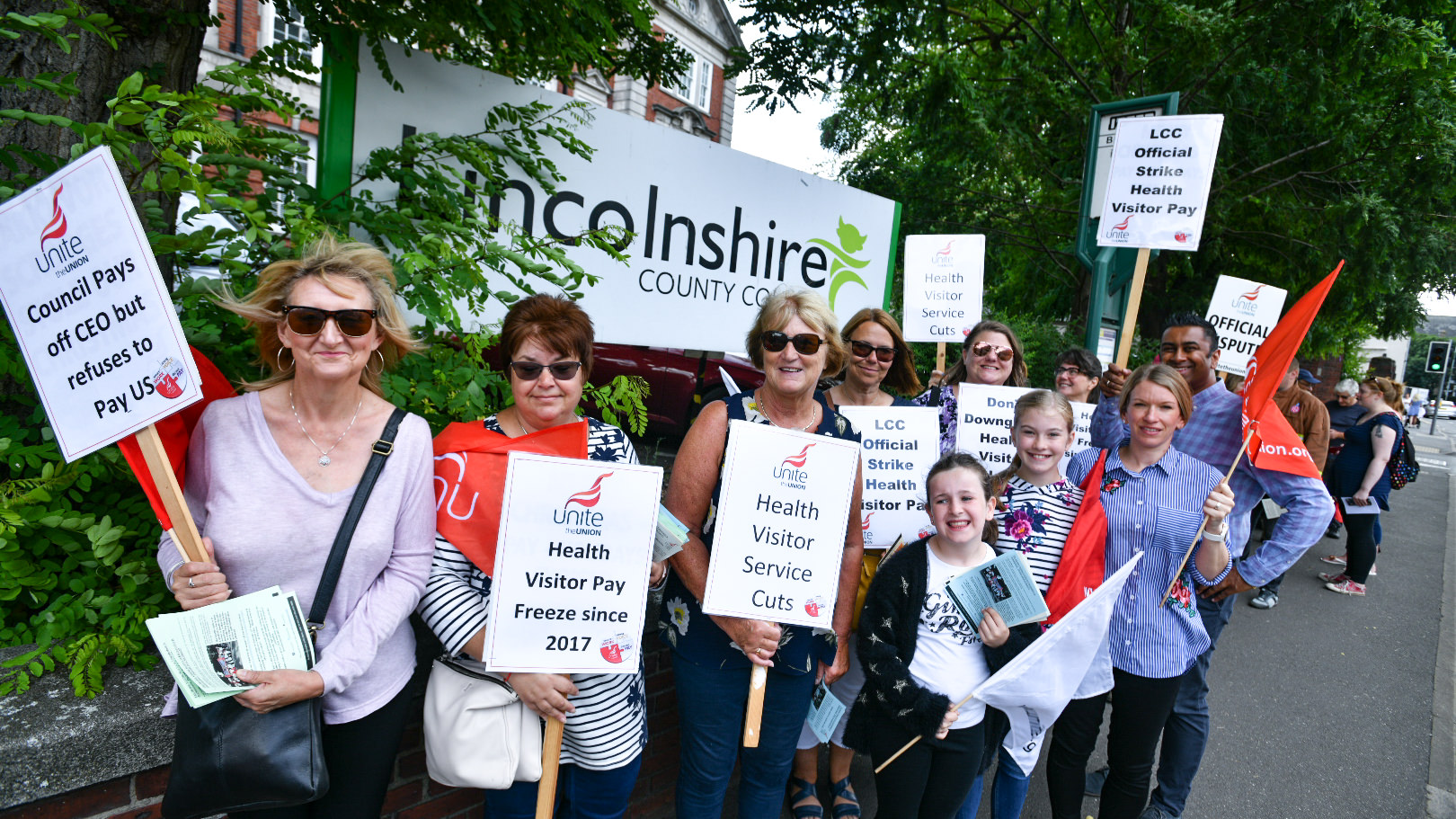 The majority of Lincolnshire health visitors will receive pay rises after a long-running dispute, according to Unite the Union.
As previously reported, health visitors began six days of strike action against Lincolnshire County Council over pay and an "erosion of professional standards" in July, before further demonstrations and protests in the proceeding months.
Unite argued that as all health visitors have the same qualifications they should be paid the same instead of different contracts for grade 9 and grade 10 health visitors.
Unite announced on Thursday that most of its members would move onto the grade 10 pay scale in a victory it hailed as "highly significant".
Besides the grade 10 job roles, the union said the health visitors will receive between £2,000-£6,000 in a one-off transitional payment.
Heather Sandy, Interim Director of Education at Lincolnshire County Council, said: "The council is pleased that Unite are considering accepting the offer we put to them early this year.
"Since October, health visitors have been able to go through the council's career progression scheme, which we have consistently said would offer them competitive terms and conditions and accounts for the vast majority of the uplift they will receive. We are pleased that the dispute is nearing completion."
Demonstrations and protests were held across the county, including in Lincoln and Gainsborough, and health visitors said it "isn't just about the pay, it's about making sure the service in Lincolnshire is fit for purpose for the future".
Health visitors have now suspended their month-long strike action while the county council upgrades the health visitors. More than 70 Unite health visitors voted for the month-long strike, which started on November 18, to be suspended.
Of those, around 58 will now be fast tracked to grade 10 posts with 16 further Agenda for Change staff awaiting confirmation, according to Unite.
Around 13 have left or are departing to take up alternative employment within nursing, leaving a handful of relatively new health visitors on grade 9.
However, Unite said strike action could still happen if the council does not abide with the agreement.
Unite have also pledged to explore every avenue to get those still on grade 9 uplifted to grade 10 as soon as possible.
Paresh Patel, Unite regional secretary for the East Midlands, said: "I think that a number of factors contributed to this positive outcome, including the fact that the council was, and even now, is continuing to lose highly skilled health visitors at the rate of knots, as our members are offered alternative roles elsewhere in recognition of their experience.
"There was also the stark realisation by council bosses that our members were prepared to take further strike action on top of what they had already taken in the summer, after a second ballot confirmed they were prepared to continue on with further industrial action.
"This victory should be seen in the context of a broader campaign for a fully-resourced health visiting service across England – that fight will continue across the country in 2020."