August 8, 2019 2.38 pm
This story is over 51 months old
Health visitor strikes: "It isn't just about pay"
Future demonstrations and rallies have also been planned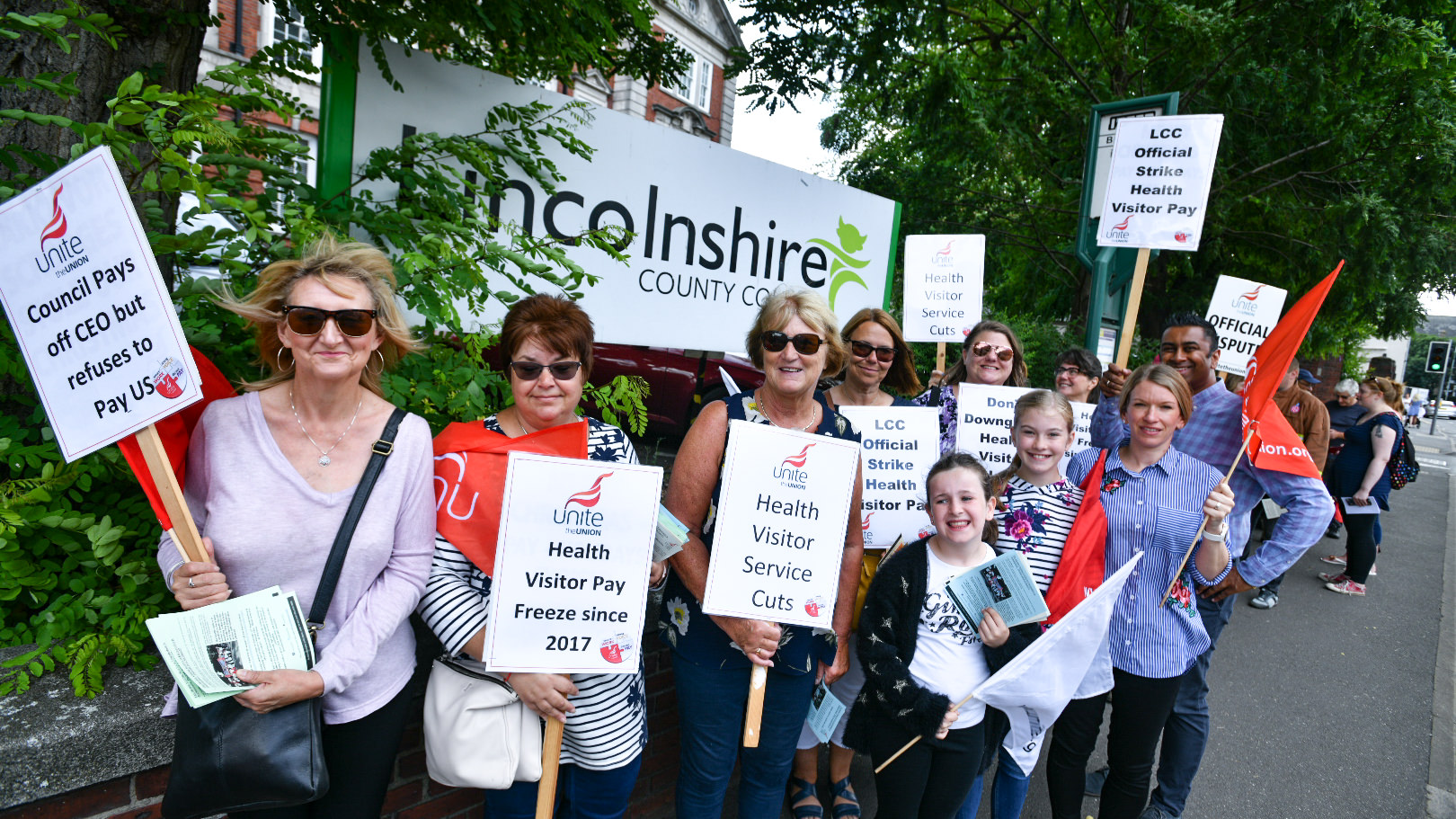 Health visitors said it "isn't just about the pay, it's about making sure the service in Lincolnshire is fit for purpose for the future" during a demonstration outside the county council offices.
Health visitors held a demonstration in Gainsborough on Wednesday before another protest and march was held in Lincoln on Thursday, August 8. Future demonstrations and rallies have also been planned.
The health visitors are campaigning over pay and what they call the erosion of their professional responsibilities.
A petition asking for an end to the pay freeze and scrapping plans to implement a two tier system of health visitors has been signed by over 1,630 people at the time of writing.
Union officials said the staff have not had a pay rise since they were transferred from the NHS to Lincolnshire County Council in 2017, and are losing more than £2,000 a year in real terms.
The county council said it had plans in place to cover absences during strikes and plans to implement a career and pay progression scheme for health visitors.
This would mean health visitors will be offered salaries beyond those available in the NHS. For those at the higher end of these salaries, evidence of their competencies to work at that senior level will be required.
Claire Bradford from Lincoln has been a nurse for 20 years, including seven years in her current role as a health visitor.
She told The Lincolnite health visitors are specialist nurses with four years' training and she thinks the role is about so much than people realise. This includes developmental evidence-based advice, supporting maternal and paternal mental health, safeguarding, health promotion and more.
She said: "It isn't just about pay, it's about making sure the service in Lincolnshire is fit for purpose for the future for the new health visitors coming through into the service.
"This is multi-faceted, so yes we've not had a pay rise since November 2017, but what Lincolnshire County Council are wanting to do is introduce a two tier health visiting service, which we don't recognise as health visitors.
"I hope the future for health visitors across Lincolnshire is a service that is preventative, is about health promotion, that all families will get seen and get their mandated contacts that they should be getting and that we've got the real time to put in a real fit for purpose service."
Paresh Patel, Regional Secretary for Unite in the East Midlands Region, said they will be in talks again on Friday, August 9 through Acas.
He said: "Health visitors have been under attack by this county and I think many other local authorities up and down the country. The service has been fragmented.
"They provide a crucial service to our community. These health visitors, or health heroes as I like to think of them, are the ones that actually work with new mothers, new fathers, new parents, vulnerable children.
"They are the first ones that tend to pick up on safeguarding issues and signpost parents additional support and actually are the voice of new babies."
He added that the hope is to try and reach a resolution with the council, but more industrial action will be planned if needed.
Heather Sandy, Interim Director for Education at the county council, previously said: "Unite represent approximately one third of our health visiting workforce and recent talks have been constructive. The council are considering some suggestions discussed within the meetings with the aim of reaching agreement with the union but we remain committed to moving ahead with career progression plans for our health visitor workforce.
"We value the professionalism and work of our health visitors and the support they provide to Lincolnshire families and have always been keen to avoid strike action."