April 6, 2020 8.40 am
This story is over 43 months old
Lincoln Ladies dedicate second-place finish to coach's memory
The rugby season was cut short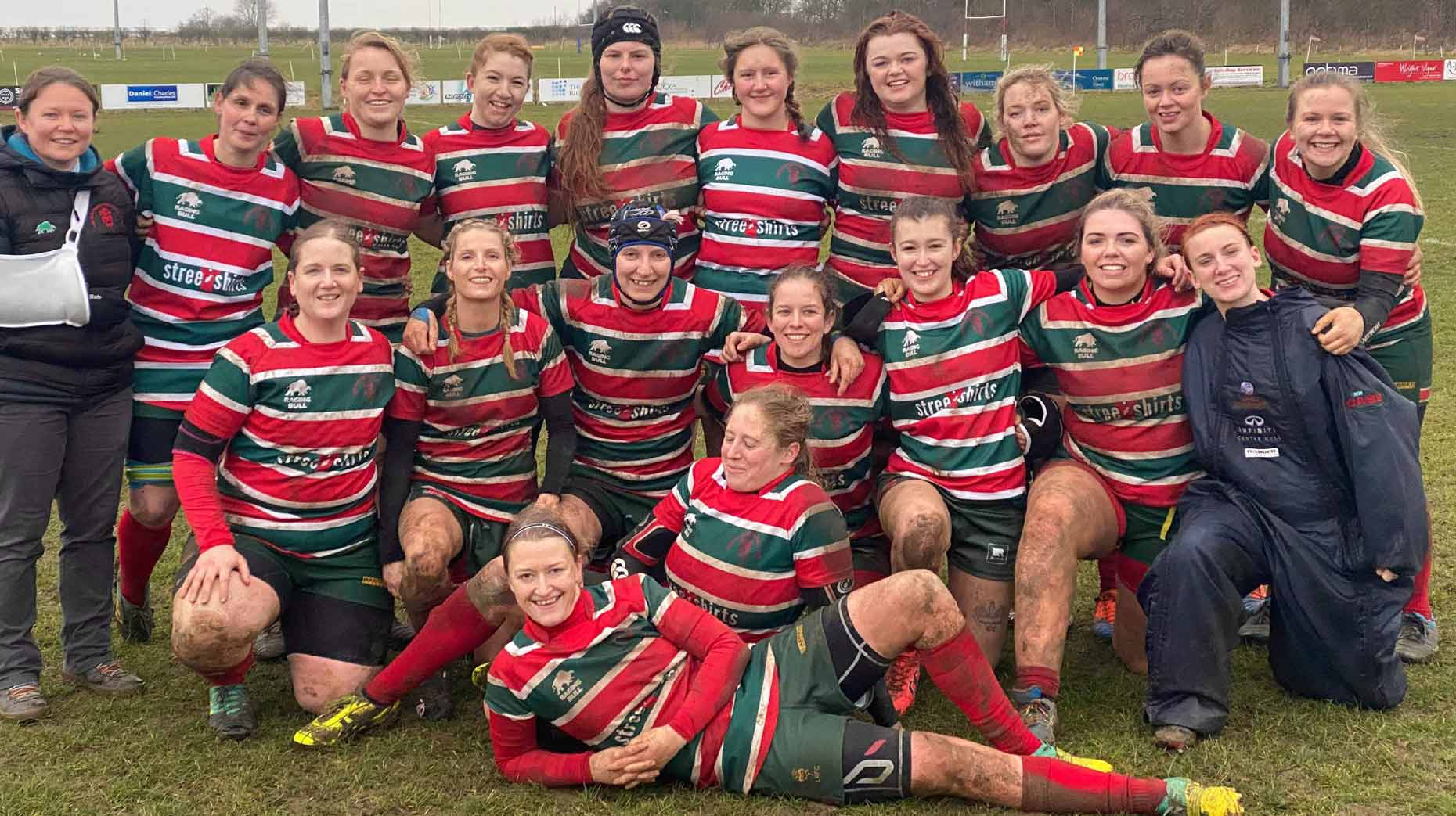 Lincoln Ladies finished the season as runner-ups and dedicated their fantastic achievement to the memory of one of their coaches who recently passed away.
Steve Burns, who coached the team alongside Brian Kelly, passed away after a heart attack on Tuesday night and his presence will be missed by all the players and everyone at Lincoln Rugby Club.
Head coach Brian Kelly said: "It's been a brilliant season for the ladies. Steve and I knew the potential the squad had and always thought we could push league winners Driffield close on our day. We were only recently discussing how good we think they could be going into next year.
"It's a little hard to believe he won't be here to celebrate with us when we get back to normal. He will be missed by us all, and our thoughts are with his family."
Lincoln Ladies' biggest results saw them beat Sleaford twice, 48-8 and and 47-5, as well as recording an impressive 46-0 win over Kesteven. They also ran champions Driffield close before succumbing to a narrow 22-12 defeat.
The season was cut short in March due to the coronavirus crisis and the Rugby Football Union (RFU) recently announced the final league positions for the men's and women's community game. The final standings were calculated on a best playing record formula maintaining promotion and relegation for the leagues.
Lincoln Ladies player Lucy Prescott, who is also the president of Lincoln Rugby Club, said: "Lincoln has had a challenging year, topped off with COVID-19 but who can forget the horrendous weather conditions we battled earlier in the season.
"The ladies performed well all season and really have done Steve proud. All sections of the club are really missing their rugby, including all four senior sides and our juniors, minis, girls and Touch teams who continue to go from strength to strength. Bring on the new season."
Lincoln's 1st XV ended their campaign with a crucial run of four consecutive victories that helped them avoid relegation from Midlands Two East (North).
Lewis Wilson captained the team to some excellent performances, including a 27-14 victory against third-placed Coalville and a 30-20 win over near neighbours Newark.
Lincoln Imps XV showed terrific team spirit as they finished as runners-up in the NLD 2nd XV Cup Final.
Coaches Andy Miles, Brad Nixon and Adam Kelleher were proud of their squad, who topped the league table for long periods of the season. Although their league table has yet to be finalised, it appears likely that Lincoln will finish second.
Lincoln's 3rd XV endured a frustrating campaign with several matches being postponed. They never let their heads drop and recorded some impressive results including John Walsh's four tries in a 56-0 win over Boston.
Captain Adam Kelleher was proud to see Jaden Harvey continuing to improve, and Walsh impressing, as both youngsters started their senior careers with the club.
---
Ups, downs & league positions
Stamford were crowned as champions of Midlands Three East (South) after a fantastic season which saw them lose just three matches.
Third-placed Bourne narrowly missed out on promotion, but can still be proud of their achievements after pushing Stamford and Oakham all the way.
Spalding finished sixth in the league and also won silverware after Daniel Adams captained them to glory with a 26-15 win at Dunstablians in the RFU Midlands Senior Vase.
Boston won the Midlands Four East (North) title after topping the division with 18 wins and two draws from their 22 matches played.
They are looking forward to life in a new division after the whole squad contributed to their hugely successful season, including Jaron Cowern and Matthew Deane who scored 18 and 14 tries respectively.
Third-placed Cleethorpes narrowly missed out on promotion but can still be proud of a fantastic campaign which included a run of 12 successive victories.
Sleaford finished fourth with some great results against the higher up sides in the league, including champions Boston. Captain Cory Stobart was proud of his players, but said inconsistent away form ultimately let them down.
Sixth-placed Gainsborough improved tenfold in comparison from the season before and pushed others further than some expected. Top try scorer Brad Bersford and kicking machine Robbie Goodyear were among their top performers.
North Hykeham finished 10th in what was a tough season after losing two coaches, a number of players to injury, and training facilities.
Captain Ross O'Loughlin, who played in every second of every game, said beating local rivals Sleaford gave some welcome positivity and he is extremely proud of all the players who stuck to the task in difficult circumstances. He added that Rob Booth and Sam Cooke were among the stand-out performers.
Skegness finished 12th with four wins, including an emphatic 33-0 win against Worksop. Number Eight Dean Brian was their most voted man-of-the-match of the season.
Scunthorpe showed great team spirit throughout the season despite their disappointing relegation from National 2 League North. Head Coach Tim Robinson said the players learnt a lot from the experience of playing at that level, which will hopefully move their game forward.
In Midlands Two East (North), Market Rasen & Louth finished fourth with notable results including a 42-5 win at Ilkeston and an emphatic 68-31 victory against Ashbourne.
Grimsby finished fifth in their first season back in Midlands Three East (North) and picked up some impressive results, including doing the double over Belper for the first time ever. They also produced a fine comeback from 21-3 down to win 32-31 at Mellish.
Under new coaches Freddie Tuilagi and Nathan Smith, promotion-chasing Kesteven finished sixth. The Black Army started well with some impressive results including the demolition of Buxton, and they also battled valiantly against promoted Ashby.
Top scorer Dan Turner was outstanding at Number Eight and a host of impressive young talent came through the club's junior set-up.
Fourth-placed Stamford College Old Boys weren't too far behind promoted duo Birstall and Northampton Men's Own RFC in a largely positive season in Midlands Four East (South). Key results included a 34-15 victory against Northampton. Captain Haydn Johns finished the season with 28 tries and Callum Fraser scored 12.
Click here to view the full league tables.
---
Ladies Rugby
In the Women's NC 2 North (East), Boston Ladies proudly finished third in their first competitive season, proving they can compete against the other sides in the league. Head Coach Paul Beard picked out top try and points scorer Hannah Booth for her excellent leadership on and off the pitch in her first season as captain.
Sleaford Ladies were hit by injuries and availability issues this season, but their team spirit and never side die attitude did not go unnoticed by other teams. Captain Sam Olliver ended the season as top points and try scorer, with Amy Woodford, Molly Ambler, Sarah Taylor, Becca Grice, Amanda Hunt and Sherrie Christian among several others to also make key contributions.
Scunthorpe Ladies finished sixth with some impressive results, including wins against Boston, Kesteven and Sleaford.
Kesteven Ladies developed excellently during their first league campaign. They achieved their objective of survival and competed hard in all matches, including wins over York RI and Sleaford.
Captain Sarah Goss spectated most of the season through injury, but Kerri Arlando, Tabitha Hall, Emma Austen and Jade Sheardown all stepped up brilliantly in her absence.
Grimsby Lynx Ladies enjoyed a successful development season, winning six of their seven friendly matches including a 65-0 win against Ossett.