May 6, 2020 12.00 pm
This story is over 19 months old
Ram raiders attack two Lincolnshire Co-op stores
Two separate Co-op ram raids in one night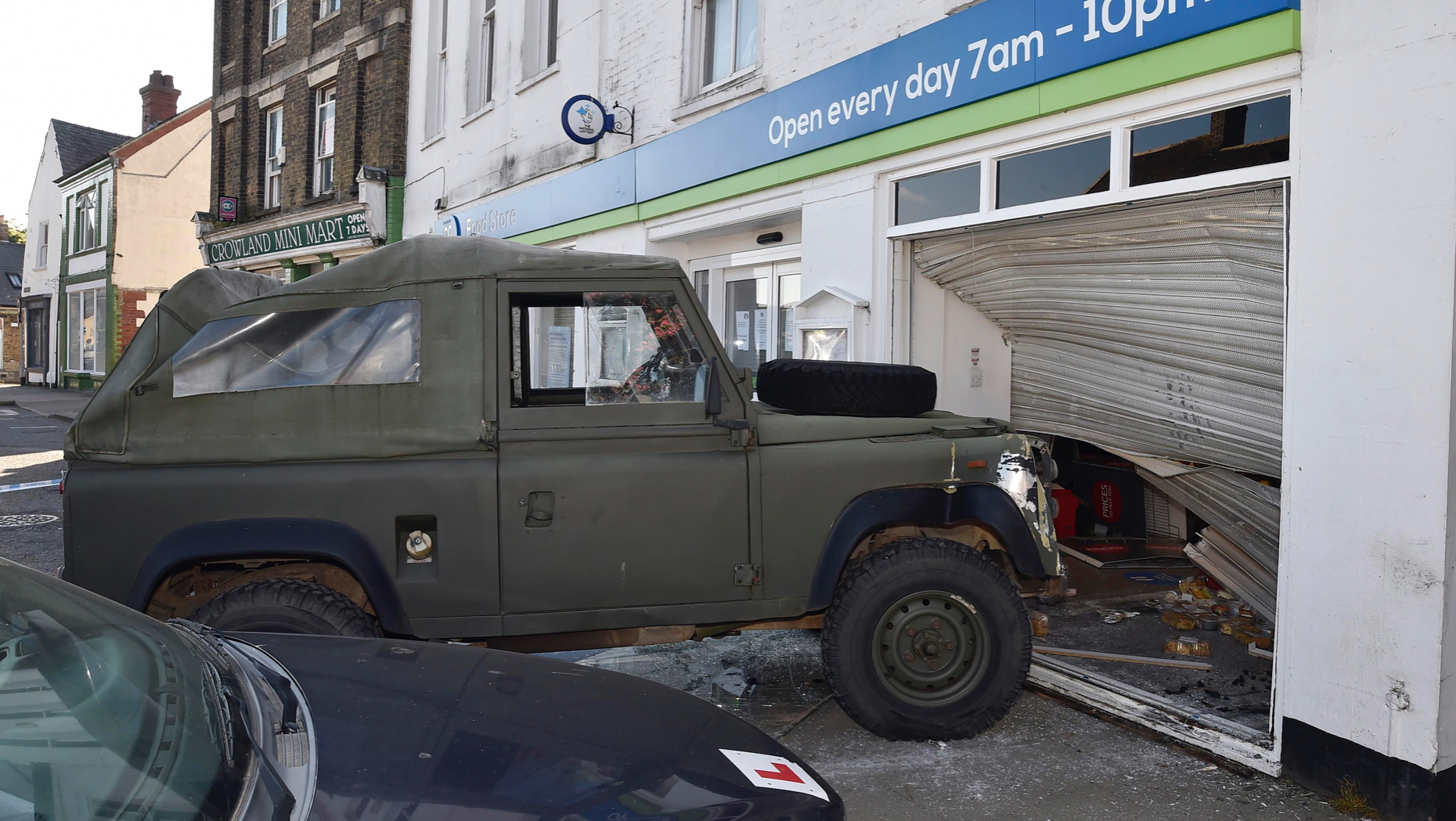 Two Lincolnshire Co-op stores have been targeted by ATM ram raiders overnight.
The Crowland and Long Sutton stores have been severely damaged by the attackers, who attempted to steal cash from the ATM machines.
Stolen Land Rovers were used in both incidents.
The shutters at the front of the store have been badly damaged as a result.
The cashpoint at the Co-op, West Street, Long Sutton was attacked around 2.40am on Wednesday, May 6.
The second cashpoint, at the Co-op, West Street, Crowland was attacked an hour later at 3.40am.
A stolen Land Rover was used in the first attack at Long Sutton causing the front window of the Co-op store to be ripped out.
Lincolnshire Police said they cannot confirm at this stage if any cash has been stolen.
Around 4am, officers found a green Land Rover on fire at Hundreds Row.
During the second attack at Crowland, a second stolen Land Rover was used to reverse into the store front, but the offenders were unsuccessful in removing the ATM or stealing its contents.
Lincolnshire Police said: "The Land Rover was left behind and the offenders are believed to have fled in a silver Skoda estate which has black spoke alloy wheels.
"The Land Rover had earlier been stolen from Crowland around 00.30 today, Wednesday 6 May.
"We are appealing for anyone who saw anything they believe may be connected to these incidents, any activity believed to be suspicious linked to either Land Rover vehicles or a silver Skoda estate, or the incidents themselves to get in touch.
"The investigations are at an early stage and we hope to update with further information later."
In a statement released today, Lincolnshire Co-op said: "We use guidance from the police, cash machine providers and security experts to ensure we are following the latest procedures and we have numerous security measures in place in our stores."
"We'll be working with Lincolnshire Police on their investigations and will aim to get both stores back open as soon as possible."