May 19, 2020 12.01 am
This story is over 25 months old
Red Arrows to move from Scampton to RAF Waddington
They're staying in Lincolnshire!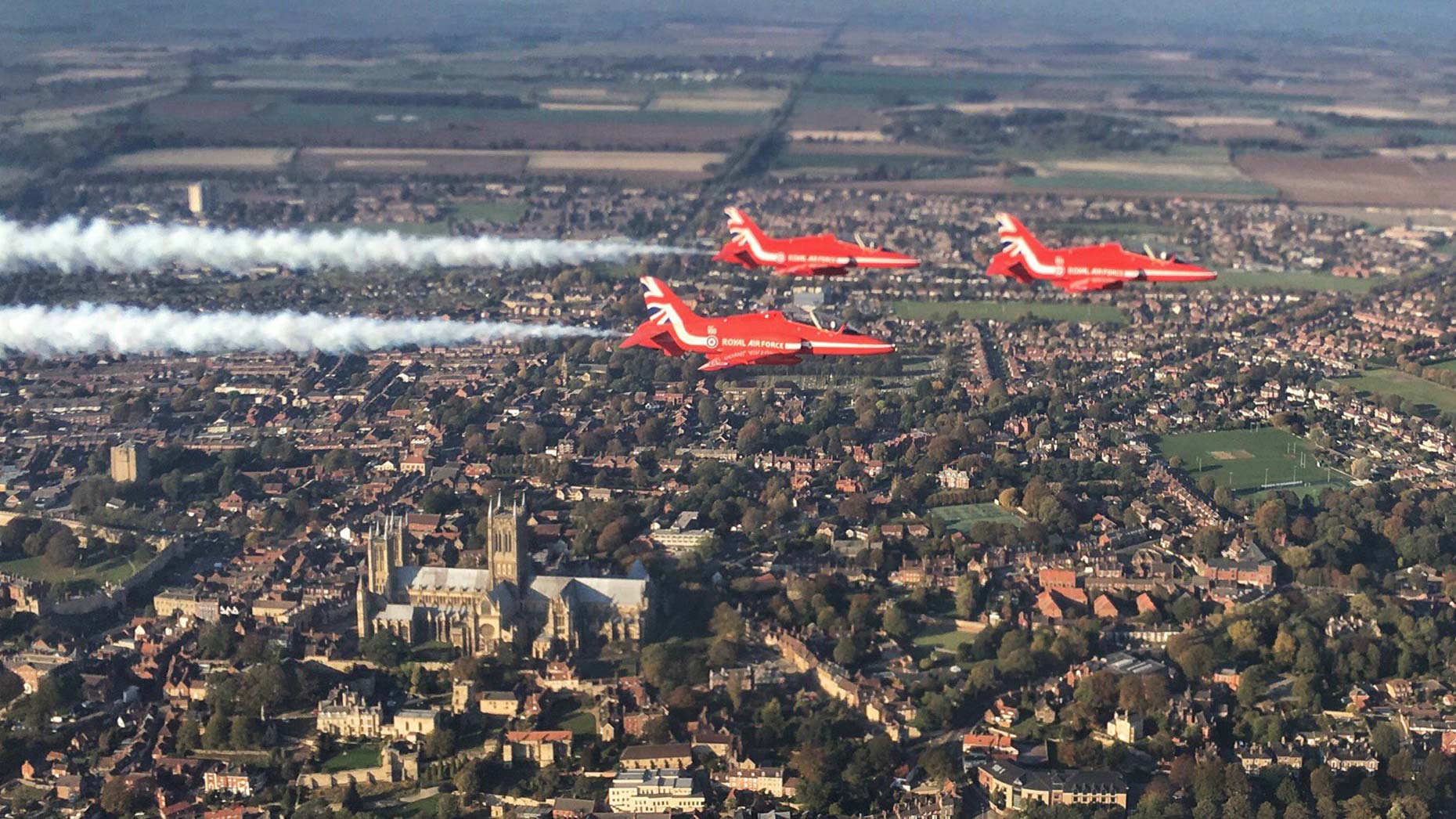 Once RAF Scampton is closed, the Red Arrows will move to RAF Waddington, south of Lincoln.
The Ministry of Defence also confirmed that the Red Arrows will continue to practice above the city and Scampton, since their new planned headquarters will only be 10 miles away from their current home.
No exact date for the closure of the base at Scampton has been confirmed yet, but the initial plan was for it to be shut by 2022.
Now the MoD has said it will look at ways of preserving the aviation heritage of the base north of the city after its closure.
During the Second World War, RAF Scampton was home to 617 Squadron which famously took part in the Dambusters raids in 1943.
Last year the MoD said three locations were shortlisted as potential new bases for the team. RAF Waddington was one of them, as well as RAF Leeming in North Yorkshire and RAF Wittering near Peterborough, Cambridgeshire.
RAF Waddington turned out to be the obvious choice, besides its close proximity, with multiple intelligence and drone operations controlled from the base.
Air Vice-Marshal Warren James said: "The announcement of this move will provide much needed stability for their future endeavours.
"I am delighted that we now have confirmation that the Royal Air Force Aerobatics Team, the Red Arrows, will remain in the heart of Lincolnshire.
"The Royal Air Force remains committed to the strong links it has with the county and a considerable amount of work has been carried out to secure a suitable future home location."
Defence Minister Jeremy Quin said: "It is good news that we have an excellent base for them at RAF Waddington, and I am delighted that they will be able to continue to practice their extraordinary aerobatic talents above RAF Scampton in their home county of Lincolnshire."
In June 2019 a delegation of Lincolnshire leaders was hosted at the House of Lords by Conservative peer Lord Cormack and a many of Lincolnshire's MPs, to campaign for the retention of the Red Arrows in Lincolnshire, specifically at Waddington.
They also presented an official petition with over 11,000 signatures to the government. Their case was thankfully heard.
Charlotte Goy, Interim CEO at Visit Lincoln, said: "This is really wonderful news and will lift everyone's spirits during what has been a very difficult time. I'd like to thank everyone who joined our campaign and supported the petition."
Reactions from Lincolnshire leaders
Martin Hill, leader of Lincolnshire County Council, said: "This is fantastic news and I'm glad the MoD recognises how well-loved the Red Arrows are by Lincolnshire residents. We value the contribution of the RAF to Lincolnshire and wish them many more years of success in their home county. Although it's disappointing they can't stay at Scampton, we will continue to work with West Lindsey District Council and MP Edward Leigh to ensure there is an appropriate use for that base."
Lincoln MP Karl McCartney said: "I am delighted to hear that, all being well, the Red Arrows will continue to be based in the Lincoln area. RAF Waddington is of course very busy, but given its proximity to Scampton makes perhaps a better choice than Wittering, and is a choice that was nearly made back when I was elected for the first time back in 2010/11. It will be a pleasure working with government ministers and the MoD to make this move a success, and I look forward to seeing the the Reds flying above our city and around our glorious cathedral for many years to come."
Gainsborough MP Sir Edward Leigh said: "I have fought to keep the RAF's aerobatic squadron, the Red Arrows, in our skies in Lincolnshire. I am pleased that they will continue to be based in bomber county. I am however saddened that their home at the historic RAF Scampton is to close as an RAF base. I know that both Lincolnshire County and West Lindsey District councils have been working closely with the Ministry of Defence to prepare for various eventualities and I will continue to support this partnership work as the closure of the base progresses."
Giles McNeill, Leader of West Lindsey District Council, said: "I am deeply disappointed that the decision has been taken to close RAF Scampton, whilst the Red Arrows, we are told, will continue to practice in our skies, they will not be based here. The impact of the closure of RAF Scampton is a significant disruption to the local economy and I fully expect West Lindsey District Council to play its part in building a bright future for the base beyond its closure. I would expect partnership working to continue with the Ministry of Defence and Lincolnshire County Council; but also increased participation from the Department for Business, Energy and Industrial Strategy and local stakeholders and residents."
County Councillor Richard Butroid, for the Gainsborough Rural South division, which includes RAF Scampton, added: "It's disappointing that they are moving from RAF Scampton, it is good news that they will continue to remain based in the county and we'll continue to see them in our skies."
West Lindsey District Councillor Roger Patterson, for the Scampton Ward, commented: "I am really sorry that RAF Scampton is scheduled for closure. It is an historic airbase and its closure will have a substantial impact locally."
Richard Wright, Leader of North Kesteven District Council, said: "I'm very pleased that the Red Arrows will be remaining in Lincolnshire. They are a much loved and appreciated part of the long aviation history of this county and it is to the benefit of the wider county that they will continue to be a part of it. I am also very happy to welcome them back to North Kesteven, as they were previously based at RAF Cranwell for a period, around 20 years ago.
"Moving to RAF Waddington will ensure their continued presence in the skies over Lincoln and Lincolnshire, and as well as extending our proud association with the RAF Aerobatic Team and extending our unrivalled legacy of aviation heritage, having the Reds based in North Kesteven will bring a welcome boost to the local economy and a community feel-good factor."