September 14, 2020 3.05 pm
This story is over 38 months old
Cute seal hitches a ride with human on paddleboard
Playful Dandie made an impressions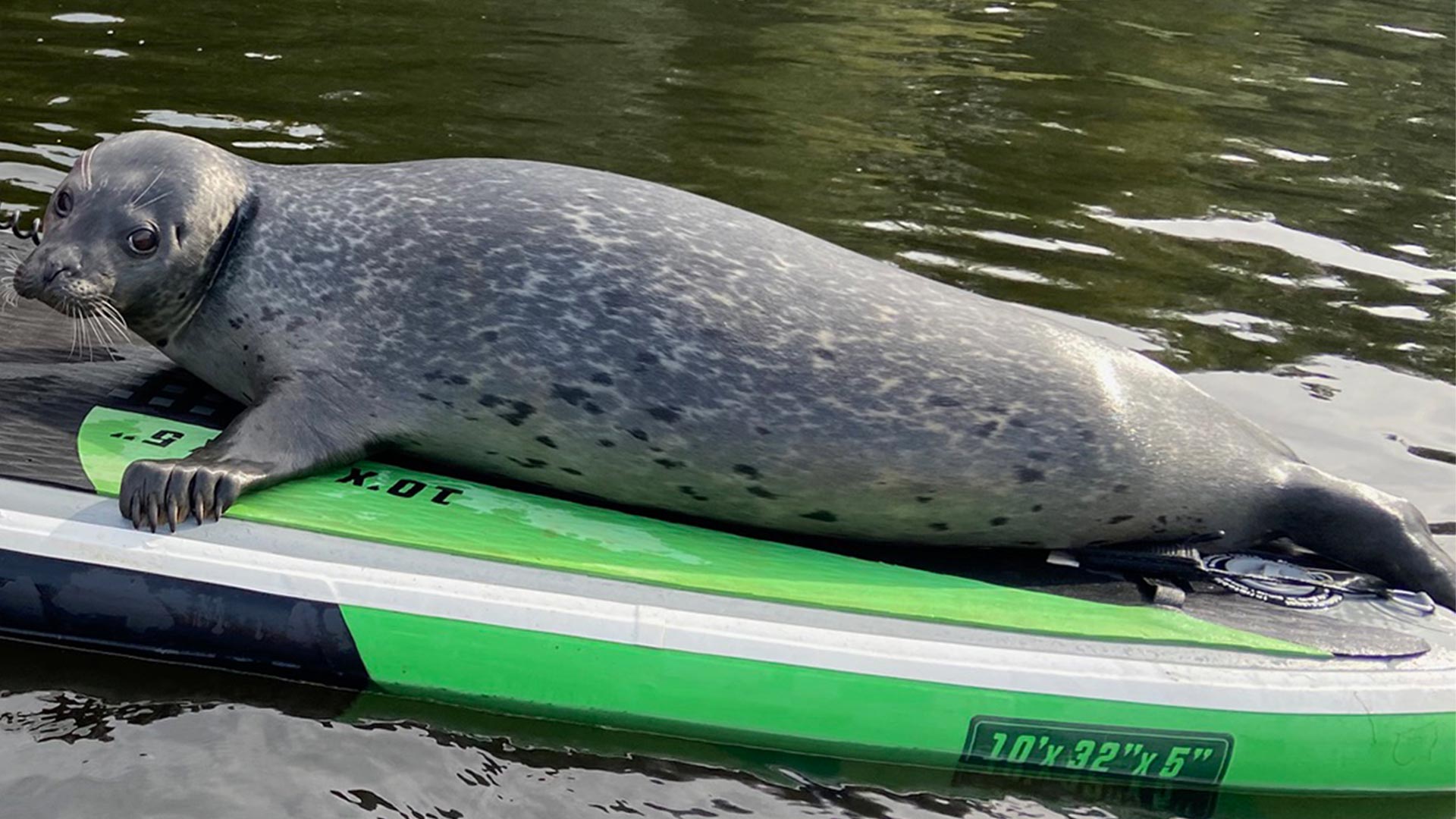 Staff and students at a Lincolnshire paddleboarding school got an unexpected surprise when a seal hitched a ride during one of their lessons.
Phil May, owner of Yellowbelly SUP School in Boston, was out on Sunday morning with a session for beginners at a stretch of water known as Anton's Gowt.
During the second session he saw a seal just off the jetty, who is named Dandie Dinmont according to a tag on its flipper. He was bobbing around quite happily in the river before disappearing.
After the first part of the lesson, students were starting to learn to stand up on the boards when the seal decided to pull himself up onto one of them.
The seal also sniffed student Robyn Smith's toes and was close enough that she could feel his whiskers brush against her.
The cute animal stayed with the class for around 10-15 minutes and enjoyed time on two paddle boards.
Phil, who has been involved in paddleboarding for around nine years, told Lincolnshire Reporter: "It was a real surprise as it is a very rare occurrence.
"I've heard rumours that there's been a seal there for the last few months, but I've been paddling that stretch for three years and not seen one in that area. It crawled on the board and laid really flat and still. I was so excited."
He later found out that Dandie Dinmont had first been released back into The Wash by the RSPCA branch in East Winch back in 2017.
Phil went back out in the water and did five miles along the river on Monday morning, but there was no sign of Dandie Dinmont.
Yellowbelly SUP School teachers people paddleboarding at beginner, intermediate and expert levels from around the age of eight upwards.
Anyone interested in booking a class should contact Yellowbelly SUP School by calling 07824 338601 or via its Facebook page.