December 9, 2021 10.45 am
TV stars help paw-some Lincoln College dog promote charity calendar
Don't fur-get to buy Freddie's charity calendar!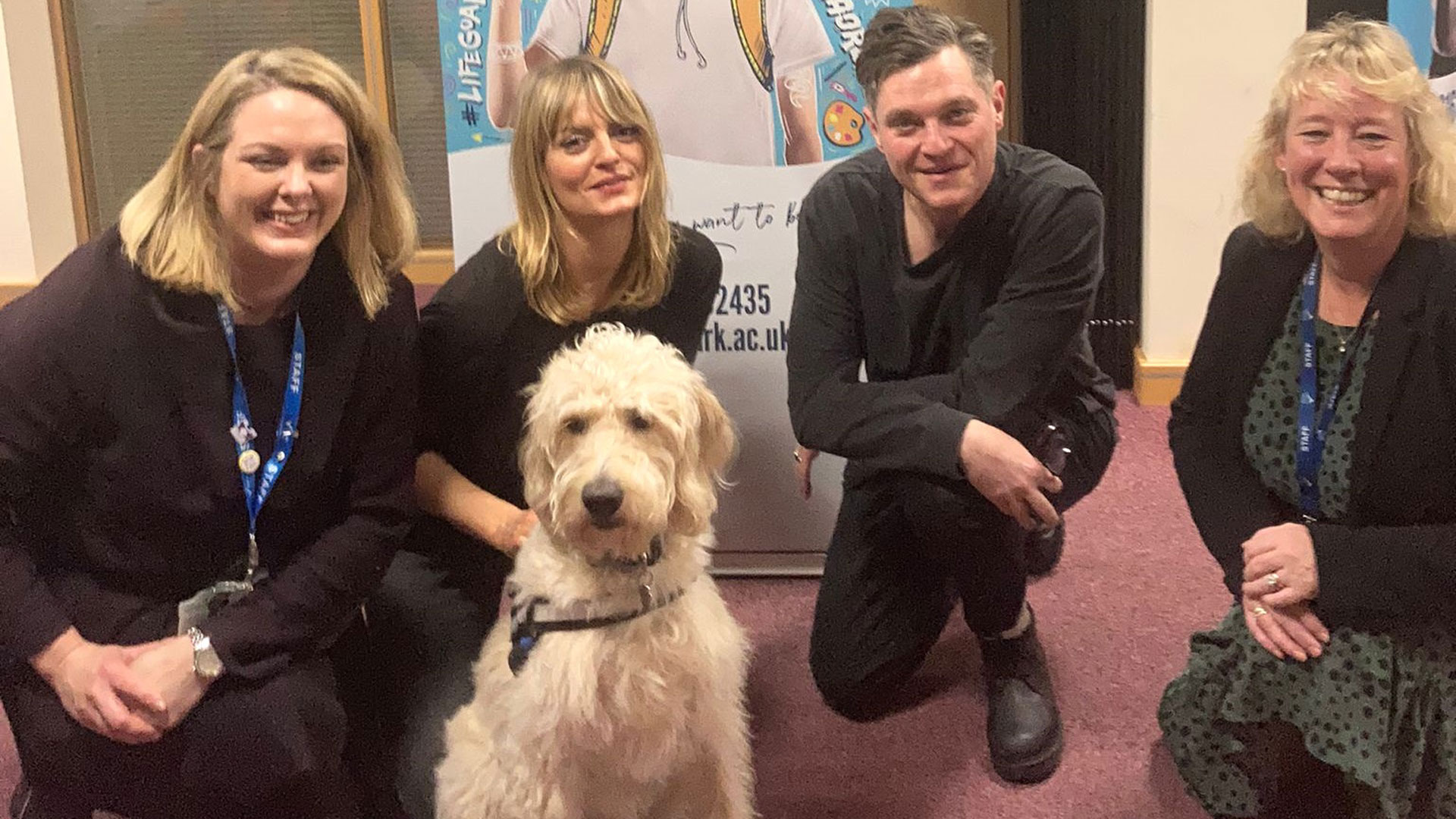 A therapy dog from Lincoln College was hounded by a trio of television stars who helped the loveable canine promote his new charity calendar.
Labradoodle Freddie joined Lincoln College Group as a faculty dog from the Autism Dogs CIC charity late last year, which Lincoln College have actively supported since July 2020. Since then, Freddie has trained to become a fully-fledged therapy dog, qualifying just last week.
Freddie recently met TV stars Mathew Horne, famous for playing the lead role in Gavin & Stacey, comedian Morgana Robinson and former Eastenders actress Nina Wadia. Mathew, who is an ambassador for Mencap and whose brother has autism, was particularly moved by the story, and the three actors signed copies of the calendar and posed for photos to encourage sales.
The acting trio have been filming for a new TV sitcom called Newark, filming in the Nottinghamshire town of the same name. They were impressed by the canine's efforts to help a young boy called Max and his future assistance dog Harry.
Max has autism and requires an Assistance Dog for therapeutic support for his anxiety. He has been matched with an Italian Spinone called Harry, who was originally fostered by Lincoln College Group – see more about his fundraising journey here.
Max was diagnosed with Autism Spectrum Disorder in the summer of 2020, as well as with global development delay, fine motor skills issues, difficulties with social interaction and understanding emotions. His anxiety and stress caused meltdowns and The Bradley Lowery Foundation is supporting Max's family to raise £9,450 for a fully trained Autism Support Dog.
The Foundation set up a fundraiser, which has so far raised over £3,600, and Freddie the dog's calendar will hopefully push the total higher.
One of the signed calendars will be gifted to Max and his family, while the other two are up for grabs for two lucky people. Interested parties are invited to bid to get their hands on one via silent auction – proposed donation amounts should be emailed to Lincoln College's Charlotte McHugh at [email protected].
Unsigned copies of the calendar are also available to purchase at £5 each from reception at both Lincoln and Newark College.
Charlotte McHugh, Head of Student Services and Supported Education at Lincoln College, looks after Freddie and said "Freddie is a star; he's worked so hard over the last year to become a qualified therapy dog.
"We're delighted to have him as part of the Lincoln College family and it's really special to see the impact he has on the mental health and wellbeing of our learners.
"The work that we are doing with Autism Dogs CIC is a unique project. We are supporting the charity by fostering dogs to socialise them and give them the very best start on their journey to become an assistance dog.
"To get the endorsement of popular celebrities is really exciting and we hope it helps Max and his family reach their fundraising goal."