Happy 30th Birthday to Lincoln's Waterside Shopping Centre
Joint celebrations with St Barnabas Hospice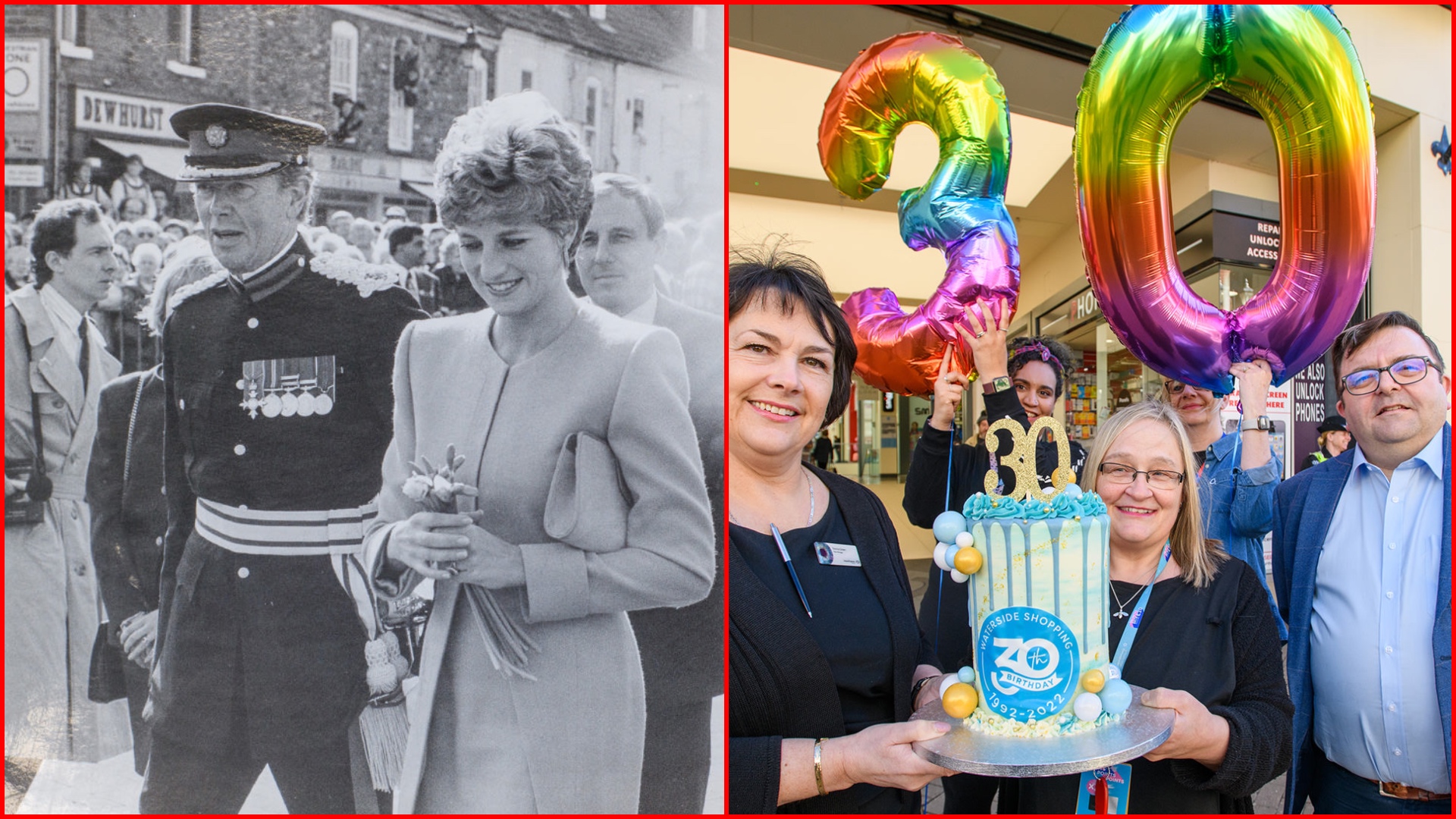 Waterside Shopping Centre in Lincoln was officially opened by Princess Diana on March 17, 1992 and on Thursday it celebrated its 30th birthday.
As it reached another milestone this week, there are now more than 20 high-street retailers in the 133,000 square foot mall.
Over the last 30 years some retailers have come and gone, but many of the retailers currently in the Waterside said they feel like one big happy family.
The centre has seen many changes including to the interior of the centre. The biggest change was in 2013/14 when it was reconfigured to include much larger units.
The £9 million redevelopment was completed in autumn 2014, which added a further 13,000 square feet of retail space and brought leading fashion retailers, H&M and Next, to the shopping centre.
There will be various prizes up for grabs this week, including a £100 Next gift card, a gift box of brownies and cookies from 42nd East Bakehouse, shoes from Skechers, watches from Lincoln Watch Clinic, and a family ticket to the Easter panto of Jungle Book at the New Theatre Royal.
There will also be 30% of all full price stock until the end of Sunday, while Lincoln Male Orpheus Choir will perform at the centre on Saturday. The 13 longest members of staff at the centre were each given an afternoon tea for two.
It was decided that the 30th and 70th customers to enter the centre on Thursday would each receive a bottle of Prosecco to celebrate two combined celebrations – Waterside's 30th birthday and St Barnabas Hospice 40th anniversary. St Barnabas has been the centre's charity partner since 2018.
Couples can take a 'selfie' at the big heart in the centre as part or use the location to remember a lost loved one. People can also fill the heart with their own personal messages.
Along with the milestone birthday celebrations, decorations provider Fizzco has installed a large red heart at the centre. The decoration of the centre was the idea of the Waterside's general manager Dean Cross.
Dean, who has been centre manager for six years, told The Lincolnite: "I feel really positive and it is brilliant to be celebrating such a milestone.
"We've had various development works and retailers come in and out, and there have been a fair few changes in the six years I've been here.
"When it opened in 1992 it looked a bit different to how it does now. There were changes in 2013 to get some anchor brands in and it has developed positively since.
"To say there's so many brands in here, it feels like one big family and there is very much a team atmosphere."
He added that there will be some new units opening at the centre in the coming months, including Sugar Sweet.
St Barnabas promoted May's Colour Dash event and were fundraising at the centre, and will be back again on Friday, March 18.
People can still enter the Colour Dash and there is currently an early bird offer of £15 per adult and £5 for children. They are also promoting their 40for40 fundraising campaign.
Fundraising Officer Deborah Yarwood told The Lincolnite: "It is great to be at the Waterside, which is a big part of Lincoln in the heart of the city, to promote our 40th birthday and May's colour dash.
"It is really exciting because this year we have lots of activities going on, including our 40for40 challenges. It is an incredible feat serving Lincolnshire for so long as everyone at some point has been touched by the hospice."
Sales advisor Diane Reynolds has worked at Superdrug in the Waterside Shopping Centre for 28 years.
She said: "I love it. I have seen some changes, going from three floors to two, to lots of individual stores and bigger names coming in.
"We are part of a team at the centre, from staff to security, to Dean the centre manager, it is one big family."
Philippa Hodgeson is the assistant store leader at O2 in Lincoln, which was previously the BT shop, and she has worked there for 22 years.
She said: "It's amazing and I can't believe we've been here for so long. We've seen stores come and go and I'm proud to be part of it. It is like a big family and great to know the same faces, and the security staff are a massive part of it."
Meanwhile, local artist Mel Langton was at the centre on Thursday and will be painting the first heart for the 2023 St Barnabas Heart Trail.