Viral food vlogger loves Lincoln, but rates local Wetherspoon bar 'red'
Wetherspoon defended itself from the criticism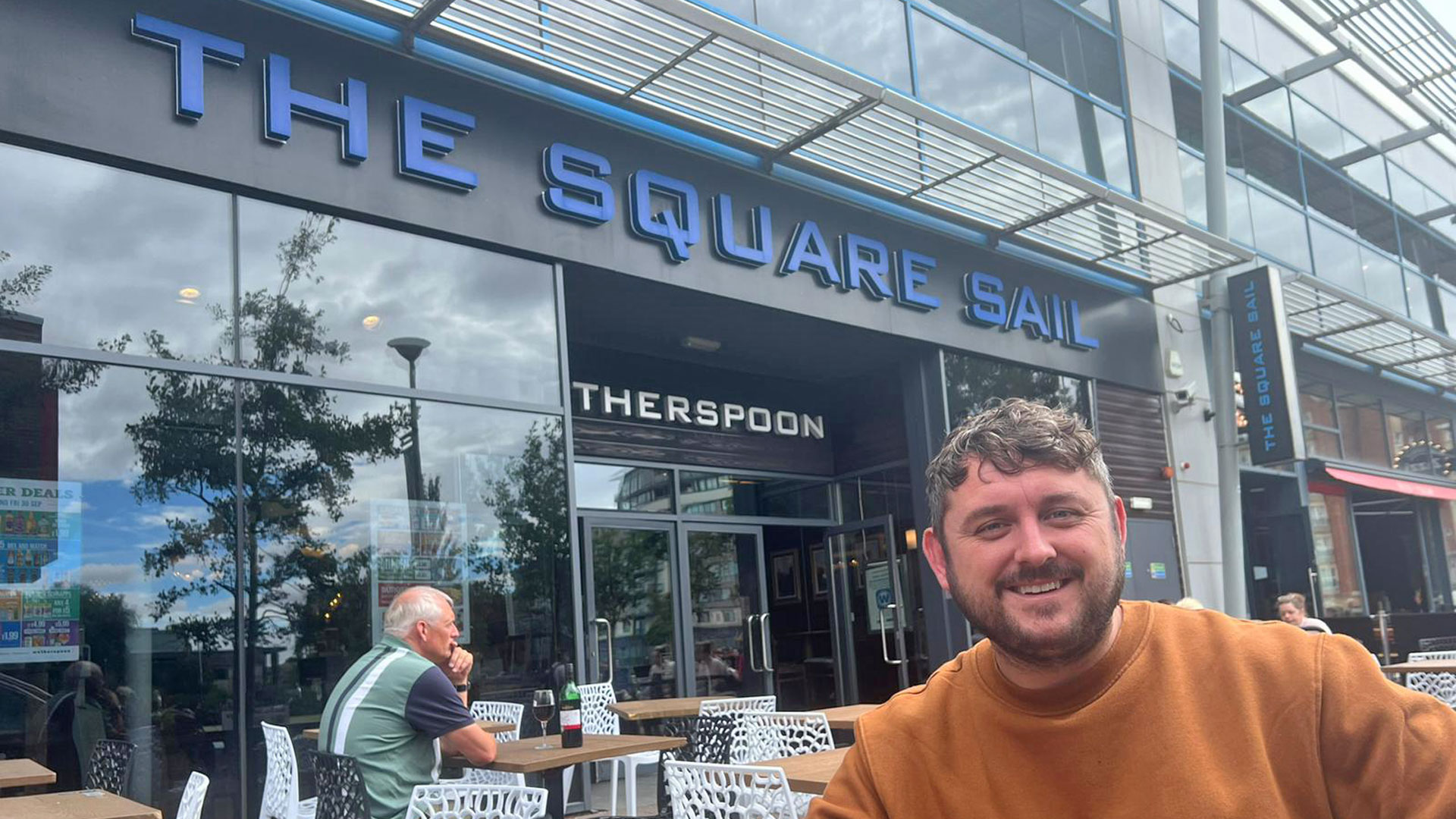 A pub owner and viral food vlogger with over 250,000 followers across his pages enjoyed his visit to Lincoln, but said he was left with no choice but to give a local Wetherspoon bar a bad 'red' rating after his experience there.
Craig Harker, 35, has owned The George Pub and Grill in Stockton-on-Tees for nine years and opened other branches in the North East. The Facebook page spiralled, and now has over 255,000 followers. In 2020, its popularity prompted him to launch Dad Loves Food.
Dad Loves Food sees Craig travel across the country, often now with his dad Graham who is a retired chef, where he rates an array of pubs and hotels chosen spontaneously and by followers, as well as going live on Facebook in over 100 Wetherspoon bars nationwide, and in other restaurants and pubs in the UK and abroad.
During his live streams to thousands of people, those watching remotely often send food and drinks to his table, including fried eggs on their own and mushy peas, while Craig also raises money for charity through key ring sales. He chooses to stream live so people get an "unedited, raw experience" of exactly what different places are like.
Back in July 2021, Craig visited The Square Sail on Brayford Wharf North which at the time he described as one of the best in the country. His experience of the city on Monday and Tuesday this week (August 1 and 2) was largely positive (read his venue ratings later in the story), but the trip to the Square Sail was not so good this time.
He claimed the kitchen manager refused to serve the food and drinks ordered by people watching live. Craig said the waiter asked for a receipt to show he had ordered them, and advised without this he "wouldn't be served or refunded", and the bar issued a statement of response – watch Craig talk about the visit to the Square Sail here.
Craig told The Lincolnite: "The majority of Spoons offer great service and are happy to serve me especailly when we raise thousands for Young Lives vs Cancer.
"There's a minority who for whatever reason won't fulfil the viewers' orders, whether it's poor management, a busy kitchen or something else. There's a very small amount of Spoons rated red and sadly with Square Sail refusing to serve or give refunds it now sits in that category."
The Lincolnite contacted J D Wetherspoon for a response and a spokesperson said: "Yesterday afternoon (Tuesday), The blogger Dad Loves Food broadcast the table number he was sitting at in the Square Sail, Lincoln on social media and asked his followers to send him food and drink via the Wetherspoon App even though they were not present in the pub with him.
"The customer has over 250,000 social media followers and very soon the pub began to be overwhelmed during a busy lunchtime period by orders to his table.
"Not only does this unfairly slow down orders for the rest of the pub's customers, puts staff under unnecessary pressure but is contrary to the company's responsible drinking policy which prevents customers building up a large number of drinks on their table at any one time.
"The pub's management rightly decided not to process any more orders to his table.
"In accordance with company policy, staff then asked to see the proof of purchase for the items which were not delivered to him, which he obviously did not have.
"Refunds for those who had ordered the items remotely should then have been processed . Any refunds can now be processed via our customer services team with proof of purchase.
"Dad Loves Food is welcome in our pubs but would ask him next time to only to order for himself in fairness to other customers, our employees and his followers."
Dad Loves Food rates Lincoln visit
Craig talked The Lincolnite through his two days in the city explaining the reasons for his ratings:
Monday
Pizza Cone at Prince of Wales 4/10 – "It was a generous four to be honest. There was no way of eating the pizza cone and everything just fell out."
The Tower Hotel 7.8/10 – "I had scallops for a starter which were cooked perfectly. The rib eye steak (main) came with a nice blue cheese sauce and soft triple cooked chips. The steak was cooked beautifully."
Craig also stayed at The Castle Hotel in the evening at a price of £100 including breakfast. He said it is now Dad Loves Food approved and gave it a rating of 8.3/10, saying "I'd definitely stay there again."
Tuesday
He rated the breakfast at The Castle Hotel on Tuesday morning as 8.3/10 saying the Lincolnshire sausage was "one of the best sausages I've ever had in my entire life."
After a coffee at Bar Unico, he moved onto the Square Sail Wetherspoon bar and nibbled on the food sent to his table before that was halted by management.
He said: "I loved sitting by the river, it is a nice area of Lincoln, but when they couldn't serve us anymore it was a kick in the teeth". However, he said he would be willing to go back to the bar in the future to see if he is able to give it an improved rating, adding that he gets recognised by Wetherspoon managers across the country and believes his reviews matter to them.
Craig then went to Wildwood for a late lunch where he had a burger that was "incredible and juicy" which he rated 7.5/10 saying "the only thing that bought it down was the bottom of the bun was a bit cold, but the meat inside was spot on".
He then moved on to The Citadel where he enjoyed a beef wellington. He really enjoyed the meal and gave it a rating of 8/10, saying the "red cabbage on the side really made the dish".
The evening saw Craig opt for Spanish tapas at popular restaurant Ole Ole which he rated 8/10. He said: "The meatballs are some of the best I've ever had and the tomato sauce is rich and sweet. My favourite tapas there was steak strips in blue cheese sauce which I hadn't had as taps before."
Craig then went back for drinks at the bar at The Lincoln Hotel where he was booked to stay that evening at a price of £105 (plus £5 for parking). He gave it a score of 8/10 and would stay there again, but out of the two stays he admitted to preferring The Castle Hotel.
On Wednesday morning, he purchased a pork pie for £4.75 from Redhill Farm Shop saying: "It was so meaty, pricey, but well worth the money as it could serve a family of four."
And how would he rate Lincoln overall?
While travelling en route to Leeds for his next Dad Loves Food trip, Craig said he would love to return to Lincoln again in the future, as he likes to visit to see his friend Matt Wilson.
He said: "You're very lucky if you live there. Location wise it is very secluded to self, but there is more than enough there.
"Lincoln as a whole would be an 8/10 because you have everything on your door step, but it seems splint into two – up the hill and down the hill.
"Certain areas are better than others and the top of the hill looked very like York, but driving in the city centre was a bit of a nightmare."
He added that he's already had several comments from people living elsewhere in the country, who watched his Facebook live videos and didn't realise how "special Lincoln was" and now want to visit for themselves in the future.
His family also live vlogging with his children running their own page 'Kids Love Food' and his increasingly popular dad posting content on his page 'Graham Vegas'.
Craig also said he would consider opening a George Pub & Grill in Lincoln in the future, adding: "Because Lincoln is an amazing city, which I always compare to Edinburgh and York due to the Roman history, if I found the right spot I would consider opening here."