January 5, 2023 5.30 pm
This story is over 10 months old
"Disgusting": Vandals ransack Lincoln community theatre school
Items stolen and damaged totalling tens of thousands of pounds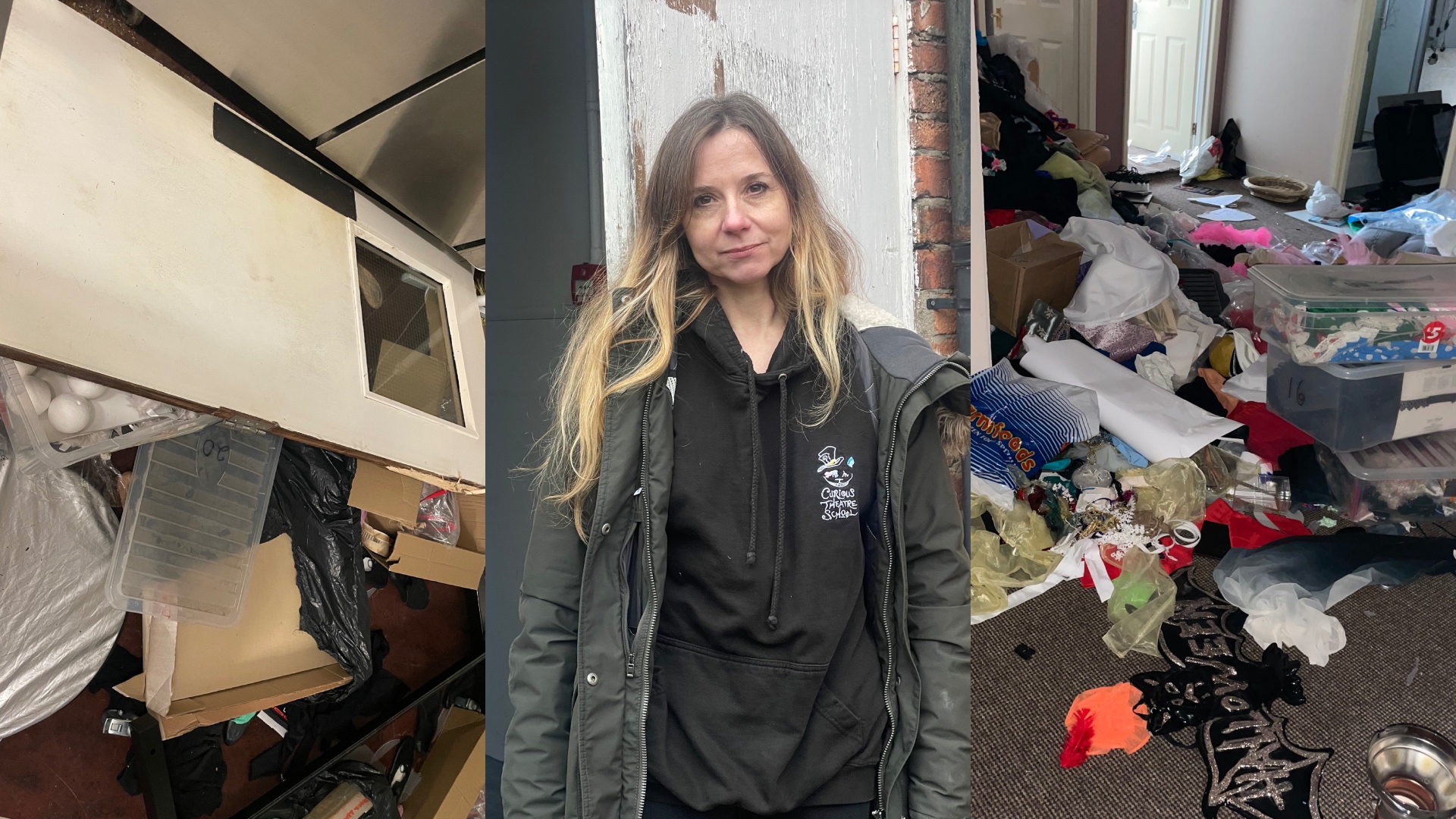 A former CBeebies presenter who owns a theatre school in Lincoln with her actor husband feels gutted after a heartbreaking break-in during which items stolen and damage done totalled tens of thousands of pounds.
Sarah-Jane Honeywell and Ayden Callaghan lease the former Montana ballroom on Clasketgate where their Curious Theatre School continues to grow. However, after enjoying a great Christmas break, the week of Sarah's birthday was tarnished by the incident, which she was first informed of by a local business owner who saw people going in and out of her premises on Wednesday, January 4.
She headed down to the premises and met the police there, and told The Lincolnite that she knew something was wrong as the shutters were "probably about an eighth of the way up". Near the back entrance there was a door ripped off its hinges, while a piano and thousands and pounds worth of costumes and other items inside the building were taken or damaged.
Numerous other items including a Mac computer and games and expensive mirrors, were also taken and damaged, along with sentimental items belonging to the students such as a drumkit, while heaters and some electrics were pulled from the walls.
Sarah alleged that as she walked around the back with police there was a man leaving the premises who had some candy canes from their Christmas show, costumes and wigs on him and told her several others had been in the premises.
She praised police for their "amazing" support in dealing with the heartbreaking incident, and said the parents of their students have been really supportive.
One man has since been arrested by police who are investigating the incident.
Sarah said: "Everything of value has gone, everything else is ransacked. There are costumes everywhere and a fire had been started inside. There were needles everywhere and the roof was ripped up in one part, it's a total mess. We have lost everything, even scripts and things from our own careers."
A parent of one of the students at the theatre school has set up a fundraiser to help the business get back on track – you can make a donation here.
A nearby local business owner said he saw people, including one with a balaclava, had "wheelie bins which were full to overflowing, but it wasn't rubbish".
The heartbreaking incident has delayed the couple's plans to reopen the school after the Christmas break, as well as future refurbishments.
Sarah is gutted about the impact it will have on their more than 90 students, but said she will be unable to reopen the theatre school for at least another week, if not longer, so they may need to find somewhere different in the meantime but she is determined to come back "bigger and better".
Sarah added: "For a lot of these kids this is their happy space. I know it sounds like a cliche, but there is a lot of mental health help with kids, they've got a place to come and they have fun.
"We've engineered it so that it's their space to do what they want in."
The theatre's co-owner Ayden Callaghan, who has started on shows including Emmerdale and Hollyoaks, said: "I am utterly distraught for the kids to have their place invaded and destroyed in that way. I am angry, and deeply upset for Sarah, and everybody connected with the school.
"To have worked as hard as we have to created this and to provide what we do for children in the community…and for people to just take that and whatever they've not taken to wantingly destroy, when it's no good to anybody but the children and us, is just so deeply upsetting, it's disgusting. And the memorabilia and memories from our careers, gone.
"Things and stuff can be replaced, but they are also important. These are things that we've worked hard for, that the support from everybody connected with the school have created, and there are certain things that cannot be replaced.
"There are things gone, destroyed, for absolutely no reason, things that we can never get back. There is no amount of money that can replace memories and achievements that have been taken and ruined. We will be back better and stronger and this won't stop us in our mission."
A spokesperson for Lincolnshire Police said: "We received a call at 12.52pm on January 4 with a report of a burglary taking place at a commercial property at Clasketgate, Lincoln.
"Officers arrived swiftly on scene and arrested a 28-year-old man on suspicion of commercial burglary. He was later released on bail, and the investigation continues."
---
MyLocal Lincolnshire is the new home of The Lincolnite. Download the app now